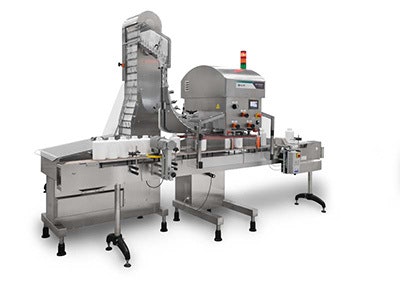 NJM, a ProMach product brand, introduced its beltorque® BT-ICL Lite Capper at Pack Expo Las Vegas booth C-3514 this week.
The continuous motion system offers the same patented torque technology as the standard, high-speed beltorque, but at an entry level price point and at 150 bottles/minute. Gentle handling for a variety of bottle shapes and sizes is attributed to two pairs of belts to gently rotate and tighten caps. The speed of the bottle is synchronized with the rotating speed of the closure, which "applies precise torque that eliminates damage to the closure and minimizes cap skew and slippage," according to company.
"Many customers tell us that, before they installed a new BT-ICL, their traditional disc or spindle cappers were finicky and required near constant supervision. Even during production shifts, their spindle cappers needed manual readjustment to ensure proper handling, which was very labor intensive," said Omar Azam, inside sales manager at NJM. "The BT-ICL is entirely automated, offering repeatable performance without operator monitoring. Customers say the BT-ICL significantly increases their line performance and efficiency."
Applications
Suited to nutraceuticals (where systems have already been implemented), cosmetics, personal care products, pharmaceuticals, foods, and more, the system handles round, oval, square and rectangular bottles made of plastic or glass from 2 to 12 inches (51 to 305 mm) in height and from 0.5 to 8 inches (13 to 203 mm) in diameter. It can apply child-resistant, flip-top, screw and snap caps made of plastic or metal in sizes up to 4.75 inches (121 mm).
A number of features help manufacturers accommodate a variety of shapes:
A container spacing wheel or other spacing device can be added to accommodate various container shapes and sizes as well as product weights.
When running heavy bottles, dual spacing wheels are used to control container back pressure.
When running large bottles, fully-adjustable dual container gripper belts hold the bottle steady during capping.
An optional cap inspection system identifies skewed caps, missing caps, missing foil and fallen bottles and triggers an automatic, heavy-duty reject device. Torque monitoring is also an option.
Seven feet in length, the capper has a compact footprint and can be mounted on standard bottle conveyor. Typical changeovers can be performed in 15 minutes without tools.
Companies in this article