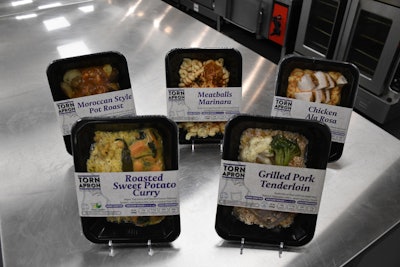 While many people found operating a business successfully during a pandemic to be an extremely challenging endeavor, Joe Cavey thought it would be the perfect time to take a leap of faith and launch his.
Based in Eldersburg, Md., Torn Apron produces restaurant-quality, grab-and-go meals that cater mainly to business travelers and other people on the move. Says Cavey, "When thinking about the question, 'Why do this?' the very first thing that came to mind was, 'If not now, when?' The COVID-19 pandemic has brought a tremendous amount of change and pending transformations. Our economy, specifically foodservice, will be forever changed. In thinking about my offerings, the pieces of the puzzle that I feel are missing from convenience fresh foods are quality and availability. My cuisine solves both of these problems.
---
---
"The consumer wants fresh foods that are flavorful, minimally processed, nutritious, and of restaurant quality. Retail and foodservice operators want to serve high-quality fresh food, but struggle with perishability and waste. Torn Apron offers the quality the customer seeks with the supply chain availability and shelf life the retailer needs."
Making this flavorful, minimally processed, nutritious, and restaurant-quality food possible is Torn Apron's use of vacuum skin packaging. VSP is a tray-sealing process that removes oxygen from the package, preventing microbial growth and product oxidation and extending shelf life.
In December 2020, Torn Apron installed a ReeEco automatic tray sealer from Reepack, supplied by Ossid, a ProMach product brand and a master distributor of Reepack in North America.
To further enhance the shelf life of the meals, while also preserving the flavor, nutrition, color, and freshness of the products—without the use of preservatives—Torn Apron is coupling VSP with High Pressure Processing (HPP) cold pasteurization, done by tolling partner Universal Pure.
VSP 'marries function and fashion'
As noted, for Cavey, rather than being an obstacle, the COVID-19 pandemic presented an opportunity for him to create the type of product line consumers were craving during a tumultuous time. "One thing I discovered in the early parts of COVID was that a lot of menus shifted a bit toward meal solutions, so it made me think that this may be the right time to launch Torn Apron," he says. "People seem to want more packaged foods that are high quality, clean label, and have some extended shelf life, not only for the consumer themselves, but for the retailers."
Unlike other prepared meal companies that follow a business model catering directly to consumers, Cavey tailored Torn Apron to offer delicious, chef-prepared meals for sale in hotels, grocery stores, micro-markets, convenience stores, coffee shops, healthcare facilities, and other locales. Cavey, whose official title is Chief Culinary Officer, is a chef, and he prepares each and every meal to be ready from the microwave in minutes.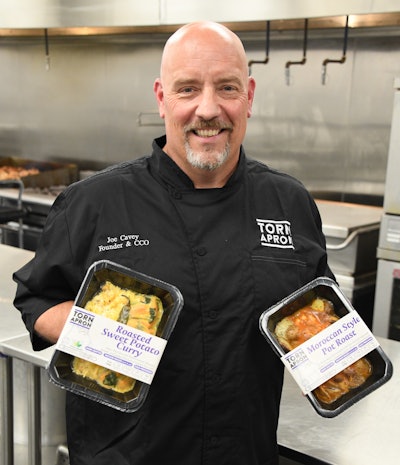 "I thought the timing of it was good because when people go back to work, whatever that looks like, they're not going to be going out to restaurants as much as in the past. I think people will be looking for solutions either at home or at their desk," Cavey says. "If I can offer something of restaurant quality that crosses over to a lot of demographics that traditionally buy a lot of prepared foods, I think that's a winning formula.
"Torn Apron is a meal solution that offers the retailer a very high-quality product that can be in the same display case as traditional grab-and-go items, but doesn't have the same perishability and supply chain challenges that shorter-life, more perishable items have."
In looking for a packaging solution, Cavey says he visited several suppliers and kept his "ear to the ground" on what some of his colleagues were using. "Ultimately I wanted to find a packaging option for Torn Apron that married function and fashion and was as sustainably produced as possible," he says.
VSP technology combines a thin, transparent, high-barrier skin film that is draped over a thermoformed tray or formed plastic container filled with product. During the tray-sealing process, a vacuum nozzle removes all the ambient oxygen and the atmosphere that surrounds the product, after which the film is heated and sealed to the bottom or to the flanges of the tray.
One of the many benefits of VSP is that it removes the oxygen necessary for bacteria, mold, mildew, and yeast to live and reproduce—which is enhanced, in Torn Apron's case, through the use of HPP. It also prevents oxidation, which occurs when fats and pigments in food are exposed to oxygen molecules, causing them to lose flavor and color. Oxidation also causes food products to lose vitamin C and A, making them less nutritious. And, by preventing the product from being exposed to oxygen, it helps maintain the fragrance and color of packaged foods.
Notes data from Torn Apron's website, at 21 to 35 days, the refrigerated shelf life of fresh red meat packaged using VSP is considerably longer than meat packaged using stretch-wrap or modified atmosphere packaging (MAP), at 3 to 5 days and 12 to 15 days, respectively.
Machine is the right mix of performance
Once Cavey decided on VSP for his meal packaging, he researched several OEM packaging suppliers and found that the Ossid/Reepack brand had all the characteristics of operation, customer support, and value he was looking for in a tray-sealing machine.
"After taking a tour of their facility in North Carolina, meeting the team, and seeing the machinery, it just became a no-brainer," he says. "It was the right mix of performance for what I need. It's a fully automatic machine, but it was entry-level, so, it was the perfect blend of startup functionality yet with enough capacity to get me to the next level."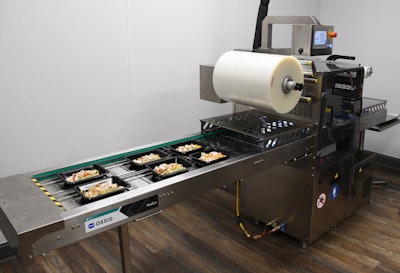 Echoes Tony Kaufman, Northeast Regional Sales Manager, Ossid, "The ReeEco is a good investment for Torn Apron simply because it's a smaller machine with a smaller footprint [120 in. long x 67 in. high x 36 in. wide], however it does all the styles of packaging that they would need for the package they're looking for and that they're doing right now."
The stainless-steel ReeEco is capable of doing MAP and ambient packaging, in addition to VSP. It's a low-power, energy-efficient unit that does not require compressed air to operate; it uses only electricity, excluding any pneumatic support. A standard infeed conveyor offers three loading positions, and easy changeover with interchangeable tooling allows the machine to run three tray sizes, from 270 x 120 mm to 270 x 385 mm, with a 100-mm maximum height.
Other features include an automatic output belt conveyor, a user-friendly control panel, the capability to use print-registered film, and a date-coding option.
Film and tray offer sustainability, aesthetics
Cavey received his ReeEco tray sealer in December 2020 and began packaging his first meals in early February from an expanded location in Owings Mills, Md. He's currently offering eight different meals, such as Moroccan Style Pot Roast, Meatballs Marinara, and Roasted Sweet Potato Curry. All his meals are vacuum packaged in a 4 x 8-in. thermoformed tray.
The tray itself provides another benefit important to Cavey: sustainability. "I feel it's incumbent on me to produce foods using the most sustainable methods possible—in terms of seasonal, locally sourced ingredients, minimizing food waste, and utilizing a tray that displays our meals in a high-impact way, staying mindful that the tray is produced in as eco-friendly a way as possible."
---
---
Supplied by CPT Packaging, the rectangular, Go-Green Easy Peel black multilayer polypropylene tray with EVOH contains post-consumer recycled content and results in up to 50% less scrap and a 28% lower carbon footprint versus conventional thermoforming processes. It is also recyclable.
The material used to seal the tray, referred to as a "second skin," is Sealed Air's Cryovac brand Darfresh™ VSP rollstock film. The film offers a high oxygen barrier and provides a clear view of the food, allowing consumers to see the fresh ingredients inside. This clean appearance was another feature that attracted Cavey to the packaging.
"I'm very presentation-focused when it comes to food," he says. "As a chef I really want the food to be the standout, I'm not very big into really elaborate sleeves with a lot of artwork. I want my label to convey the brand in a minimalistic way, and let the color and beauty of the food pop through, and that's what the vacuum skin packaging does."
During meal preparation, the film "tents" and provides a steam release at the 2 min 30 sec mark in a standard 1200-watt microwave oven.
HPP further extends shelf life
Following packaging, the products are transported to Universal Pure, where they are cold pasteurized using HPP. HPP is a non-thermal pasteurization technique that uses extreme pressure (up to 87,000 psi) to comprehensively crush and inactivate foodborne bacteria and other illness-causing, vegetative pathogens (including E. coli, Salmonella, and Listeria monocytogenes), molds, and yeasts. In doing so, HPP also maintains the optimum attributes of fresh products over an extended shelf life without compromising the nutritional value of the food.
During the HPP process, the Torn Apron meals are loaded into a basket that is then conveyed into the HPP chamber. Here, water is pumped into the chamber to help apply isostatic pressure. Product is then held at that pressure—up to 87,000 psi, as noted—for a period of time specific to that product to inactivate microbial activity. After exiting the chamber, the VSPs are unloaded, after which Torn Apron picks up the refrigerated product for distribution.
According to Cavey, whereas non-HPP products have a shelf life of 24 to 28 days, HPP products provide a shelf life of 50 to 60 days from the date of manufacture.
Tray sealer is fundamental to Torn Apron's success
Torn Apron is currently packaging up to 1,000 meals a day, four days a week, for distribution mainly throughout the Mid-Atlantic region. In the coming months, Cavey says he's planning on adding another eight meals to his lineup and possibly a second tray size. With the ReeEco's interchangeable tooling, he estimates changeover from one tray size to another will take less than10 minutes.
Nine months after it was installed, Cavey says the ReeEco automatic tray sealer is doing its part to help make Torn Apron into a successful startup. "Ossid and Reepack are providing a foundation for me to grow this business; they're part of the foundation, and they are absolutely a fundamental part of my business right now," he says. "I spent a lot of time and energy investigating different suppliers. I was only going to buy something new, from someone I trust, and who would stand behind their products. Ossid and Reepack have done that; my trust has been well-placed with them."
---
PACK EXPO Las Vegas and Healthcare Packaging EXPO (Sept. 27-29, Las Vegas Convention Center) will reunite the packaging and processing community. With over 1400 exhibitors, no other event in 2021 will bring together a more comprehensive gathering of suppliers offering new products, technologies, and solutions. Attendee registration is now open.
Companies in this article