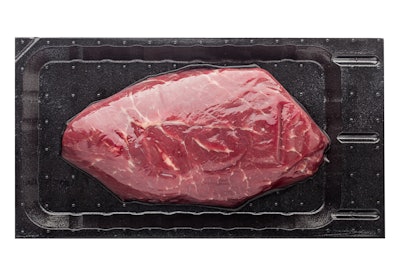 In 2015, the global fresh meat packaging market was evaluated at $1.92 billion. A new report from Transparency Market Research estimates that from 2016 to 2026, the market will grow at a 2.30% CAGR to reach $2.47 billion by the end of 2026. According to the report, one notable driver of this growth is vacuum skin packaging, which is predicted to lead the market with a 32% share of the total revenue by year-end 2026. Occupying the leading position in the global market is North America, which TMR says will hold 36% of the total revenue share during the forecast period.
As the report reveals, the global fresh meat packaging market is a competitive and consolidated one, with key players upping the ante on rivals for a larger share of global revenues. These suppliers are engaging in product innovations through research and development to appeal to an all-time-high consumer awareness. Conventional areas for research include modified atmosphere packaging, color preservation, and vacuum packaging. However, new technologies—such as smart packaging that integrates sensors to check food quality, product quality enhancement mechanisms such as self-heating cans, and authentication techniques—offer glimpses of greater innovation in the near future, TMR says.
Notes the report, in the last few years, sales of beef have registered a steady decline in emerging markets, a trend that is unlikely to reverse and promises to become a headache for players in the fresh meat packaging market.One reason for this decline, says TMR, is that beef products are more time-consuming to cook. Offering convenience options such as ready-to-cook meals could help producers increase their sales. Another reason for the decline, notes the report, is beef's slightly higher cost on average versus its main alternative—chicken. And, these costs are expected to rise, as governments around the world encourage sustainable beef production to address global warming. Meanwhile, ready-to-cook chicken products are growing in sales.
Predicted to lead sales in the fresh meat packaging market is vacuum skin packaging, driven by increased sales of chicken and fresh seafood. This packaging type is also popular with grocery stores and butcher shops due to its low price, which is enabled by widespread penetration of the technology. Adds TMR, vacuum skin packaging is ideal for preserving fresh meat through air removal and integrating color preservation techniques for large retail chains. Innovations in vacuum skin packaging are also offering more opportunities for meat manufacturers to differentiate their products from competing brands. Innovation in vacuum packaging and revenue growth for this packaging format is also expected to be supported by consumers in developed regions who are increasingly spending more on eating outdoors.