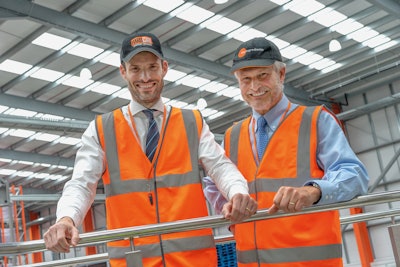 Listening closely to customers, quickly analyzing new situations, and acting accordingly are just a few aspects of the philosophy adopted by Cawingredients, one of the biggest contract fillers in the U.K. Before installing its new canning line, the company had only produced soft drinks in PET bottles, even though company co-founder Andrew Cawthray says it had always been his ambition to enter the market with cans. Although it's only been one year since he realized this dream, Cawthray says he can hardly believe the success his company has achieved with the move. And, Cawingredients appears set to continue to build on this success, with additional new contracts in the can.
Cawingredients invested about £22 million in what was to be their fourth line at Leeming Bar in North Yorkshire, including £5 million for the new production shop built especially for this purpose. Maximum flexibility was of prime importance to Cawingredients, as the company ultimately wanted to be able to satisfy all of the possible requirements its customers may have regarding both the can format and secondary packaging.
Cawthray says he had great expectations of the new line. "When we started planning, I was convinced that this could lead us down new avenues if we did things properly. And I was not disappointed!" he remarks.
Early pioneers
Cawthray's family started in the beverage industry in 1835 when his great-great-great-grandfather George Barraclough opened a company in Bradford in North England. In the 1960s and 1970s, the family business became a real pioneer in its sector under Cawthray's father, Bernard. It all began with the launch of the first non-returnable glass bottle in cooperation with Morrisons, one of Britain's largest national supermarket chains. At the end of the 1970s, the company began selling the first plastic bottles in the British Isles and a little later was party to the successful launch of beverage cartons, operating one of the first two such lines in the U.K.
---
See it Live at PACK EXPO Connects Nov. 9-13: Best Dust Control Bagging Machine on the Market for Ingredients and bakery mixes, by Magnum Systems, Inc. Preview the Showroom Here.

---
The company was also a trailblazer in PET. In 1979, Barraclough obtained the first license in Europe for the five-point petaloid bottle base in partnership with U.S. company Continental. The petal-shaped projections and recesses on the base gave bottles stability and enabled them to stay upright. Back then, this meant that the relatively heavy base tray made of a different plastic that was previously required could now be done away with. However, the company soon discovered that the single-piece PET bottles weren't yet ready for market; stress cracks kept appearing in the new bases. Many of the containers were therefore useless, which turned out to be a serious problem. The financial consequences were immense; the company eventually had to be sold in late 1987.
Exploring new avenues
Even if the passageway outside his office is adorned with countless photos and artifacts that document his family and company history, Cawthray is someone who looks to the future. Instead of becoming trapped in the past, he soon showed himself eager to tackle new challenges. In 1990, he founded Macaw Softdrinks, a factory for carbonated beverages occupying 3,000 square meters and employing 27. He mortgaged his house to raise the startup capital of £180,000. This paid off: Fifteen years later his company occupied 46,000 square meters of space and had five filling lines and a workforce of 430. He thus built up one of the biggest bottling plants in Great Britain.
---
See: New can line hits speed sweet spot

See: Can Shortages Hit Food and Beverage Industries
See: Co-Packer Dramatically Expands Wine Canning Capacity

---
In 2005 Cawthray sold his company for £76 million to Canada's Cott Corporation. But he couldn't escape soft drinks; in 2010 Cawthray established a new business under the name Cawingredients in Leeming Bar. He received much support from all quarters. "The retail trade, our suppliers, and the regional administration have done a lot for us. Some of my former managers even left Cott to join us on our new adventure." His two sons-in-law are also part of the team. One of them, Richard Harrison, is now partner and CEO, while Cawthray continues to work as Chairman and joint CEO.
Rapid new start
Cawthray's latest bottling enterprise has also undergone an astounding development—both in terms of size and money. In 2013, Cawingredients was one of the fastest-growing companies of Great Britain. To date there have been no signs whatsoever of this aggressive growth being stunted. "In 2018, we had a turnover of £57 million; this year we're forecasting £80 million," shares Harrison.
Despite this success, the two partners are not about to rest on their laurels. "We're benefiting from the fact that more and more big brands in Europe appear not to want to continue production themselves," Harrison says. "We're thus confident that we'll double our turnover in the next five years."
Adds Cawthry, "We're simply in the right place at the right time."
For the canning line, Cawingredients worked with KHS. The complete KHS filling line includes an Innopal ASH depalletizer, an Innofill Can DVD filler, an Innopas SX pasteurizer, an Innopack Kisters PSP shrink wrapper for pads and an Innopack Kisters TSP shrink wrapper for trays, and an Innopal PB1NF palletizer for non-returnables.
---
See it Live at PACK EXPO Connects Nov. 9-13: Impulse vacuum, gas flush, & MAP sealers - VacPack VS1, by VacPack. Preview the Showroom Here.

---
Says Cawthray, "The top-class quality of each and every component simply has us bowled over. Concerning the filler, one of my experienced colleagues, my former production director (now a consultant to the company), has even said that it's the best he's ever seen. That just about says it all."
He adds, "I've never seen such fast and efficient installation and commissioning." This could be construed as an excellent introduction for the Dortmund plant engineers. However, what Cawthray almost finds most significant are the close personal ties between the two companies. "We have very high expectations," he explains. "It's enormously important to me that we have fast and competent help should any problems arise. And we need short reaction times, especially with service, so that our plant keeps on running, and we can satisfy our customers.
"With our new line, we're achieving a performance of 99.9% day in, day out. We couldn't be more pleased—even more so as the system has been running at full capacity right from day one." As Cawingredients has a good feel for the trends and requirements of the market, the new production shop has been planned and built to allow plenty of room for further expansion—and additional customers.
Companies in this article