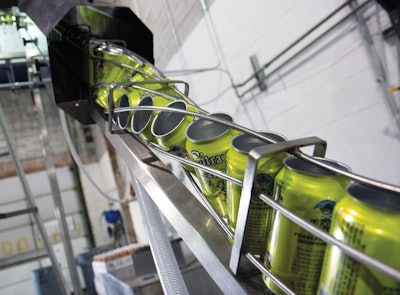 Heavy Seas Beer, a 23-year-old brewery based in Baltimore, is relatively mature compared to its upstart craft brew peers. It has already gone through all of the typical growing pains that craft brewers go through to get to a place of stability. They've already outgrown a few facilities, and six years ago, they did an overhaul on their existing space to install a heavily automated bottling line from KHS, plus new kegging lines. So they have a well-equipped draft and brown-bottle packaged beer business. Heavy Seas enjoys distribution throughout the East Coast out to Ohio, plus a niche market among cruise lines and in Caribbean locales backed by its swashbuckling pirate theme.
"We're best known for one of the original East Coast IPAs, which is Loose Cannon IPA. We're very focused on that brand and what we call the Cannon Crew brands, including Loose Cannon IPAs, TropiCannon citrus IPA, Double Cannon double IPA, and AmeriCannon, which is a double dry-hopped American pale ale," says Dan Kopman, CEO. "Those four beers constitute about 80 percent of our production. And the brewery was built basically on the backs of sales of kegs of draft beer to wholesalers and 12-ounce bottles in retail, with about a 45 percent to 55 percent split, respectively."
But about three years ago, things began to shift in the craft brew market that made Heavy Seas reevaluate its course. At the local level, Maryland, a state that had once outlawed taprooms in breweries, began to allow them. And nationally, cans became the emergent growth container, while bottles plateaued.
"What happened in 2016 and going into 2017 is the number of breweries in the United States really started to explode," Kopman says. "Previously, there had been a lot of pressure on what I call the traditional, on-premise bar-and-restaurant business. New breweries that operate just through their taproom via a direct-to-consumer model don't participate in the three-tier [brewer, distributor, retailer] part of the business that we do. They may sell some kegs and a little bit of packaged beer locally, but they rely on their over-the-bar business to keep them going."
So in March 2017, he was recruited to Heavy Seas by its founder, Hugh Sission, from venerable St. Louis craft brewer Schlafly, which Kopman had co-founded. In Kopman's role as Heavy Seas CEO, he was charged with reinventing the brand and reengineering parts of the brewery to cope with what was going on in the market. This meant adding a taproom, thus adding the direct-to-consumer business Heavy Seas had lacked. He also spearheaded a pilot brewery to improve the company's innovation program, bring more new products to the market faster, and test those products in the taproom before going into full-scale distribution. He would be looking at what was going on in the market and deciding what needed to be done from a branding standpoint, from a product portfolio standpoint, and from a packaging standpoint. Even though the company was built on kegs and bottles, it was obvious to Kopman that growth was in cans.
"The brewery's volume has been flat since 2015. We've been at a 600,000-case-per-year equivalency for the past three years," Kopman says. "But in order to stay flat, we've had to work really hard. And part of that was an additional investment last year of a canning line that allowed us to meet wholesalers', retailers', and consumers' demand for cans."
Filling and seaming speed gap
According to Kopman, the biggest challenge with adding a canning line was getting the versatility needed to do both volume and small-batch canning. Heavy Seas has some higher-volume beers that could keep an expensive 250 can/min rotary filler fed, but such a machine would be wasted on the short runs, seasonal brews, and new items stemming from the pilot brewery. Inversely, most common in-line canners can't get much faster than 40 cans/min, so they'd be a bottleneck for the higher-volume can runs. Kopman sensed a soft spot in the industry's filler and seamer offerings.
Of course, two in-line fillers could run in tandem to double the speed, but according to Kopman, such fillers are designed for local brewers making beers destined to be distributed locally. The speed and precision of a fill and seam affects oxygen pickup and sterility attributes, and getting those incorrect could hurt shelf life. That's not a problem for a local brewer, but Heavy Seas distributes much more broadly than the corner taproom, including the cruise line business in tropical environments.
With this assortment of competing necessities in mind, Kopman set out to source a canfiller and seamer that didn't really exist. He relied on conversations he had had in the past with OEM and equipment suppliers in town to see Anheuser-Busch in St. Louis that invariably ended up at Schlafly. According to them, the seam was the key to the beer's shelf life.
"I already had interacted quite a lot with the Barry-Wehmiller, BW Packaging Systems, and Pneumatic Scale Angelus [PSA] folks, and I told them about this gap in the market around the 100-can-per-minute line," Kopman says. "At Heavy Seas, a number of potential suppliers came to see us about the idea of a 100-can-per-minute line, but PSA gave me the most confidence because we would be getting the same seaming technology that is on those 250-can-per-minute lines. And now the rest is history, as we're one of three launch customers for Angelus' new CB[craft brew]50 and 100 fillers and seamers. In fact, we're the first one to install the faster CB100."
Overcoming a filling hurdle
While Kopman was immediately confident in the seam, getting the fill correct was a long and involved process. Fellow launch customers had shorter runs, and the distance between the beer tank and the filler was very short compared to the distance at Heavy Seas. With his CB100 installation only months away, Kopman recognized that the manifolds on the filler itself weren't going to be sufficient.
"With a rotary filler, you have a pressurized filler bowl that's insulated, and it's all about maintaining temperature and CO2," Kopman says. "What we had to do with a gravity filler, not a pressurized one, is build an external filler bowl. PSA came up with this fix; it's a small insulated tank that sits by the filler and serves almost like a buffer tank that's connected to the bright beer tank. You can maintain a fill level in that external filler bowl, and so you're always delivering beer to the fill heads at the right temperature and the right CO2 content. I had to have the confidence that PSA was going to make this thing work no matter what, and indeed they did."
As a result of early testing, the integrated 12-head hygienic in-line filler with proprietary flowmeter technology helps brewers get an accurate fill with little waste. The CB100 gas flush systems help keep oxygen out of the beer, and PSA's high-speed, industry-leading double-seaming technology helps keep cans sealed tight. The integrated system is optimized for a beverage can height range of 2.13 in. to 8 in. and designed with quick-change adjustments for easy changeover for various can height/body diameters.
The packaging line
As part of the BW Packaging Systems and Pneumatic Scale Angelus integrated primary packaging line, Heavy Seas also purchased a depalletizer with twist rinser from Ska Fabricating. But Kopman was responsible for secondary packaging, a tricky element when downstream automation doesn't tend to be optimized for less than 250 cans/min.
"One thing about canning that's different from bottling is that if you're going to put the cans in a paperboard wrap instead of using can handles, you have to keep those cans dry to avoid the condensation that results in mold issues. An air blade will dry cans out of the seamer, but since we fill at low temperatures to keep the CO2 dissolved, it won't stop the condensation that follows. That means you need a warmer," Kopman explains. "And nobody makes a warmer designed for 100 cans per minute, they all are geared for 250, with costs that match."
So Kopman turned to a local company, Conveyor Handling, to accomplish a custom can warming system that accumulates cans immediately outside of the filler and seamer, bringing them from 33°F to near-ambient temperature.
Warmed cans then get a date stamp from a Domino ink-jet date coder and are conveyed to a Switchback carton erector and cartoner that accommodates speeds up to 250 cans/min, so it's faster than the line's top speed. Both 12- and 16-oz cans can be packed into 6-, 12-, and 24-count paperboard carton formats, all of which are supplied by WestRock. A second Domino ink-jet printer date-codes cartons. Meanwhile, an offline Plemons tray erector builds WestRock-supplied corrugated 24-count trays that are hand-packed with configurations of the 6-, 12-, and 24-count cartons.
For smaller batches that tend to be smaller than 200 total cases per run, the company uses bright cans that are diverted away from the cartoner after date coding. These formats use PakTech can handles, so they never require the Switchback cartoner. These diverted small-batch cans go through a pressure-sensitive labeler from Label-Aire before plastic ring carriers are manually applied, and the cans are hand-packed into the 24-count corrugated trays.
Corrugated trays are hand-palletized and stretch-wrapped at the moment, with Kopman noting that can pallets are much lighter than bottle pallets, so automation is less essential. Still, he is eyeing a shrink wrapper.
"I'd say the only reason for adding the shrink wrapper would be just to get consistent, nice-looking pallets," he says.
The big picture
"What's happened to the business is that we've lost a little bottle volume from our package sales, but not a lot. Meanwhile, cans are growing quickly. And so what's happening is our package volume is growing on balance, and our draft volume has declined a bit," Kopman says. "The reason is because there are so many breweries where consumers consume beer on-premise, meaning they go to breweries, as opposed to going to the corner bar where we might be on tap. So it's harder. Plus, a lot of these smaller breweries then also sell kegs to the local bars and restaurants. The draft beer business has become more competitive, a lot harder. You can say just the market's smaller, so we have to react accordingly. As opposed to just half-barrel, six barrels, and 12-ounce bottles, we're having to produce a bigger variety of packages. And cans are a big part of how we can do that."
Watch a brief video (pwgo.to/4026) on how Heavy Seas managed to hit a sweet spot in canning speed.
Companies in this article
Videos from BW Packaging (a Barry-Wehmiller Company)