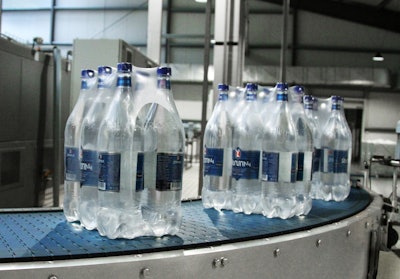 Armenia's biggest mineral water provider, the Jermuk Group CJSC, has expanded its PET and glass bottle filling capacity and is now able to react more quickly to the growing demands of domestic and international markets, including Europe, the U.S., and the Middle East.
As one of the most well-known brands in Armenia, Jermuk feels responsible for bottling the best water in the best possible way. "It's not just a matter of growing as an enterprise," says Jermuk Group President Ashot Arsenyan. "We also want to offer top-quality water, bottled under ideal conditions with the help of state-of-the-art technology."
This is why, he says, the company has relied on KHS PET and glass bottle filling systems ever since construction of its new production facilities in 2010. Further expansion became necessary in 2017 to keep pace with the growing market, so Jarmuk added two new filling lines: one for glass and one for PET. The glass bottle filler is a KHS Innofill DPG that handles 330- and 500-mL bottles at speeds to 25,000/hr. The PET line includes an InnoPET Blomax stretch blow molder and an Innofill DRV PET filler handling 330- and 500-mL and 1- and 1.5-L bottles at 20,000/hr.
With the expansion, Jermuk also purchased palletizing technology, CIP and blending systems, and a shrink packer from KHS. For optimized bottle designs, Jermak used KHS's holistic Bottles & Shapes™ consulting program. (By producing its own PET preforms, Jermuk benefits from increased flexibility and independence, which minimizes delays in the production process.)
However, problems developed in the wake of adding the two new lines. While both lines were almost entirely supplied by KHS, Jermuk initially opted for another manufacturer to supply the labeling technology, and they were not satisfied with the results. The labeling quality did not live up to the its expectations of a premium product. Although the labels themselves and the bottles were flawless, damaged labels were a frequent occurrence. Jarmuk quickly realized the labeling technology was neither reliable nor precise enough for the paper labels being used.
To address the issue, Jermuk installed a KHS Innoket Neo labeler on each of the two new lines at the beginning of 2018. "The problem was solved as soon as the two labelers were put into operation," says Arsenyan. "The quality of the packaging is now 100-percent compatible with our special product."
Companies in this article