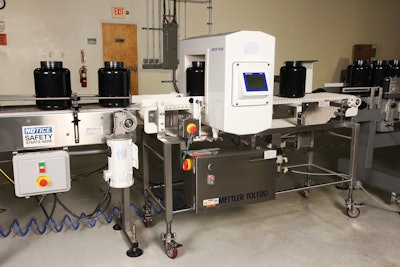 Established in 2015, Phoenix Formulations develops custom-formula powders, capsules, and tablets at its 75,000-sq-ft plant in Tempe, AZ. Packaging formats for its protein powders, energy drink mixes, meal replacements, supplements, and others products include jars, gusseted bags, composite cans, single-serve pouches, stick packs, and bulk containers.
Recently Phoenix selected four new metal detectors, three X-ray systems, and five checkweighers for its eight packaging lines. In looking at equipment options, Kirk Neal, President of Phoenix, says the company looked at multiple suppliers for inspection equipment, considering detection sensitivity as well as price and service. Mettler Toledo, he says, was chosen for its reliability, consistency, and reputation within the industry for superior technology. "As a contract manufacturer of private label nutraceuticals, that association is very valuable," he says.
On four packaging lines, Safeline PowerPhasePRO metal detectors help ensure final product quality and safety. High-frequency coil technology and advanced-head geometry zero in on all types of metal contamination, from ferrous and non-ferrous tramp metal to difficult-to-detect stainless steel fragments. The units feature triple-frequency operation, enabling high sensitivity across a range of products by automatically accommodating variations. Product clustering allows a family of products to be run with no operator intervention during changeovers without sacrificing sensitivity. To virtually eliminate false rejects, a Faraday Screen, located between the detector coil system and the product being inspected, filters out signals that can interfere with the operation.
"Our Safeline metal detectors offer high detection sensitivity at the same time they ease use and give us the production flexibility that we need," says Phoenix Formulations Maintenance Director Chad Hill. "We have no problem with false rejects while we're maintaining our high performance standards."
On the three lines that fill packages containing foil, where metal detectors would be ineffective, Phoenix installed Safeline X33 X-ray inspection systems. In addition to detecting metal contamination inside the packages, the systems are capable of finding all dense foreign bodies and performing gross mass measurement.
The X33 replaces Mettler Toledo's SmartChek and AdvanChek X-ray machines. While offering the same detection sensitivity, the X33 features a 20-watt X-ray generator, instead of the 100-watt generator used on previous systems, which the supplier says dramatically reduces power consumption to minimize the cost of ownership. The redesigned styling improves sanitation and ergonomics, while a new graphical user interface eases use.
"These X-ray systems reliably detect the small metal sizes we are looking for. We know this because we run test strips through our machines several times a day. The reduced energy cost is a nice bonus," explains Hill. "These are great looking machines that make a strong impression when customers walk through our plant."
Five new Hi-Speed XE3 checkweighers, which automatically reject under- and over-weight packages, are used at Phoenix to monitor fill levels on the gusseted bag line and verify the correct count of multipacks on other packaging lines. The XE3 uses electromagnetic force restoration (EMFR) weigh cells instead of more common strain-gauge load cells to achieve an accuracy of ±200 mg.
"These checkweighers are really accurate and simple to operate. The user interface has a large color touchscreen and a dashboard layout that reduces training requirements and helps improve line performance," explains Hill. "We started with one XE3 and were so happy with it that we bought four more."
Companies in this article