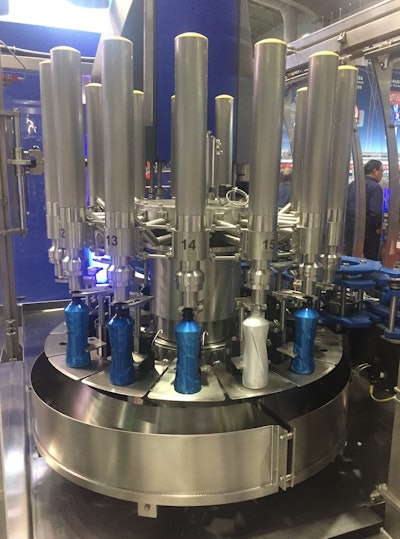 In yet another illustration of EXPO PACK Mexico's varied mix of attendee sophistication levels and volume needs, Serac demonstrated its FC Filler/Capper, which is aimed at, but not limited to, ultra-high precision filling applications.
The FC features a tankless filler design, with a flow pressure controller that regulates and monitors pressure to maintain an optimal flow rate for a smooth, accurate fill. This saves on space and reduces product loss upon changeover or maintenance. An optional tank offset is available when necessary.
The proprietary Dynaflow Algorithm monitors, in real time, the actual amount of liquid dispensed to any container, and continually calculates the correct flow rate needed to maintain the desired product weight. The servo Dynovalve will then adjust the flowrate based on information received from the algorithm. A patented anti-drip system keeps product from falling from the valve to contact the container.
And when it comes to bottle handling, the FC Filler/Capper's unique gripper can accomodate both neck or body handling. This allows for plenty of flexibility to use multiple formats, and dramatically reduces tooling changeovers.
Finally, while engineering the FC, special care was paid to ergonomics. Easy accessibility makes for faster and simpler maintenance, and unobstructed sight lines allow operators constant visual feedback on the filling process.
Companies in this article