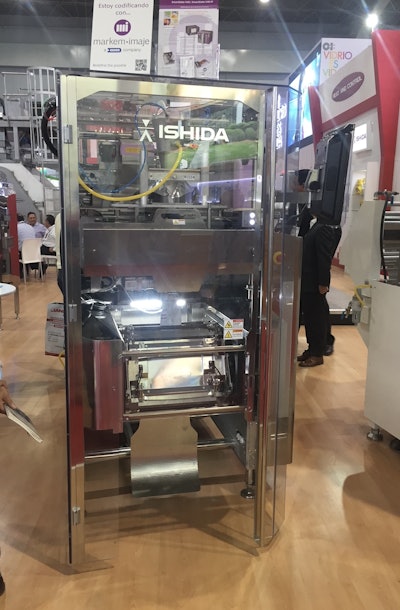 The snack food market is hot in Latin America. According to new research by PMMI Business Intelligence, Europe and by North America are the largest snack food markets, but developing countries such as those in Latin America and Asia Pacific will continue to grow at the fastest rate.
Recognition of this fact was visible at the Heat and Control booth at EXPO PACK México 2018, where the all new Ishida INSPIRA bagger was displayed. Claiming to be the world's fastest vf/f/s, the continuous rotary motion bagger can hit speeds of 200 bags/min depending on the application and the length of the bag. New pulling belt material and an optimized motion program for the servo motor drive contribute to this speed, and to a reduction in operating noise.
A rigid, all stainless-steel structure prevents corrosion over time, and ensure stable operation. The structure combines with a high-accuracy drive control system that don't require operator adjustment, and newly designed heat sealing mechanism that achieve a higher sealing pressure than previous iterations, and a high-quality seal. Rollers help to ensure product is removed from the sealing area prior to the seal.
New HMI controls are designed to be user-friendly and are modeled after the ubiquitously familiar cell phone interface. The proprietary Ishida control also contains an internal help system, so in the case of an error, operators can simply navigate the HMI to look for the fix, as opposed to searching for physical manuals. Easy use includes easier access to the former, and internal lights for easier visibility inside the machine.
Companies in this article