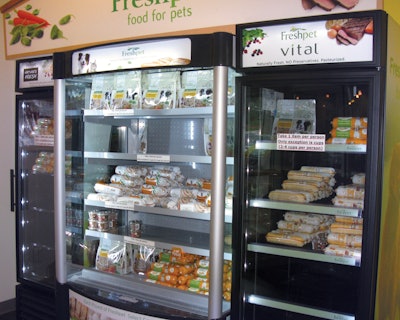 Freshpet brand pet food is extending fresh, preservative-free options to dogs and cats—or at least to their doting owners. The company has pioneered this new market via refrigerated cooler displays placed in more than 16,000 supermarkets in the U.S., further stretching the boundaries of premium pet food.
While fresh pet food products likewise command a premium price point, month-to-month sales increases of 1% to 3% indicate people are willing to pay. Sales channels reach beyond the expected vehicles of Petco and PetSmart to cover the grocery gamut, from low-cost Walmart, to high-end Whole Foods. Even discount clubs like Costco and food-featuring big box stores like Target are in on the fresh pet food action.
Freshpet's plant is an SQF level 3-approved facility where meat, vegetables, and other ingredients are processed and packaged. One popular dog food line is packaged in chubs akin to popular breakfast sausage brands, emphasizing to consumers a wholesome, farm-fresh feel. Chubs are available in 1-, 1.5-, 2-, 5-, and 6-lb. sizes across several flavors.
To meet growing demand of these chubs, the engineering team at Freshpet's Bethlehem, PA, facility began upping production volume and planning for two new high-capacity lines. In researching how to automate and improve production, a major sore spot was revealed in the labor-intensive hand packing of finished chubs into corrugated cases. To alleviate this bottleneck, Engineering Manager Sam Torres turned to JLS Automation and a robotic pick and place solution.
Packaging line bottleneck
Package-ready processed pet food enters a chubmaker while still hot to be vertically formed, filled, and sealed. The film, a multi-layer, high oxygen barrier polyethylene that is digitally printed, is fed into an Oystar Chubmaker to receive the contents, and a folder forms the chub to create the familiar tube shape.
Notably, a new automatic splicer from Butler has shortened film splicing-related downtime from six minutes or more to a minute or less. Because of the hot fill process, the chub then travels through an MMC serpentine chiller to cool. A date coder prints dates and lot codes, and chubs are conveyed down the line to meet cases erected in a Pearson case erector for case packing, prior to being sealed by another Pearson machine and manually palletized with offline stretch wrap.
Until recently, the junction on the line between date-coded chubs and erected cases was where the heaviest manual labor took place. Increases in volume and speed, approaching the facility's current top speed of 120 chubs/minute, exacerbated the issue.
"Imagine two or three people picking and packing 110 chubs per minute, just putting them in boxes," says Torres. "After a couple hours, they were beat. So we'd be constantly rotating them; meaning we'd have to keep people around in order to have enough folks on hand to be able to do rotations."
But the route to automating was more complicated than simply replacing people with machines. The easily damaged chubs presented a unique challenge, as they require careful handling. Plus, Torres had to consider practical line requirements, like small space and a need to seamlessly mesh with existing equipment.
"These delta-style robots that we eventually ended up with—what everybody used to call spider robots—have been around since probably 2000. I'd see them all nicely set up at PACK EXPO and they'd be picking things at a million miles an hour," Torres says. "That was always impressive, but we weren't sold. They took up a lot of real estate."
But as production volume grew and the prospect of the two new high-capacity lines loomed, Torres connected with an old friend, John Kertesz, Eastern Sales Manager of JLS Automation. The two discussed the longstanding ABB FlexPicker style of robot, and eventually that conversation snowballed into a test study to see how the heads would perform with chubs. As far as Torres knew, nobody had done this with chubs before, so he put JLS through its paces. But the machines proved to be up to the task. Freshpet purchased its first JLS chub-loading system late in 2015, prior to the two new lines being introduced.
"The existing case erector, hand pack station, and case sealer were all builtand controlled together, so while they wanted to replace the labor of manually putting chubs in cases, they still wanted to keep the case erector and sealer," Kertesz says. "The footprint was tight, so we had to close-couple everything together. We integrated our single-head Osprey chub loader into that design by breaking apart the Pearson case erector and sealer, and placing the case packer, our new product conveyor, and case conveyor in between."
This is not typical for JLS to do, but it was a good way to get labor off the line while introducing Torres to JLS technology. Like any new installation, there was a period of debugging, modifications made to the head, the picker heads, and the suction cups.
"But it was an all-new, customized piece of equipment, because nobody had done this. That's how I ended up with the JLS pickers. I'm very happy with them, they're a good group, even though I try to keep them on their toes," Torres says.
Right after that installation, Torres tipped his hand on the new high-speed bagger line and a high-speed chub line that he had been planning.
"With the success of the first system and higher speed requirements, they knew they were going to automate the new lines," Kertesz says."We helped them with that and provided our dual-head Osprey case packers, one for case packing chubs, the other for case packing bags. Those were installed in 2016, and they have since ramped up production on both."
Production speed and changeover
The single-head Osprey that Torres added to his first line can comfortably go to 110/min before any hints of struggling. But for the dual-head, that's merely cruising speed.
"Today, for instance, we're running 105 to 110 per minute on the dual-head machine, and it's just seamlessly going back and forth, picking and placing without much effort," Torres says. "The machine is capable of handling 220 chubs a minute.
"We will never hit that, that's overkill. It has much more capacity than we would ever use, and we like it that way—we don't want to have it moving too fast. It's moving only at the speed that is adequate for the amount of chubs that are coming at it. I want this thing to last, and with anything, the more speed, the more wear and tear."
Torres is also impressed with the simplicity of changeovers. Only three vacuum suction tools are needed for the range of five chub sizes, and a changeover usually takes less than two minutes.
"It's one bolt, you'll screw it, take the head out, put the other head in and input the recipe for that size, and press start," Torres says. "Of course, there is legwork that you have to do to get there. But after everything is tweaked and all the parameters are set, an operator just takes the recipe, changes the tool, and he's good to go."
With labor reduced, the frantic pace is gone and rotations are eliminated. Now it's just one person who links on the JLS Osprey chub packer, and just watches the machine run. The company alternates weeks for large chub production and small chub production. The smaller chubs, which are produced more quickly, might require a staff of three per shift, while slower production larger chubs require only two. Gone are the days of substitution due to fatigue.
"We're not going to eliminate everybody, of course," Torres adds. "There's always somebody who needs to be there, but we did the numbers on that, and the ROI was definitely there. The move to the JLS machines has been very beneficial."
Companies in this article