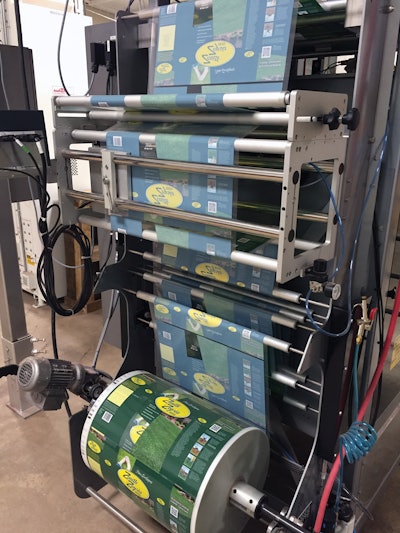 Patten Seed Company, Lakeland, GA, is a privately held family- and employee-owned business, specializing in the development and production of turf grass sod, seed, and organic humus compost. To accomplish its packaging needs, the company had been buying four different sizes of pre-made stand-up film pouches (one-lb, two-lb, 5-lb, and 6-lb), manually filling them, and closing them with a band sealer.
Ben Copeland, Sr., President of Patten Seed Company, recognized the need to modernize and automate his packaging operations. The previous line was slow and labor-intensive, and the company was paying premium prices for pre-made bags, which were not always delivered on time as needed.
After looking at various possible packaging options, Patten Seed selected the Model BI-260 Intermittent-Motion Vertical Form/Fill/Seal Bagger from Bossar USA, Inc. and the Model NW3X3-GT Net Weigher/Feeder from Parsons-Eagle. The easy-changeover system, installed in February 2016, is producing flat-bottom bags with center fin seals in bag widths from 190 mm to 290 mm. Bossar also provided the label printing equipment. The bag forming film is a PET/LLDPE lamination in varying gauges (4.0-4.75 mil based on bag fill weight) and is supplied by Clear Lam.
Making the transition
Copeland says of the installation and start-up, "The folks from Bossar were very involved from the beginning as this was our first automated packaging line. They did an outstanding job and worked diligently to meet our schedule."
The Bossar bagger features an Allen Bradley Compact Logix platform with servo-drive and cross-seal jaws. Other features include operator-friendly 10" panel view, self-aligning vacuum-assist feed belts, quick no-tool changeovers, easy-access design for inspection and maintenance and film roll capacity up to 600mm (23.62") diameter.
The Parsons-Eagle net weigher has an open-frame design with two banks of three net weigher heads mounted opposite each other. The head banks are mounted on a swing-out frame, enabling easy access for cleaning and maintenance. Product feed is accomplished via a two-stage gravity feed—a high-flow main feed followed by a fine-precision feed—to achieve accurate weighing at a high-cycle rate. The net weigh system is equipped with strain gauge weight sensors, dust pick-up nozzles, a discharge hopper centered on the v/f/fs machine forming tube, and automatic tare weight correction and check-weighing. This system is capable of accommodating free-flow particulate size of 1⁄64" to 1⁄16" with estimated accuracy of +/-1⁄2 oz.
With this system Patten is packaging two varieties of grass seed in four different bag sizes. Copeland notes, "The bagging speeds vary, depending on the seed variety and product volume. But compared to our old antiquated manual filling and sealing operation, there is no comparison in terms of efficiency. We are very pleased."
The modular, easy-retrofit Bossar vf/f/s bagger and Parsons-Eagle netweigher allow Patten Seed Company to reduce labor costs because they can run their various packaging formats much faster and with only one operator as opposed to the four or five people previously required. Significant cost savings also result from the fact that Patten can now form its own gusseted, flat-bottom bags on-line instead of having to purchase preformed stand-up pouches.
Companies in this article