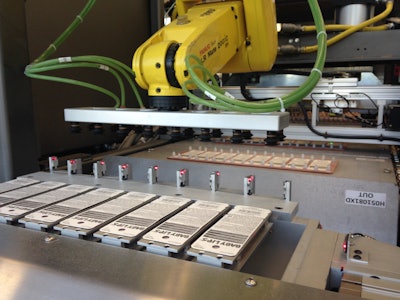 Cosmetics giant L'Oréal USA is one CPG that needs no convincing when it comes to the value of incorporating robotics and automation into its packaging operations. Since 1987, the company has been using robots in its Somerset, NJ, Florence, KY, and North Little Rock, AR, plants, which respectively produce cosmetics and skin care products, hair care products, and cosmetics.
"We started using robots years ago to take products out of pucks to either apply labels or place products into a carton or case," says Erin Morris, L'Oréal USA Project Engineer. Since it began investing in automation, L'Oréal has worked with systems integrator Clear Automation, LLC.
In 2012, when L'Oréal's Consumer Products Division launched the Baby Lips line of Moisturizing Lip Balms under the Maybelline brand, it looked to Clear Automation to automate a dedicated blister-packing line at its Somerset facility. "Years ago, blister packing was a manual operation, because there were not many products that were blistered," explains Morris. Drawbacks to manual blister packing for the Baby Lips application, she adds, included cost, safety, and a lack of efficiency and flexibility.
For the new line, L'Oréal required robots that could meet its speed, reliability, and ease of use specifications. "The type of robot is determined by the requirements of the line for speed, but they must be low maintenance regardless," says Morris. "They must also be easy to use in terms of programming, debugging, and general maintenance. Having a common platform that is easily supported is critical."
Clear Automation's solution included three robots: one to pick lip balm tubes out of pucks and place them into stepper motor-driven pockets for labeling, one to load the blisters, and one to pick finished blister packs from the packaging machine and place them onto an exit conveyor. All three robots are Fanuc LR® 200iC/5H servo-driven tabletop mini-robots with five axes of controlled motion.
During operation of the 50-pack/min line, lip balm tubes—filled and capped upstream on a machine from Weckerle—are conveyed while standing upright in pucks to the downstream equipment. As they approach the labeler, the first Fanuc robot picks the tubes from the pucks, orients them, and places them in the labeler pockets. Next, labels are wrapped around the tubes using a wrap mechanism specially designed to operate with a labeler from Herma. A second Herma labeler then places a label, first checked by a Microscan inspection system, on the end of the part. After label application, a second camera from Banner Engineering inspects and verifies the label. Those tubes that do not pass inspection are sent to a reject bin.
After labeling, tubes are conveyed on a FlexLink conveyor to an Alloyd Aergo® 8 automatic rotary blister-sealing machine. Here, the second Fanuc robot picks two tubes from a shuttle at the end of the conveyor and places them into two of four blister cavities on the packaging machine; after placing the two tubes, the robot then picks two more and places them in the adjoining two pockets. After the blisters are heat-sealed with a blister card, a third, top-mounted Fanuc robot unloads the finished blister packs from the machine four at a time. The packs are then checked for the presence of the product, after which empty packs are released down a reject chute and good product is placed onto an exit conveyor leading to a case packer.
According to Morris, at the outset of the project, L'Oréal planned to install two 50-pack/min lines, but after operating the first line for four months, it realized it needed a higher-speed line instead to keep up with demand for the Baby Lips product. The second line, therefore, was designed to operate at 100 packs/min and is equipped with an Alloyd® SL 11 straight-line automatic blister-sealing machine that handles eight blisters at a time, rather than four. This line also uses three Fanuc LR Mate 200iC/5H robots, but in this configuration, all are used to load and unload the blister machine.
Installed in February 2014, the 100-pack/min line follows much the same flow as the 50-pack/min line, but the labeling function is integrated with the filler. On this line, when the labeled tubes reach the blister machine, two sets of four tubes are picked and placed by the first Fanuc robot from a shuttle into an eight-pocket indexing conveyor. From there, the second Fanuc robot picks products eight at a time and loads them into eight blister cavities on the Alloyd machine. After cards are heat-sealed to the blisters, a third, ceiling-mounted Fanuc robot picks all eight packs using vacuum grippers and places them in front of sensors for inspection, after which empty packs are rejected and filled blisters are placed on an exit conveyor. Morris adds that a fourth Fanuc robot is used in an integrated case packer/palletizer system from Bergami.
According to Morris, since 2012, the cutting-edge technology used on the blister lines has helped L'Oréal meet the demand for its successful Baby Lips product and has met the productivity, labor, cost, and efficiency requirements it envisioned when embarking on the project.
Watch a video of the 50-pack/min system.
Companies in this article