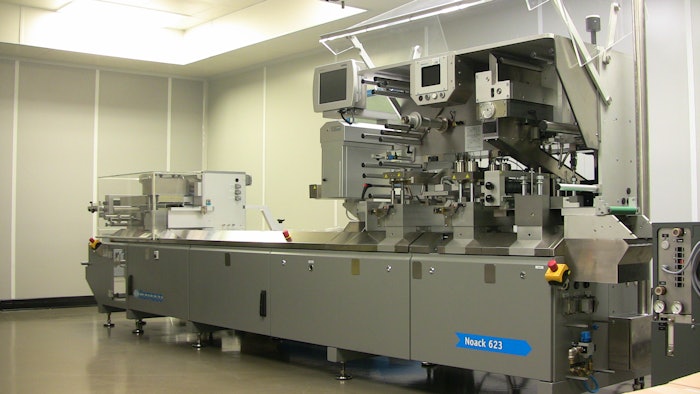 Almac, a provider of contract services for global pharmaceutical and biotech markets, expanded its Medicines and Healthcare products Regulatory Agency/U.S. Food and Drug Administration-approved U.K. commercial packaging facility by adding a Noack N 623 blister packaging line from Romaco.
The packaging line acquisition aims to meet growing client demand for enhanced flexibility related to larger blister sizes and multi-unit blister formats, along with a requirement for non-permeability and enhanced environmental protection, particularly product humidity control.

The flexible, cGMP-compliant technology can be configured to process both thermoform and coldform materials, with maximum blister sizes of 220 mm x 155 mm. The line's automatic feeding system, filling inspection and ejection station, and shorter set-up times provide increased productivity, processing over 25,000 blisters/hr, including multi-product blisters.
"Blister size and dosage formats are becoming increasingly more complex. Additionally, product handling for innovative new molecules often requires enhanced environmental controls. This investment allows Almac, through its Pharma Services business unit, to offer this additional flexibility," says Geoff Sloan, vp of manufacturing operations. "Through this acquisition, coupled with our imminent entry into the U.S. commercial packaging market, we continue to expand our capabilities and flexibility to meet our client's needs."
In related news, Almac's expanded U.S. presence was the subject of the recent article, "Global pharma packager plants flag in U.S. soil."
Companies in this article