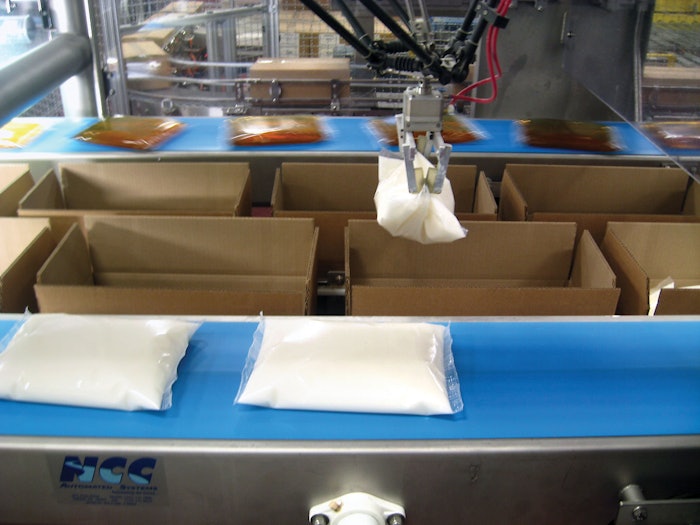 Fruition Fruits & Fills has installed a tightly integrated robotic case packing and palletizing operation for hot-filled pouches of shelf-stable icings, toppings, and fruit and pastry fillings for the bakery and dairy industries. It's remarkable not only because it has reduced labor costs and greatly improved ergonomics. It's also impressive because of how little space it occupies.

"The space is about 5,000 square feet," says Roland Love, plant manager at the Oakville, Ontario, plant. "We never thought we'd fit it all in. To be able to do all that's done in that space is pretty amazing."

Each weighing between 1.5 and 2 kg (3.3 to 4.5 lb), the pouches go to foodservice institutions for use in a variety of sweets and desserts. Before automation, says Love, six people were involved in secondary packaging and palletizing. Now it takes three, and output is considerably higher.

Teaming up on the supply side of this automation solution were JLS Automation and MD Packaging Inc., the exclusive sales rep in Canada for JLS. Already in place when JLS and MD got involved were three Cryovac roll-fed hot-fill form/fill/seal systems from Sealed Air. These remain in place, filling product into pouches formed of a Cryovac multilayer coextrusion that includes EVOH as a gas barrier.

Only two of the filling systems are in use at one time, and the JLS Osprey case-packing system is designed to handle two different products simultaneously. While the heart of this packaging solution is the part involving robotics, three important contributions are made upstream from the robotic cells. One is automatic case erecting, which is done on a Model WF30 machine from Wexxar/Bel, a division of Promach. It has an extra-long 10-ft magazine that helps it keep up with the two robotic case packers it feeds immediately downstream. The other two machine contributions are metal detection on Thermo Scientific Apex systems and checkweighing on BeltweighXS combi units supplied by Mettler-Toledo Hi-Speed.

One lane to two

Freshly erected cases are divided from one lane into two just before they enter the case packing robotic cell. This is a dual-head JLS Osprey using two IRB360 Flexpicker robots from ABB. Each has end-of-arm tooling custom designed by JLS. Mechanical in nature, these pouch-picking tools use fingers covered in hardened rubber to grab a pouch and lift it into a case. The pouches are conveyed down the center of the robotic cell with one empty-case conveyor on either side. One Osprey cell places pouches of Product A in cases on the left conveyor while the other Osprey cell feeds cases of Product B on the right conveyor.

Pouch picking is done with the aid of a Cognex vision system that captures the position of each incoming pouch and feeds that information to the robot's controller. JLS software processes the information and calculates the precise coordinates that the Osprey needs in order to accurately pick the next pouch. The pouches are usually spaced apart pretty well, but occasionally it's possible to have one overlapping another. The vision system will read that as one large item that is outside of the size parameters it's looking for, so it will simply let those two pouches go through and wait for pouches that are properly spaced. Also notable is that the Osprey uses 100% vision technology and does not require mechanical infeeds, separators, or accumulation. These sophisticated robotic devices even track the cases as they come in with random spacing and place pouches on the fly.

When eight pouches are in a case, that case is released and passes through a Domino print-and-apply labeler. Love's explanation of how this particular machine was selected is as succinct as it gets: "We met with Domino at Pack Expo and liked what we saw."

Using a thermal-transfer print head, this machine gives each case a bar code that helps identify the case throughout warehousing and distribution. But as we'll see shortly, the bar code also plays an important role when cases reach the downstream checkweigher and again at the robotic palletizer.

Filled and labeled, cases merge onto a single lane and pass through a Bel 250SS case taper from Wexxar/Bel. It folds the top flaps closed and closes them automatically without using potentially dangerous rear-flap kicking arms. Using a stainless steel high-performance tape head, the taper is capable of handling up to 25 cases/min on a range of case sizes. Speeds at Fruition are in the 10 cases/min range.

Case weigher

Next in the line is a Mettler-Toledo CS3600XE case weigher that identifies and rejects any case having the incorrect number of pouches. The bar code on the case label plays a role here, too. A vision system from Cognex scans this code to determine whether the case contains Product A or B. Cases of A weigh 15 kg while cases of B weigh 16 kg. So the vision system tells the checkweigher to look for weight parameters that are appropriate for whichever product is in the case. Without this bit of on-the-fly reprogramming, it would be difficult to send cases having such different weights through the same checkweigher.

The vision system also provides a "no label present" signal to ensure that every case in fact has a label applied. In addition, the case weigher checks for proper positioning of major and minor flaps using sensor arrays and sends a reject signal to the unit if anything is out of position.

At this point, cases are conveyed around a U-turn and move toward the robotic palletizing cell. Two pallets are filled simultaneously by an ABB IRB660 that also comes from JLS Automation. One pallet is for Product A and the other for Product B. The robotic palletizer knows which pallet on which to place a case because it scans each case's bar code to determine if it contains Product A or B. If it doesn't read any bar code, it will pick the case and put it aside as a reject.

No slip sheets are needed between layers of cases, so the end effector needn't be configured for slip sheet picking and placing. But the versatile end effector, in addition to using vacuum pickup for cases, also automatically adjusts to a mechanical-style picking tool that picks up and places new pallets when they are required. Even the pallets are automatically fed into the cell by a JLS pallet dispenser.

The last bit of automation on the line is a stretch wrapper from Lantech that stabilizes each pallet with an application of stretch wrap.

JLS Automation, along with strategic partner NCC, provided all of the conveyance as well as all line control and integration work. Each piece of equipment on the line is controlled and monitored by Rockwell controllers. If a conveyor needs an adjustment in speed, it can all be done centrally via PLC. This makes for a great deal of agility in line and product control throughout.

Considering that each case of 8 pouches weighs something like 35 lbs, the introduction of automated palletizing comes with considerable ergonomic advantages, says Love. He acknowledges that it is the most ambitious automation project the firm has ever undertaken. "It took about two years, start to finish," says Love. "It was exciting watching the development process and working through the various revisions. But believe me, the best part was when we got to see it up and running as it is today." 
Companies in this article