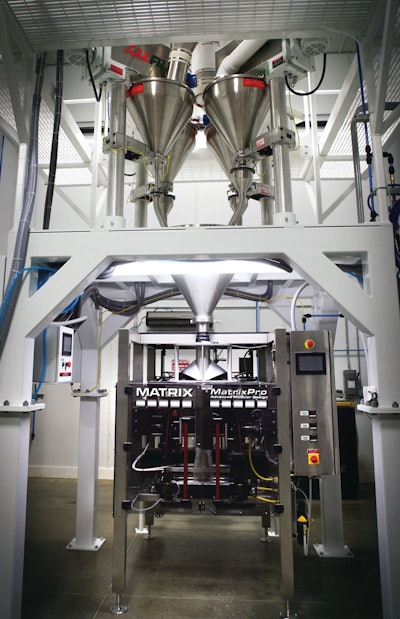 Midwest Food Bank is a non-profit, faith-based organization whose mission is to gather large food donations from nationwide corporations and distribute them to social service organizations and natural disaster sites at no charge. The MFB maintains a fleet of semi trailers that transport dry and frozen product donations throughout the country. The Peoria, IL division of MFB also blends and packages a hearty, four-ingredient dried meal mix called "Tender Mercies" for broad distribution to people in need.

Larry Herman, director of MFB-Peoria, says, "In 2009, Midwest Food Bank was feeling the stress of economic upheaval and serious food insecurities among a growing segment of the population. These conditions created a large strain on our food procurement and distribution efforts. A portion of the foods we distribute includes bulk commodities such as dried beans, rice, and [Textured Vegetable Protein]. We had a cold storage facility as well as a clean room that we had installed in anticipation of future needs. So we concluded that the future was now. By combining some of these bulk ingredients into a high-flavor, nutritious, easy-to-prepare meal mix, we could add food value and help feed more people."

Herman adds, "We felt we needed a chicken-flavored seasoning and vitamin/mineral boost to enhance nutritional and flavor values. After seeking professional food processing industry advice, we chose an excellent chicken seasoning component with a vitamin and mineral blend to add to the rice, bean, and TVP meal formulation. And we already had a clean-room environment where our staff and volunteers could come to blend and bag the meal mixes by hand. But soon, the demand for the mix was so great, we couldn't keep up with it manually anymore."

In the Summer of 2010, MFB began a search for automated packaging equipment that would best serve their operations. Following a lead from their flavoring supplier, MFB contacted Matrix Packaging Machinery, a ProMach company (www.matrixpm.com), a leading manufacturer of form/fill/seal machinery.

Herman recalls, "We were in luck because Matrix was only a three-hour drive from our location. After visiting with them, it became obvious that this was a great company that offered a lot of energy and resources to help us out. We asked them to provide recommendations regarding the other equipment we would need to integrate with their form/fill/seal machine."

After researching the recommendations and, in some cases, visiting the recommended companies, MFB chose auger filling equipment manufactured by All-Fill. And to provide an efficient means of conveying the four ingredients to the auger fillers, MFB selected a vacuum conveying system from Vac-U-Max.

Herman notes, "We decided that the All-Fill and Vac-U-Max equipment was well-suited to meet our integration and performance expectations. Also, because we could not use a gravity-feed system due to ceiling height restrictions at our facility, vacuum conveying was the optimal way to go."

The entire vacuum conveying, auger filling, and bagging system was sourced for Midwest Food Bank by All-Fill, and All-Fill acted as the systems integrator.

The automated operation
The four-track-feed Vac-U-Max conveying system delivers the four ingredient components to the All-Fill auger fillers. MFB is using a proprietary design vacuum receiver, partnered with a Model MDL205001 tube hopper, which is designed to handle all sorts of powders, both free-flowing and non-free-flowing. The vacuum source is a 5-hp positive displacement vacuum pump.

The job of the vacuum conveyor is to keep the auger filling machines full so that each of the four ingredients is consistently portioned. From the auger fillers the ingredients then are dispensed into a common hopper, mounted above the Matrix vertical form/fill/seal bagging machine. Matrix forms the 300-gram meal bags from 4-color surface-printed nylon sealant film supplied by Winpak. Finished bag production rates are approximately 35/min.

Herman says, "Since we are a very small operation, we felt that 30 to 35 bags per minute fit our needs and budget. The best part is that the feed rates can be adjusted up or down, based on the amount of volunteer help we have that day. Our needs are not based on the competitive profit model of today's industry, but rather are driven by what commodities we have to distribute and how we can disseminate these products in a safe, efficient, uniform manner. And the system's flexible design allows us to package many other products besides the Tender Mercies meal mixes. For example, we can run one-pound bags of rice or pasta or beans on this system, too.

"Because we were complete green-horns in the area of automation, we really needed companies that we could trust to help us find our way. The three companies we chose, All-Fill, Matrix, and Vac-U-Max, really all came together to make this a great experience. The integrated line works perfectly for us. If we had it to do over, we most definitely would install the same equipment because it works as designed and has so much flexibility built into it to accommodate our various packaging needs."
Companies in this article
Videos from Matrix Packaging Machinery