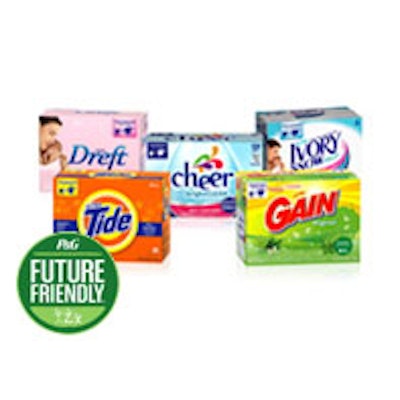 New Tide and Gain compacted-powder laundry detergents from Procter & Gamble are now available at Target stores nationwide. The new detergents are compacted by one-third, while offering the same number of loads in a smaller box. P&G estimates that the compacted detergents could help save up to 22 million pounds of total packaging in the U.S. and Canada each year.
"This launch represents P&G's commitment to innovate and improve consumers' lives, while also demonstrating our commitment to sustainable innovation," says Kevin Crociata, P&G marketing director, North America Fabric Care. "These new compacted detergents give consumers the same number of loads as our noncompacted powder detergent in a more convenient product that is easier to handle and store."
The new compacted detergents provide the same great cleaning, says P&G, adding that in some cases, it even provides significant performance upgrades. The Tide traditional top-loader formulas are said to have improved stain removal performance over previous noncompacted formulas, while the compacted Gain formulas have new Freshlock technology—perfume microcapsules that offer more freshness than before.
Meaningful environmental benefits
In the U.S., P&G's compaction of its carton powder laundry detergents could help save up to 2.9 billion liters of water, 4 million GJs of energy, and 225,000 metric tons of CO2 equivalents each year, the company estimates.
In addition to the Tide and Gain compacted detergents, P&G will also introduce compacted formulas for Cheer, Dreft, and Ivory Snow.
The new compacted detergents join other products in the P&G Future Friendly portfolio, such as Tide ColdWater, PUR, and Cascade ActionPacs, that have been designed to reduce waste, save energy, or save water without a trade-off in value or performance.