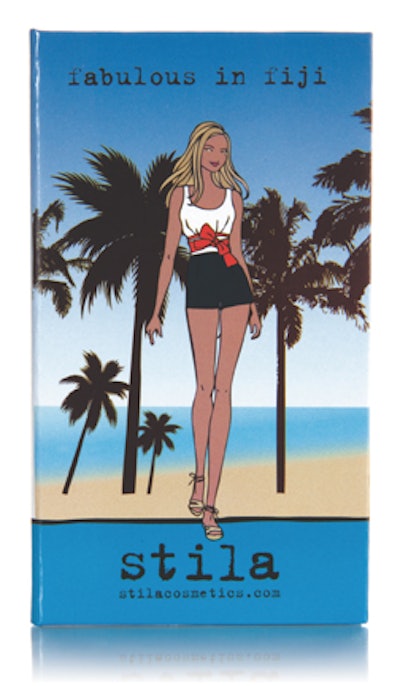 One retailer wants everything to be tamper-labeled. Another requires small counter displays. A third requests the development and assembly of 100,000 pieces into eight-piece kits. Through it all, the focus has to be on the core consumers—educated, youthful-spirited young women.
These are the challenges facing Stila Cosmetics, a relatively small but growing company in Glendale, CA. If that weren't enough, Stila has the daily challenges of achieving the right mix of product formulas in fashion-forward, eco-friendly packaging.
Stila (pronounced Stee-la) accomplishes all of these objectives and has forged a close personal bond with its consumers by using guerilla-marketing tactics in which packaging plays a vital role. Its packaging supply chain, which includes a host of contract manufacturers, fillers, packagers, and assemblers, in the U.S. and around the world, plays a huge role in the company's success.
An important factor in Stila's approach to its supply chain is the focus on developing strategic relationships with vendors, in which departments inside the company plan carefully to optimize production efficiencies and produce cost savings and manufacturing process stability over time, so long-term relationships are preferred. Price is just one measurement when Stila qualifies contract packagers, for example, as opposed to a more tactical use of vendors, in which a brand owner increases capacity and capability as needed and bases procurement primarily on price.
"We look for fast"
"The cosmetics industry is very much led by innovation and who can get it to market fast, so we look for who can do it fast, and they often come to us with ideas," says Gretchen Rider, Stila's vice president of operations. "It's high service and helping us out when we need it, because sometimes, people don't give us the proper lead time, Sometimes, people don't have flexibility in their schedule, so flexibility is very important to us."
The need for speed and flexibility in operations is essential because development cycles are shrinking due to retailer and consumer demands. Jill Tomandl, who oversees the package-design operations at Stila, says turnaround times typically were one year not long ago, from package creation to the shipping date. Those turnaround times recently have plummeted to five months.
Beyond that, the company is committed to being eco-friendly, whether it's local product and package production or the use of Kraft material in its cartons or eye shadow sold in clamshells made from recycled PET.
Shortened turnaround times and a green approach are understandable given Stila's positioning as a marketer of prestige "multitasking" product formulas in eco-friendly packaging using fashion-forward designs. The mix of packaging ranges from core-line packages in black, silver, and Kraft material to seasonal designs and offerings using what loyal consumers anticipate and gobble up as collectibles. Also popular are smart packages leveraging special effects that guide shoppers at both the point of sale and the point of use. Each limited-edition, seasonal package, Tomandl says, is an "art project" that often features custom designs or additional components that require assembly—and the services of a contract packager.
An example is Stila's range of collectible travel palettes. The foldout compacts contain four eye shadows and a convertible color dual lip and cheek cream. The focal point of each pack is a custom illustration on the front panel that is created in-house and printed in four-color process.
The "Stila girl'
"The 'Stila girl' illustration was conceptualized as the spokesperson for the brand, so women do not have to aspire to look like a model," Tomandl says. "The illustrations can be easily created each season, as fashion changes. The package is as important as the product. Customers are drawn to the product because of the innovative package design, and because the product delivers exceptional quality."
Packaging also serves the role of tutor at Stila. This approach is essential because the company markets its products on Web sites; in "open sell" environments in stores where assistance might not be available when the shopper needs it. Stila conquers these challenges with a series of "talking palette" packages.
Among them is Stila's Smoky Eye Talking Palette collection, a smart package that not only presents the product components in a visually pleasing way, but also guides consumers on how to use them to achieve the smoky-eye effect. The Kraft carton, from Packaging Spectrum, contains a front-panel die-cut that enables consumers to see the front side of the pull-up lid of the compact case, which is a lenticular image. As the consumer turns the case at different angles, the image changes to show a visual representation of the smoky-eye effect achieved by using the product.
The inside of the package becomes a virtual makeup artist. When the button on the inside of the front panel is depressed, an audio recording begins, walking users through the five steps to achieving the smoky-eye look using the product.
Travel palettes and the smoky eye sapphire collection compacts are among products that could be filled, assembled, and packed at one or more locations, and in the U.S. or overseas. Circumstances that determine the extent of the use of fillers and assemblers vary by project. One job, Rider and Tomandl explain, could entail a packer pulling lip gloss, mascara and eye shadow from existing inventory and reworking them into a kit.
Roster of vendors
The Stila product family requires assembly and sometimes rework services from contract packagers. Stila uses several assemblers in the Los Angeles area:
Teamwork Packaging, and v3 Assembly. Besides packaging, v3 Assembly also is SPF-certified to perform rework services on cosmetic packaging. Stila also works with Justman Packaging & Display on corrugated countertop displays such as PDQ trays.
Sometimes, products are filled in Germany, Italy, and China, but are shipped to the U.S. for packing to achieve economies of scale, Rider says. In some instances, economies of scale and scope dictate that the filler doubles as the packer, if they can provide a turnkey operation that meets a retailer's timelines.
Whichever route is taken with the supply chain, Rider explains, she and Raj Nal, Stila's director of supply chain operations, make it a point to get at least three bids, and place emphasis on price, cleanliness, quality assurance, timeliness, and efficiency.
"Everything gets cost-justified, once we decide, as a team, if and how to do it. We create exclusivities," Rider says.
Companies in this article