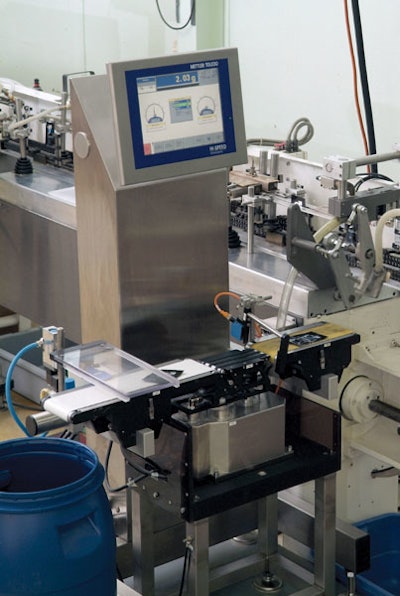 Contract packager Quality Packaging Specialists, Inc. thrives on completing challenging assignments in a responsive manner, and at competitive prices. With its recent installation of an XS1 checkweigher from Mettler-Toledo Hi-Speed. , the company is especially proficient at multipacking dietary supplements, which have grown to account for more than 75% of its business.
QPS specializes in custom contract packaging, including vitamin bagging, multipacks, bottling, form/fill/seal, blister and skin packaging, shrink wrapping, automated and hand filling, powder filling, hand assembly and packaging, repackaging, weighing and bagging, and heat sealing. QPS packages everything from hardware to pharmaceuticals.
"Everybody is looking for 100-percent quality all the time and that's what we strive to achieve. We are here to deliver the best quality that is physically possible," says Chuck Stoudt, president of QPS. "As the complexity of multipacks grows, it becomes increasingly difficult to assure the high level of product quality that we demand. With the XS1 checkweigher, we're confident we're giving customers exactly what they expect."
Operating at the company's Schaefferstown, PA facility, the XS1 checkweigher is designed for pharmaceuticals and nutraceuticals, handling small, lightweight products of less than 200 g, providing accuracy at high speeds. It handles up to 100,000 pouches/wk, with a maximum capacity of 600 packs/min.
Employing Mettler-Toledo Hi-Speed's electromagnetic force restoration (EMFR) weigh cell, the XS1 can handle up to 400 packages/min, while maintaining an accuracy of +/- 20 mg at 2 sigma. The machine identifies and removes under- and over-weight packages.
"We looked at checkweighers from three different suppliers," says Stoudt. "The accuracy at the lower end of the weight range was very important to us. The XS1 was the only one that gave us the sensitivity we needed and Mettler-Toledo Hi-Speed was the only company that would give us the guarantees we were looking for. The XS1 was more expensive, but it's been well worth it in the long run."
Eight lines provide flexibility
QPS operates eight packaging lines that produce multipacks that contain a combination of different supplements intended to be ingested at one time by the consumer. The company installed the checkweigher on a line that bags supplements in a variety of foil or paper/plastic pouches that range in size from 2x2 in. to 6x8 in. The flexible materials are purchased from various suppliers and converters in roll form, then converted into pouches as part of the packaging operation on a horizontal form/fill/seal line.
Unlike other QPS lines that multipack supplements in clear films that allow for visual inspection, this line requires other quality-control measures to assure the contents are correct since the packaging material is opaque.
"As the size of tablets and capsules becomes smaller, checkweighing becomes more challenging because it requires greater accuracy," explains Stoudt. "We need to know if one small tablet is missing or broken."
Some of the multipacks QPS produces contain tablets half the size of baby aspirin. "Mettler-Toledo Hi-Speed was the only company that would guarantee that its checkweigher would consistently detect and reject such a small missing tablet. A 90-percent guarantee was not good enough. We wanted a 100-percent guarantee on this lower end. That's why we chose the XS1."
QPS produces more than 50 different multipacks on this line, typically changing over at the end of every production day in preparation for the next day. "If we've run the product before, the machine parameters are already stored in the checkweigher's memory and it takes only 30 seconds to make that change on the touchscreen control panel. No hardware changes are required," notes Stoudt.
"If we haven't run a particular product in six months or more, the checkweigher's graphic display is helpful because it's not uncommon for a manufacturer to change its products and forget to tell us. This graphic output displays the mean, the high point and the low point, and plots each package on the graph. This allows us to quickly see if the package is following the average. If it's not, we can quickly make any necessary adjustments."
Easy to use, maintain
"The XS1 is very easy to use. In addition to the big, 15-inch color touchscreen, descriptive user prompts help lead us in the right direction," says Stoudt. "To assure the checkweigher is setup properly, we have password-protected access. Managers have deeper access than operators."
To ease sanitation and maintenance, the XS1 checkweigher is equipped with a cantilevered, open design and "plug-and-play" modules that can be quickly removed and replaced to minimize production line downtime.
"Since we installed the XS1, we've had no maintenance, other than routine cleaning, and no unplanned maintenance," says Stoudt. "It's been completely maintenance-free. We keep it clean and it keeps running. We wipe it down at the end of every production run and during the run if it gets dusty. The open design makes it easy to clean and easy to visually inspect.
"I understand the checkweigher has sealed electronics, which allows it to be washed down. This will be important if we move into the more critical areas of pharmaceutical packaging. If we do move into that area of pharmaceuticals, we'd also be interested in adding the option to meet FDA 21 CFR Part 11 requirements."
Manufactured with stainless steel and anodized aluminum, the XS1's compact footprint allows it to be easily integrated into most production lines. Small, lightweight conveyors help achieve the highest weighing accuracy even at high belt speeds, and a small roller diameter allows a smooth transfer of small, unstable products.
"The compact design was important to us because our space is tight," explains Stoudt. "It's portable, too. We tried it on several different lines here before we settled on the best location. Two people can easily move it. And the height of the machine is adjustable so it easily matches up with our other equipment.
"The Hi-Speed XS1 checkweigher has surpassed my expectations in terms of accuracy and ease of operation. And the customer service has been terrific. Our sales rep, Bob Dauphinais of Reliant Packaging Systems, is accessible and helpful. He's a big reason we choose Mettler-Toledo Hi-Speed. He was amenable to my concerns and was willing to make the guarantees I was seeking."
Companies in this article