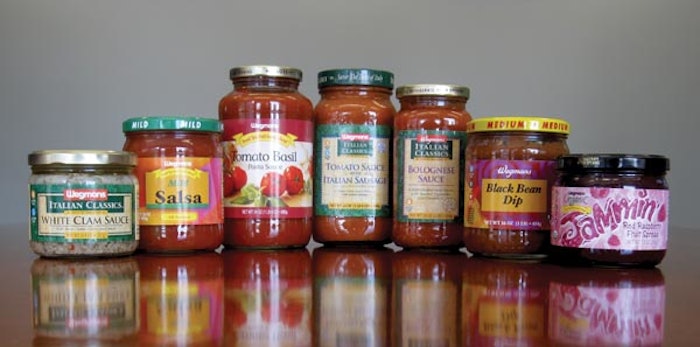 Wegmans Food Markets is gaining a reputation for having one of the shrewdest private-label product strategies in retailing. The average store size is three times that of a typical supermarket. A typical Wegmans store stocks more than 70,000 products, including private-label, or own-brand products, which give the retailer a presence in dozens of categories. These products feature distinctive package design and quality components that deliver value in a store setting that has drawn comparisons to a European open-air market.
Retailers are causing a major shift in how consumers define true brands, as opposed to products sold as commodities, and Rochester, NY-based Wegmans is at the forefront of the trend. Brands provide identity, context, and meaning about a product, and they engage consumers. Walk through any of the family-owned chain's 74 stores in New York, New Jersey, Maryland, Pennsylvania, and Virginia, and the packaging for the retailer's own brands is engaging, invitingly displayed, and has a "personality" apart from competing national brands. Glass jars, textured labels, and lids using tactics such as black and gold colors and "brand romance" copy set Wegmans' brands apart by signaling product quality and raising value.
Wegmans' private-label strategy is rated in the top tier among retailers, and retail industry analysts estimate Wegmans' sales per square foot at 50% higher than the industry average.
Internal-team leadership
An internal creative and packaging team—working with a supply chain that includes contract manufacturing and packaging—is a driving force behind the retailer's distinctive packaging for its brands. Retailers on the whole know their customers intimately, but Wegmans and a few others at the leading edge are beginning to learn how packaging can impact sales. They're hiring away experienced packaging talent from consumer product companies, attending branding and packaging conferences to learn about trends and optimal uses of colors and materials, and approaching packagers and suppliers with a clearer idea of what they want packaging to accomplish for their brand.
Thus, leading-edge retailers are entering package development with a solid understanding of packaging's potential in reinventing their stores as brands in their own right, and the role that packagers and suppliers can play in helping them succeed.
Packaging for some of Wegmans' own-brand products in the cooking and snack aisles offers a snapshot of how this dynamic works. LiDestri Foods Inc. , a contract manufacturer and packager, produces about 30 SKUs for Wegmans. These include Food You Feel Good About and Italian Classics pastas and sauces, Food You Feel Good About salsas, Wegmans Black Bean Dip, Jammin' Organic Fruit Spread, and cooking wines and basting oils. Products within these lines, such as Lime & Garlic Salsa and Tomato Sauce with Italian Sausage, are designed to fill a void where Wegmans believes that national brands can't match its taste/quality/value formula.
LiDestri's partnership with Wegmans spans more than 12 years. "We jointly develop our products with them," says Mike DeCory, vice president of Wegmans brands. "We tell them what we are interested in, and we'll give them a bit of direction on a product flavor profile. Then they give us options. "But it's important that they be in control in the end, because these are things that will run through their production lines."
LiDestri provides the retailer with a turnkey operation. It manufactures and fills the salsas, sauces, and other products, sources the packaging materials, packages the products, and handles logistics operations in getting packaged product to two Wegmans distribution centers in the Northeast.
Products that support such a high-magnitude private-label strategy are able to take shape for two main reasons. From a creative perspective, Wegmans and its supply chain collaborate with and trust one another. Collaboration occurs at the earliest stages of both product and package development.
Wegmans' product and packaging development teams—they include category managers and even a culinary expert—meet often with the team from LiDestri. They discuss everything from product freshness and safety to closures to artwork files.
Teamwork on labels
For example, the package labels are a joint effort. Wegmans manages the artwork and provides the images while LiDestri provides the printer specifications and validates that the designed labels will properly wrap around the jars without poorly aligned seams. LiDestri, using print-ready art files, executes label production according to Wegmans' specifications.
Elsewhere, working with facilities such as LiDestri's R&D laboratory enables Wegmans to achieve two important goals with its own brands: product freshness and safety.
The second reason a highly collaborative approach supports Wegmans' own-brand strategy is the benefits brought on by the right relationships. Closures are a case in point.
"It's not our area of expertise," DeCory says. "We rely on our supplier partners to put us in the right equipment and materials. Will it seal in product freshness and provide food safety? Can the closures have colors on them to help the shopper make her selection more easily?"
Wegmans' relationship with LiDestri extends to the co-packer's technology partners. LiDestri uses Series 4SS inline capping machines from Crown Closures Americas (www.crowncork.com) at Crown's plants in Fresno, CA; Pennsauken, NJ; and Fairport, NY. The machines can handle cap sizes ranging from 27 mm to 110 mm—ideally suiting them to the 63-mm, 70-mm, and 82-mm metal twist closures that meet Wegmans' product freshness and safety requirements on sauces, salsas, dips, and spreads.
"Food safety is very important to us, to our customers, and really to anyone who consumes food," says John LiDestri, president of LiDestri Foods.
Such a close working relationship also is crucial for Wegmans. The retailer receives assurance that the packaging components it wants will run efficiently in high volumes on LiDestri's lines, which in total produce more than two million jars of sauces and dips each day. Crown's technical team works closely with LiDestri to maximize product throughput, says Sheila Heath, Crown's director of marketing. "As a private-label co-packer, the more units that can go out the door at LiDestri, the better off they are," Heath adds.
Aesthetically, the closures provide the sauces, salsas, dips, and spreads with easy-open convenience as well as a "homemade" look and feel to complement each distinctive flavor profile. The "total package" helps the product lines make Wegmans stores a destination for shoppers—a brand unto itself.
A plant that never sleeps
Production lines at LiDestri run around-the-clock at speeds that surpass the official rating for Crown's sealing machines, John LiDestri says. Crown's Heath notes that the co-packer was the first to run Crown's Series 4SS inline capping machines at more than 700 caps/min, a feat accomplished with an investment in both upstream and downstream equipment.
"The Crown machines are very robust, with stainless-steel construction, and require very little maintenance," LiDestri notes. "We need that kind of reliability running at the speeds and volumes that we do. Our business model depends on a line running quickly for a long period of time with exceptional quality."
Quality is paramount to LiDestri, who knows his business depends on it.
"We were the first to employ X-ray checks on all of our products," he says. "We just see that as a standard for safety that gives our customers peace of mind and gives us the confidence to turn out large volumes of product we can stand behind."
Such quality assurance is important, because Wegmans performs periodic checks of its inbound own-brand products and seal and lid applications on LiDestri's production lines. Even after more than a decade of service, Wegmans remains pleased with LiDestri's performance on its product lines, brought about through collaboration, effective relationships, and the right technology.
"We're very happy with the quality and consistency of our products, both from a flavor and taste profile and from a freshness profile," DeCory says.