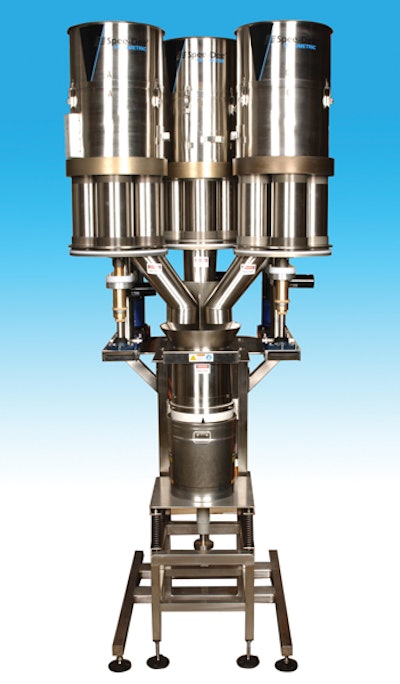 The Popcorn Factory, Inc., Lake Forest, IL, specializes in the marketing of a variety of fresh-popped, flavored popcorns in metal canisters (obtained from multiple canister suppliers). To upgrade packaging operations, the company installed two new servo-driven, PLC-based triple-hopper volumetric filling machines from Spee-Dee Packaging Machinery, Inc. (www.spee-dee.com) in September. These machines handle various popcorn canister sizes from 2 to 6.5 gal.
Alan Petrik, chief operating officer of The Popcorn Factory, says, "We replaced our existing Spee-Dee fillers with these new machines. One of the existing machines was more than 25 years old. We stuck with Spee-Dee equipment because we have enjoyed the simplicity and ease of operation." The new machines, which offer PLC control from Rockwell (www.rockwellautomation.com) and servo drives from Bosch Rexroth (www.boschrexroth-us.com) yield greater filling accuracy and speed, says Petrik.
The Popcorn Factory uses container inserts to facilitate separation of filled popcorn flavors—for example, cheese, caramel, and buttered—in each canister. The three-way volumetric filler performs simultaneous filling of three flavors of popcorn into each canister. Changeovers of flavor and volume combinations can be accomplished in about 10 minutes.
The new servo-drive feature eliminates the need for manual filler adjustments and provides filling precision at higher speeds. Petrik reports, "The new fillers will allow us to increase throughput up to five times over the old machines, depending on can size, once we complete some other related line enhancements. We've also reduced machine downtime and container overfills, while improving changeover times.
"Spee-Dee provided full-time tech support in-house during a week of start-up of the new machines. Support has been excellent, and response time exceptional. We had been operating Spee-Dee equipment for almost three decades, and this new equipment is almost as close to 'plug and play' as anyone could expect."
Companies in this article