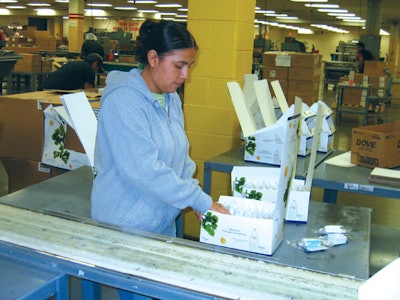 Joe Jaruszewski describes contract packaging as a "hand-to-mouth" business in which products and materials often arrive at the last possible moment, requiring the packer to turn around completed units at lightning speed on tight deadlines.
At Market Resource Packaging (MRP, www.mrppackaging.com), where Jaruszewski is president, the demands of such quick-turnaround projects are acute, because the co-packer could turn around hundreds of jobs each month. Designs need to be production-line compatible. A packaging job might require custom-tooled machine parts. A point-of-purchase display that was suitable for one retailer might need to be several inches taller to include a different retailer's logo. Containers need to be oriented correctly inside secondary packages. Display units must be mounted and filled in the correct sequence. Adequate staffing must be planned out daily.
MRP faces these challenges head-on with an attention to detail that emphasizes organization, accuracy, and efficiency. Operating out of a 300,000-sq-ft facility in Cranbury, NJ, the company concentrates foremost on secondary and display packaging, often for premier consumer product companies in the New York, NY, area, less than an hour away. One day, the company might be in the midst of producing five million gift sets for Victoria's Secret or creating sample packs for Liz Claiborne Cosmetics. The next day, it could receive an order for 2,000 XM Radio pallet displays from Best Buy.
Document it or bust
"We could run 400 jobs a month. When you're moving at that speed, often jobs are not repeated," Jaruszewski says. "You need to have a well-defined set of procedures to keep pace. Our motto is, 'If you didn't document it, you didn't do it.' With that system, it's very easy to integrate new jobs."
Packaging requests vary by product category as well. Cosmetics orders account for about 50% of MRP's business. Assorted nonfood products, from OTC to personal care, provide another 30% and food companies the remaining 20%. MRP also handles retail, promotional, and sample packs for private-label brands. This dizzying flurry of activity takes place in a 300,000-sq-ft plant operating 60 automated production lines and 30 hand-assembly lines.
One factor that gives MRP an advantage in meeting consumer packaged goods (CPG) companies' custom-packaging requirements is that the co-packer operates its own in-house machine shop. The company can design and build made-to-order production-line changeparts on the premises. "When you're in the custom business, you can't wait six weeks to have parts sent in from Italy," Jaruszewski notes.
Procedural efficiencies
But detailed planning occurs before production ramps up, and it's specific to each project. "We run every line the same, but what we're checking for is very different," Jaruszewski notes. "We write a specific quality program for each job. We do not work from a generic check sheet."
This procedural finesse is evident in the production of gift sets, a significant portion of MRP's business. Consider Johnson & Johnson's three-pack Baby Bedtime Basic gift sets of products. Each gift set, consisting of Johnson's Baby Shampoo, Johnson's Bedtime Bath, and Johnson's Bedtime Lotion, needs to be packed along with a decorative paperboard tray and graphics card inside a clear, button-closed plastic display bag.
MRP's on-staff graphic artist designs some of these packages. CPG companies are calling on the co-packer more often to procure the components as well. Procurement "has become a customer expectation of us, as procurement departments have been downsized at consumer goods companies," Jaruszewski observes. "The more work you can take off your customer's plate, the better."
The J&J gift-set bottles need to be placed in the same sequence and face the consumer inside each package. And the gift sets need to arrive in stores without looking "shop-worn."
MRP accomplishes these objectives by requiring three different people to sign off on each gift set before it can be packed in a master carton for warehousing or distribution directly to stores. Attendant details include using gloves to avoid leaving fingerprints on the package surface, orienting bottles correctly within the package, and checking package surfaces for scratches. MRP institutes one additional step for other types of gift sets. When ribbons are involved, separate quality checks confirm both accuracy and consistency in the ribbon cut and length.
A quality assurance evaluation form guides activities on the Johnson & Johnson gift-set line, and every other production line. A quality control inspector documents line performance results at least hourly.
"We don't want to have J&J or another customer come in our facility and be uncomfortable," Jaruszewski says. "We want to look like them, act like them, and have their procedures."
P-O-P displays
Shelf, floor, and pallet displays are big business at MRP. The company's showroom emphasizes rows of them. Some of the nation's most recognizable brands rely on MRP for display unit pack-out because of the capabilities of the contractor's partnership network. In display packaging, effective partnerships are as important as facility capacity.
Too much display packaging, in general, falls short of expectations, and the reasons often start with poor design, Jaruszewski says. Inadequate design can cost CPG companies time and money when retailers discard or return damaged products and packaging to manufacturers.
"A display engineer or a designer is not necessarily a product person," he observes. "For instance, if you're designing 4,000 pallet displays and can't stack them, you're going to have a facilities issue. Or the product might fail structurally because moisture is affecting the product board.
"If you're in New York and designing for a co-packer's operation in Texas, you can't possibly know the issues that the co-packer is dealing with unless you call him. One of them is very high humidity. Those things are not always apparent on a designer's desk, so you may have to spend a little more on the display to get it right. For instance, we may boost structure strength by loading a honeycomb structure in the bottom of the display. But the designer may want a better look. So the challenge is to find a way to not have a $3 P-O-P display become $24 to build and ship. Good solutions are possible if you bring the contract packager into your discussions early on."
To meet the challenges of developing display packaging, MRP often works with Henschel-Steinau (www.hspop.com), a designer and manufacturer of displays. The recent pack-out of pallet displays of Listerine demonstrates the two companies' teamwork in action.
The Listerine displays consist of four corrugate shelves, a base, and a graphics card. Henschel-Steinau engineers the display and creates the graphics, and MRP orders all the components.
Johnson & Johnson ships filled bottles of Listerine to MRP, where packaging flats also arrive for the displays. MRP begins the assembly operation by attaching the header cards and brand logo using foam tape and attaching a preprinted, pressure-sensitive label to the front of the shelves. Next, 8.5-oz prefilled bottles are loaded into each shelf.
Assemblers also attach the header card using foam tape. Completed shelves are packed along with the flattened display stand into master shipper cases. The cases are placed on pallets for delivery to Johnson & Johnson distribution centers.
"As long as you maintain their standards and do things as they would do them, you're a trusted partner," Jaruszewski says.
Companies in this article