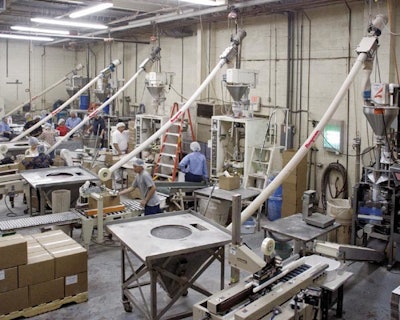 World Flavors, Ivyland, PA, blends and packages a variety of seasonings, powdered coffee, and other drink mixes, in package sizes from 9g to 54lb, for customers as diverse as food processors, contract packers, and foodservice operations. The packaging structures include high-barrier laminate pouches and polyester/polyethylene bags from rollstock, primarily supplied by packaging distributor Harmony Hill Packaging (732/495-2621).
These various products are filled using auger fillers from All-Fill, Inc. and vertical form/fill/seal machines from Mira-Pak and General Packaging Equipment Co.
Over time, World Flavors has augmented all these packaging machines with flexible screw conveyors from Flexicon to replace manual scooping of product into the machine hoppers. The flexible screw conveyors offer improved efficiencies in product movement and deterrence against product contamination and separation.
Operating procedures
Using formulas developed by World Flavors' R&D, workers combine ingredients and load the batches into blenders. Small batches weigh up to 300 lb, medium batches 1,400 lb, and large batches up to 8,000 lb. The uniformly blended products then are discharged into plastic totes and undergo a quality control inspection before being delivered to the filling stations.
When a production run is ready to go on one of the multiple packaging lines, a forklift operator sets a tote on top of a flexible screw conveyor's hopper which is configured with a cradle for the tote. The operator opens the slide gate, and the material flows into the hopper. When the hopper is full, the operator activates the flexible screw conveyor which transports the product at a 45-deg angle, at a rate of 140 cubic feet/hour to an elevation of 12' for discharge into the packaging machine. Sensors in the packaging machinery signal a controller to stop or restart the rotation of the screw conveyors to accommodate the filling operation speeds. The gentle, rolling action of the screw moves the blended product without separating it (so as not to create any disparate particle shapes/sizes or errant clumping) throughout the entire length of the conveyor.
Currently, World Flavors is using about a dozen of the Flexicon Model 1450 flexible screw conveyors—each measuring about 15' long and 4" in diameter. They were purchased through EPI Technical Sales, Inc. (610/499-7495). The flexible screw conveyors are made of polymer tubing that encloses a flexible stainless-steel screw driven by an electric motor. As the screw rotates, it propels material through the tube and self-centers, allowing sufficient clearance between the screw and the tube wall to eliminate or minimize product degradation/separation.
Packaging manager Russ Perry points out, "We have standardized on the Flexicon Model 1450 so spare parts can be swapped out and used across the lines. We have a history and familiarity with Flexicon conveyors. We know them to be extremely efficient and easy to maintain and clean."
Cleaning up
At any given time, World Flavors' packaging lines can be running products as diverse as cappuccino mix, sausage patty flavorings, or pumpkin pie spice blends. So thorough conveyor cleaning between runs is critical to prevent cross contamination.
Perry notes, "If we just ran a hot Italian seasoning blend for sausages and need to follow it with a cappuccino mix, we would disassemble the conveyor, pressure wash and dry everything, reassemble the components, and start running the next flavor. With the quick-disconnect features of the Flexicon conveyors, we can do all that in about 20 minutes.
"The beauty of these conveyors is their simplicity of design combined with their super-efficient operation. We definitely are satisfied with how they are performing for us."
Companies in this article