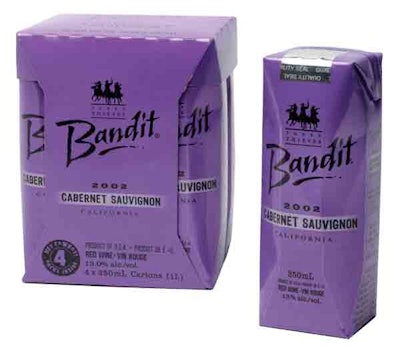 Three Thieves Winery, headquartered in St. Helena, CA, was looking for new ways to distinguish its products and packaging presentation in the intensely competitive wine market. On a trip to Italy, company co-founder and co-partner Roger Scommegna noticed that numerous wines in Tetra Pak (www.tetrapak.com) carton packaging were displayed at stores and were selling quite well. In fact, according to Three Thieves research, about 40% of wines sold in Italy are packaged in these types of cartons. Furthermore, they found that this trend was taking hold in many other countries in Europe and South America.
When Three Thieves decided to test the cartoned wine market waters in North America, they contacted Tetra Pak. Says co-founder and co-partner Charles Bieler, "Tetra Pak produced and printed the carton flats, helped us identify possible co-packers, and also contributed their expertise to our product promotional efforts." The package graphics were designed by Racine, WI-based Design North (www.designnorth.com).
Taking the plunge
By late 2004, Three Thieves had already made a preliminary, exploratory move into the cartoned wine category with 1-L Tetra Brik® rectangular cartons of Italian white wine co-packed in Italy. Then about 9 months later, the winery did its first run in the United States. Over time, the line was expanded to now include liter-size "Bandit" brand pinot grigio, cabernet sauvignon, merlot, and white zinfandel. Then in June 2006, Three Thieves added 4-packs of 250-mL Tetra Prisma® octagonal cartons of these same wines.
The Tetra Pak wine cartons are made of layered polyethylene and paper with a foil barrier layer and are flexo-printed. The multi-pack sleeves are manufactured and printed by Mead Westvaco (www.meadwestvaco.com).
The average retail price of the 1-L cartons is about $7.99; the 4-packs of 250-mL wines are priced at about $8.99. These prices are slightly lower than average retail prices for the company's bottled wine offerings.
Co-pack operation
Three Thieves selected Tualatin, OR-based Pacific Foods (www.pacificfoods.com) as its co-packer for the cartoned wines. Using Tetra Pak form/fill/seal systems and packaging materials, Pacific Foods fills the wines at temperatures of 50-60º F—the same fill temperatures as used for their glass-packed wines.
Shelf life of the cartoned wines is approximately one year, much shorter than the typical shelf life for glass-packed wines. But extension of shelf life was not an objective for this product application. In fact, the wine is not aseptically treated before filling. Pacific Foods runs the packaging material through the form/fill/seal process in the same manner as for aseptic products, but uses a lower level of hydrogen peroxide as a package sterilant.
Economic advantages
Three Thieves is realizing significant packaging material cost savings with the new wine cartons. Bieler points out that their glass bottles cost about 25 cents each, corks another 25 cents each, and then there are the additional costs of cork collars and bottle labels. He estimates, "We save at least 50 cents per package with the cartons."
The winery also has enjoyed major freight cost savings with the cartoned wines, due to the reduced weight of the packaging.
Environmental benefits
One of the first big market breakthroughs for the Three Thieves cartoned wines occurred in Ontario, Canada, where there is a major effort underway to reduce waste stream volumes. While both the cartons and glass bottles can be recycled, unrecycled glass bottles take up substantially more space in landfills than flattened cartons.
"Canada has become a huge market for us," reports Bieler, "and we also are in distribution with these products all over the United States."
Filling a niche
Bieler says, "We've been shocked by the immediate success of the 250-mL cartoned wines. I think we are satisfying a definite consumer desire for single-serve, easily portable wine products. And the liter-size cartons are marching forward very nicely, too."
He notes that his company continues to offer glass bottled wines, as well, understanding that there is a segment of the wine-drinking population that simply prefers glass packaging. He says, "Glass bottled wines are never going out of style. And we intend to continue to serve that market segment. But as an innovative company always looking for fresh ideas, we embraced the cartoned wine venture as an opportunity to diversify our customer base.
We are reaching out to a new wine demographic—adults who have grown up in the juice box generation
and are very familiar and comfortable with this packaging format."
Please click here to watch a corresponding video.
Companies in this article