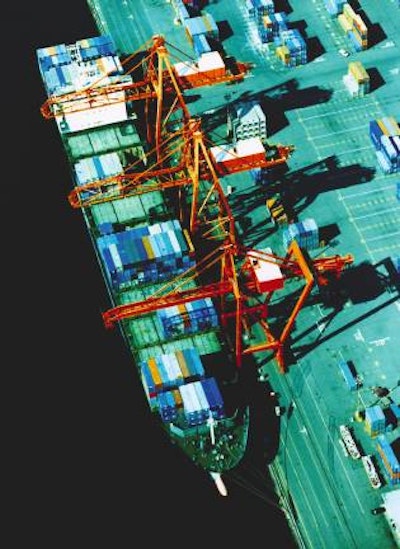 For U.S. companies that import products in seagoing shipping containers, federal security mandates are imposing a whole new layer of packaging concerns. Whether companies are importing bottles and containers for products or product components and raw materials, keeping track of shipping containers and insuring their smooth passage from foreign manufacturer to domestic loading dock has become more challenging than ever.
To ease concerns over potential snafus in foreign and U.S. ports, many U.S. consumer goods manufacturers have applied to become part of the Customs-Trade Partnership Against Terrorism (C-TPAT). This program is run by the Bureau of Customs and Border Protection (CBP), within the Department of Homeland Security. In exchange for adopting supply-chain security measures, the manufacturers are guaranteed certain "ease-of-import/reduced inspection" benefits based on their level of certification.
Kelby Woodard, principal of consulting firm Trade Innovations, Inc., says most U.S. packaged goods manufacturers use shipping containers provided by shipping lines. Woodard had worked for Target Corp., Minneapolis, MN, for 13 years—his last position was director of supply-chain assets protection—before striking out on his own earlier this year. But Woodard emphasizes that although companies generally don't purchase shipping containers, they are responsible for the security of the containers and for knowing what is happening all the way to the end of their supply chain, based on the attestations they must make in Customs Form 7501.
Validating companies
Target was one of the first seven companies CBP validated when the C-TPAT program began in early 2002. Over 9ꯠ companies—the vast majority of them from the United States—have applied to join the voluntary program, but only 591 had been validated as of May. Validated companies get the highest level of benefits, which translates into far fewer U.S. port inspections.
The CBP has been trying to speed up the validation process as well as answer criticism that the security criteria importers must meet are ill defined. That is why C-TPAT announced minimum security standards in March. One criterion requires importers to make sure that shipping containers carrying their goods are protected by a high-security seal meeting or exceeding the current ISO (Intl. Standards Organization) 17712.
But many U.S. packagers are unaware of the new requirements. Joe Baker, executive director of the International Cargo Security Assn., says he conducted a seminar in Orlando in early June for about 30 people. "None of them knew about the ISO 17712 standard," he says. "The word isn't out."
Those minimum standards will take a quantum leap forward when CBP finalizes a rule requiring importers to verify, both when their containers arrive at foreign ports for initial shipping and at U.S. ports for delivery, that the seal has not been tampered with. Christopher Koch, president & chief executive officer of the World Shipping Council, says he expects CBP to issue a proposed rule on seal verification later this summer.
Security levels
Koch and others expect CBP to move quickly to finalize the rule. The final rule will likely lay out criteria for e-seals, high-security seals that have radio-frequency identification (RFID) chips and antennas embedded in them. The ISO is currently developing standards for RFID-enabled e-seals (ISO 18185), container tags (ISO 10374) and supply chain tags (ISO 17363).
E-seals will have immense appeal to U.S. companies because they will obviate the need for the high-security bolt or cable, required as of May 25, 2004, to be physically inspected by a customs official. That inspection can take considerable time, both to ascertain whether a bolt was tampered with and then, if necessary, to replace it.
The CBP is also planning a new, higher validation level for C-TPA participants: C-TPAT-plus. The key requirement here will be that companies use smart containers, a term that CBP spokesman Pat Jones says has not been defined as of yet. Scott Kirk, executive vice president of supplier E.J. Brooks Co., thinks that will mean that containers will have to be secured on all six sides, a requirement he describes as "utopian."
E-seals?
But first things first: the impending, de facto e-seal requirement. The Defense Department has used e-seals, manufactured by Savi Technology, Inc. for a decade. They use a frequency of 433 MHz. E.J. Brooks offers RFID-enabled bolts which cost about $60 per seal. Those e-seals have been used in tests done by the Smart & Secure Tradelanes (SST) initiative, most recently in January in its first pilot project in Africa, where containers transporting beef from Namibia to the Port of Tilbury in the U.K. were secured and tracked from point of shipment to point of delivery.
The CBP is probably treading water on its seal verification rulemaking until the ISO publishes an e-seal standard. That process has taken considerably longer than expected and is currently at a standstill as the ISO TC104/SC4, the shipping container committee, takes time to address concerns raised by Motorola, Inc., late last year.
At that point, the committee had decided to adopt the 433 MHz frequency and ISO 18000-7, the air-handling standard, for ISO 18185, the e-seal standard, according to Craig Harmon, president and chief executive officer of QED Systems. Harmon chairs the Joint Working Group of Supply Chain Applications of RFID, which joins two ISO committees, TC104 and TC122, to develop packaging standards. Harmon is the lead U.S. executive working on the three ISO RFID container standards.
"But then Motorola came late to the activity," says Harmon, "and wanted us to go back to square one." Instead of beginning again from scratch, the TC104 has been doing additional tests of the draft standard. He argues that Motorola's desired changes to the draft ISO e-seal standard will make the seals more expensive, perhaps by as much as 200%.
Juergen Reinold, senior director, technology, architecture, standards and intellectual property for Motorola's Secure Assets Solution Division, freely admits Motorola upset the apple cart. "No one has ever built this kind of RFID system where potentially three different tags are used on metal shipping containers in 20 or 30 lanes of a port," explains Reinold.
"The technical committee had not done a vulnerability study, and we were concerned about the security of the data on the tags." Besides worries about the data protection protocols within the e-seal standard (18185) itself, Motorola also wants to blow the dust off the 10-year-old ISO air-handling standard (18000-7). "It has been in use for more than 10 years and the e-seal standard would be the first time those air-handling protocols are used in conjunction with metal containers," states Reinold.
Companies in this article