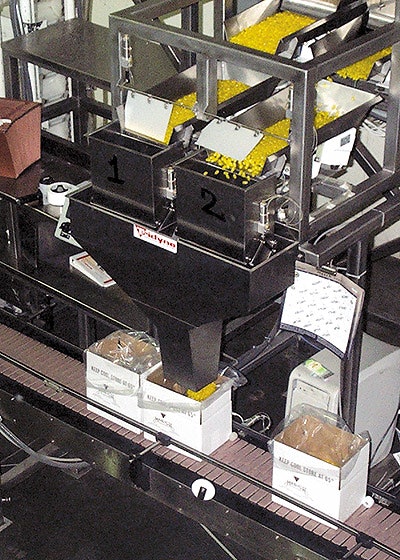 Troy Van Dam, executive vice president and chief operating officer of Marich Confectionery, will return to Pack Expo Las Vegas to see this year's most innovative packaging technologies. After visiting the last Pack Expo Las Vegas, Marich purchased an indexing conveyer, dual scale system, and case erector, which increased the company's packaging line speeds by 150%.
Based in Hollister, CA, Marich has become one of the premier suppliers of premium quality confections, which are distributed nationwide to specialty grocery stores and retailers, as well as to popular coffee chain stores. The Company's confections can also be purchased through mail-order catalogs and online gift shops.
For Marich, business has changed in the past decade. Exposure on digital shopping websites and the proliferation of private-label brands created the need for faster line speeds to cope with increasing demand. "Our employees were doing all the weighing and bulk packaging by hand, mostly through a system operated by a foot pedal," says Van Dam. "Additionally, our one-lane scale was not performing at sufficient speeds, resulting in the need for many hands working at once to meet consumer demand."
Recognizing that automation was the answer, Van Dam and plant manager Victor Moreno attended Pack Expo Las Vegas to source scaling systems, indexing conveyers, and cartoners. The first project Van Dam tackled at Pack Expo was unique. Marich's chocolate covered cherries and coffee beans were being packaged by hand into special hexagonal cartons. Van Dam had difficulty finding automated cartoning technology that could support this packaging until he went to Pack Expo. Using "Product Locator" kiosks at the show to research companies that feature the most innovative cartoning equipment, Van Dam found the perfect solution: the VRC-12 Vertical Rotary Cartoner from Nuspark Engineering. It erects and fills up to 80 cartons/min. The cartoner uses a special feeder that erects cartons into buckets held in place with integrated suction cups, eliminating friction between rails and cartons and preventing scuffs and scratches on high-quality finished packages.
A boost in speed
Installing this equipment also resulted in a 60% increase in speed, from 25 cartons/min, which Marich had been achieving packaging by hand, to 40 cartons/min. In addition, there are now only four people on the production line instead of the 13 people needed previously. Freed from the manual packaging process, the staff has been able to utilize their skills in other key areas.
To help increase productivity on a different packaging line, Van Dam selected the F109x dual-scale system from Tridyne Process Systems. It has two lanes and two load cells, replacing a one-lane system. Tridyne specially designed the indexing conveyer to Marich's specifications. It takes formed cases from the case erector to the scale system, then routes them after they're filled to the case sealer.
Van Dam also decided on a Little David VRC-12 case erector from Loveshaw, which has relieved the burden of erecting cases by hand. Installation of this technology has enabled employees to accomplish more than ever before as hand-packing is now limited to placing empty bags or case liners into the pre-made cases for filling. Marich employees can now dedicate their time to more precise inspection of each piece of candy, further enhancing product quality. The case erector has improved line speeds from two cases/min to 5 cases/min, an increase in speed of 150%. Overall, the combination of new equipment in the line has allowed for a 40% increase in capacity.
This September, Van Dam will return to Pack Expo Las Vegas to familiarize himself with the latest technological developments in confectionery packaging. More than 19ꯠ visitors from over 60 countries are expected to join Van Dam to view the latest packaging innovations on display at Pack Expo Las Vegas 2005. "Each booth is staffed with technical representatives, so you can really get a good understanding of the technology you are researching and how compatible it will be with existing equipment," said Van Dam. "Nothing beats the experience of viewing technology running live on the floor and talking to knowledgeable people who provide excellent information."
Sponsored and produced by the Packaging Machinery Manufacturers Institute (PMMI), Pack Expo Las Vegas 2005 will take place September 26-28 at the Las Vegas Convention Center. For details on exhibitors and registration, visit www.pmmi.org.
Companies in this article