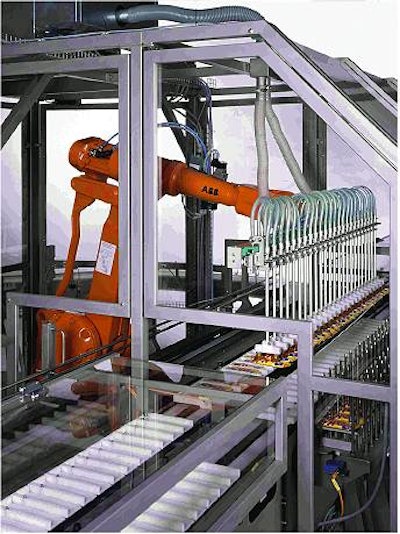 Each hour of downtime on a production line costs a contract packager $10ꯠ to $20ꯠ. That estimate comes from John Henry, who ought to know. Over a 30-year career in packaging, he has been asking clients across industries about their costs. He has also managed operations for a major pharmaceutical plant.
Changeover is the leading contributor to downtime in attempting to run a packaging line efficiently. Components and products need to be removed from a line or machine. Changes or adjustments to machinery are required ahead of the next production run. Once the line restarts, it needs time for "rejects" and tweaks before returning to optimal running speed.
Effective changeovers are important in navigating the frequent stops and starts of a contract packaging line. When contract packagers look for additional efficiencies, initial attention typically defaults to the mechanical side. But some underestimated solutions reside in operations, says Henry, founder of Changeover.com, a consultancy.
Four tactics
Henry believes contract packagers can reduce changeover downtime by implementing these four tactics:
1. Improve the on-floor organization of the plant.
2. Document production procedures and make them accessible.
3. Optimize scheduling.
4. Reduce or eliminate variations in components and packaging materials.
Quick changeovers should be a key element of the business model for any contract packager that wants to be a serious player in the current packaging environment. Success requires, in part, an understanding of what's occurring in stores today. Consumer product goods companies (CPGs) are no longer calling the shots; the leading retailers are dictating which products they stock in their stores and how they are packaged and displayed.
Troy Totten, flexible supply and commercial manager at Masterfoods USA, offers this CPG perspective to contract packagers: "It's no longer our responsibility to tell you where the market is going. The market is being led by the retailers. Go to Wal-Mart and watch how they change their pallet displays. Understand what the drivers are and build your business model around it."
More SKUs, shorter runs
Retailers are demanding packaging that responds to their particular merchandising strategies. One trend is promotional packaging that changes frequently to produce incremental sales. Another is packaging that signals the value proposition of a particular distribution channel—even for an individual retailer within a channel. CPGs are answering the challenge with extensively customized packaging.
How do these trends affect a contract packager? The number of SKUs has proliferated and packaging runs are becoming shorter. These factors require more frequent stopping and starting of packaging lines to accommodate materials changes, equipment cleaning, and mechanical adjustments.
The Packaging Machinery Manufacturers Institute (PMMI) has studied the impact of changeover time on productivity. Tom Egan, PMMI director of marketing, says the "costs and complexity of packaging innovations will incent manufacturers and their customers to establish R&D relationships that share risks and return."
Contract packagers who will thrive in this environment are those that develop seamless plant operations.
Improve on-floor organization
Agile contract packagers operate physically well-organized facilities. On their plant floor, proximity of products and replacement machine parts considers more than just the time that a machine is idle during changeover. It also accounts for the time needed to restart the machine and return it to optimal speed.
"Some companies will tell you, 'We can changeover in 15 minutes,' " says Robert Walters, vice president at Olmarc Packaging, Northlake, IL. "Are they talking about just changing the line or changeover time, when they get up to full speed with the new run?"
In plants where production runs are short, on-floor organization can limit downtime ahead of a changeover. Henry suggests looking at the "externalization of activities." For example, store duplicate parts near the line before it completes its previous run. One set of parts can be cleaned while the other set is in use.
Henry favors a basic green, yellow, and red indicator lighting system on machinery. While simple, he says, many plants operate without it.
• Green, yellow, and red indicator lights on machines signal when the equipment is running optimally, when problems require attention, and when a machine is idle.
• This same color-indicator system can also indicate when parts bins are full, used down significantly, or empty.
Document procedures
Henry estimates that more than 50% of contract packagers lack formal written procedures for performing line changeovers, or they operate using incomplete guidelines. In other plants, written procedures aren't easily accessible. Absent these procedures, institutional knowledge typically passes from one operator to another, and even slight procedural variations cost time and money.
Consider writing an SOP manual to document on-floor steps and procedures. The manual assures that all machine operators are trained properly and in the same way.
The best SOPs are 10 to 15 pages written by the machine operators and written so an outsider with general mechanical aptitude can perform a changeover simply by following the manual.
Complement the manual with a one- or two-page checklist that acts as the "shorthand" to following each step.
Diversapack, an Atlanta-based contract packager, followed these steps in creating a procedures manual and reduced die-spacing setup time by more than 50%, says Rick Zellen, manager of contract manufacturing.
Following these procedures can pay off even on the production lines of a third-party bottle decorator. Verst Pack, a repackager in Walton, KY, presents its boilerplate list of procedures to customers who then overlay their own requirements, explains Jason King, director of sales and marketing.
Optimize scheduling
When scheduling production runs, typical variable considerations are inventory levels, formulas, and forecasts. But they often don't consider additional factors that can save time.
Henry suggests scheduling same-size containers to run back-to-back on the same production line, even when they will hold different products. Downtime is reduced because fewer parts on the packaging line require changing.
Investigate the savings in filling progressively stronger flavors of a beverage, or progressively darker colors, into packaging. Here's how it could work in a paint-filling operation:
The package-filling sequence of black, red, and white requires longer downtimes for line cleaning in between each color run in order to avoid the darker color from affecting the shade of the lighter color that follows it. Reversing the filling order to white, red, and black reduces downtime because a less-thorough line cleanup is possible without affecting the paint color on the succeeding production run.
Reduce or eliminate variations
Despite any contract packager's best efforts to implement solid operational procedures, delays can still occur in machine start-ups. How? Henry mentions these possibilities:
• Suppliers operate at different points on the material-quality spectrum. Bottles with different resins, for example, behave differently during label application and can affect label application and lead to changeover delays.
• Subtle variations in how materials are processed and packaging surfaces are treated can impact changeover downtime.
Henry cites the example of a product manufacturer using a plastic dropper tip on a 2-oz bottle. The capper ran well at 75cpm, but suddenly the caps would not feed and the line slowed to speeds of 40-50cpm.
The line speed became slower because the manufacturer had changed cap suppliers. The new caps weighed the same and had the same dimensions as the previous caps and met all specifications. The difference was that the balance point on the new cap was slightly different, and it prevented the cap sorter from orienting them properly. [CP]
The author, Jim George, is the Editor-in-Chief of Contract Packaging magazine.
See sidebar to this article: The Importance of Relationships
Companies in this article