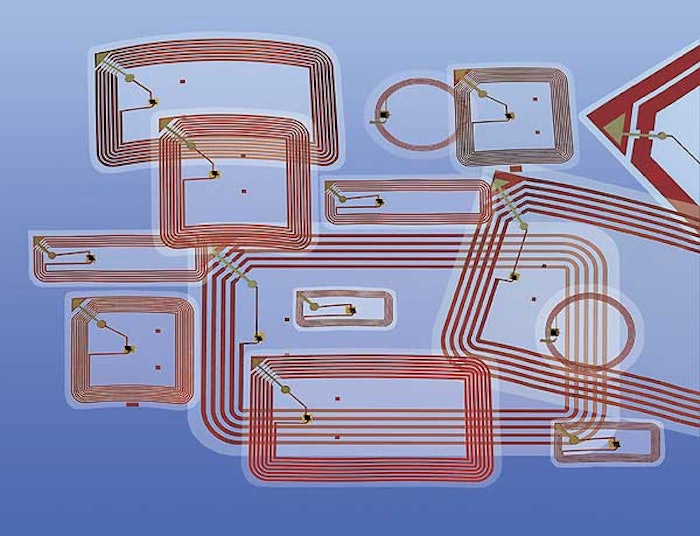 Viewed currently by the Wal-Marts of the world primarily as a supply chain and logistics tool, radio frequency identification (RFID) holds enormous potential for improving package security. Its promise is that it will allow manufacturers and retailers to know where a package is, where it has been, and what its "pedigree" might be. That kind of tracking is the backbone of any system for guarding the security of packaged goods, especially as packaged goods work their way through a distribution system that is vulnerable to tampering.
Right now, RFID's potential as a security tool is perhaps closest to being realized by the Department of Defense (DoD). The department is one of the major drivers of RFID development, and its objectives encompass security along with improvements in logistics.
"Our primary goal is to achieve total asset visibility in the logistics chain," says Gerry Darsch, director, DoD Combat Feeding Program at the Natick Soldier Center. "But we also know it is critical to include tamper evidence in our work. We're now in phase one, and the next phase will include tamper evidence during conveyance."
DoD goals include being able to determine whether packaged shipments have been opened and, potentially, tampered with.
A parallel perspective exists on the civilian side, too. Robert Dennen, packaging manager, quality assurance for Yum! Brands, Inc., puts it this way: "It is primarily inventory control, but inevitably we have issues with tracking too."
Dallas-based Yum! Brands owns such well-known fast-food chains as KFC, Long John Silver's, and Pizza Hut. Packaging includes pizza boxes, chicken cartons, taco wraps, seafood platters, and beverage cups.
Dennen related an instance of a recall of packaging that needed to be initiated at 3 p.m. on a Friday because of a packaging defect. "I have to get my arms around where the packaging came from, and where all the cases went. I need tracking to do that," he says.
The system Yum! Brands uses now is based on bar codes. Unfortunately, it doesn't always permit converters of packaging materials to tell Dennen where products have been shipped. Yet this information is especially important in his particular distribution environment, where individual cases ultimately are distributed to individual stores.
The importance of tracking to Yum! Brands is reflected in its specifications to its vendors. Contracts specify a simulated recall as part of an annual audit of packaging vendors. Dennen foresees the time when RFID makes that happen. "We're not there yet, but we will be there in a couple of years," he says.
Not 'if' but 'when'
The sense among those working with RFID is that the question is a matter of "when" rather than "if." And the implementation process is going to involve a long coexistence of RFID systems alongside existing bar-code based systems.
Don Mowery, director of eBusiness at Nestlé Purina PetCare Company, expresses this belief: "We believe RFID is going to happen, because [RFID] has advantages over bar codes. Right now it is being driven by retailers and the U.S. Department of Defense."
However, in looking at implementation, Mowery also foresees a complicated development period. "It's more art than science. In some cases, it's a matter of physics, and in some cases it's a matter of cost," he says.
According to Mowery, the return on investment is the most difficult element to justify. The newest version of an RFID tag from Alien Technologies—one of the leading tag producers—is at 18¢ to 20¢ each in quantities of a million or more. At that price, only high-value goods can justify the use of a tag.
Even if the cost of an RFID tag reaches 5¢, as many observers believe it eventually will, it isn't just the cost of the chip that must be addressed. Readers hardened enough to withstand an industrial environment are also costly, says Mowery, and installing them is even more expensive.
"Most manufacturers aren't finding a positive return on investment," Mowery continues, referring especially to those who have invested in highly automated systems based on bar codes.
Yet retailers such as Wal-Mart, Target, and Albertson's, as well as DoD, are pushing RFID based on savings the system delivers in their logistics systems. What RFID does better than bar codes is carry a lot of data.
Amount of data is the key
"It's so much bigger than bar codes because of the data," says consultant Mark Niemiec of Global Packaging Innovations, LLC. Those data give retailers a positive return on their investment. For them, reduced inventories and elimination of "out-of-stocks" provides the return on investment. Security also plays a role in retailers' thinking, Niemiec explains, noting that antitheft and safety are issues for retailers.
One thing packagers will have to be sure about is that their tags are readable, says Niemiec. "They're going to have to apply the tags, verify the readability, and then certify that to the retailer," says Niemiec.
Although the benefits of RFID appear to accrue to the retailers, the costs appear to fall on packagers. However, the need to work with retailers is apparently driving investments in packaging development for which a return on investment is not readily apparent.
Currently, a number of consumer packaged goods companies are running trials on RFID at the case level to meet requirements of retailers.
Among the suppliers working with packagers is Smurfit-Stone Container Corp. Ryan Cook, the project manager for RFID, concurs in the view that implementing the technology is as much art as it is science.
"You have to evaluate RFID on a specific use case," he explains. "The distances from readers to cases and the configuration of dock doors will vary in each specific application. Products differ. Those containing liquids are going to be different from those containing dry materials. In the real world it's totally different for every single supply chain."
The goal of the work being done for packagers at Smurfit-Stone and other corrugated container suppliers is ultimately to help automate the process by manufacturing corrugated shippers with tags already integral to the package. That would automate the process and reduce some of the cost.
MeadWestvaco is another paperboard supplier addressing ways to incorporate RFID tags into packages during the converting process, thus offering an attractive element of automation in the RFID implementation process. Right now, however, the process of getting tags onto cases may be a "slap and ship" approach in which labels with tags are manually affixed to cases right on the packaging line.
Suppliers of such labels are embedding RFID tags right in the labels. These labels can be sent through a thermal-transfer printer that not only imprints a bar code and other human-readable information on the surface of the label but also writes data to the embedded RFID tag. This addresses the need to integrate RFID track-and-trace technology with existing bar-coding technology.
Bar-coding technology will not be supplanted by RFID, and packagers will have to maintain their bar-coding expertise, explains Leslie Beyer of Zebra Technologies. "While a handful of retailers such as Wal-Mart and Target are asking for RFID, packagers will also be supplying retailers who continue to use bar codes," says Beyer.
In developing an RFID system, some of the top considerations are the following:
•Product characteristics. Different products interact differently with radio frequency signals. A pallet of beverages in aluminum cans has different characteristics than a pallet of dry macaroni packages. Developers must choose the right tags for each product.
•The distribution environment. The location of scanners and readers affects the type of tag in the system. And the distance from pallets or shippers to readers or scanners affects the type of tag used.
•Readers and scanners. Although standards are close, different hardware from different manufacturers works differently. Performance of readers and scanners affects tag selection.
The result is that right now many consumer packaged goods companies are running pilot programs to come up with the right combination of tags, packages, and handling techniques. Among the deadlines are Wal-Mart's January 1, 2005, implementation date for RFID and Target's spring 2005 implementation at select distribution centers.
A recent report from Forrester Research, a consulting firm specializing in technology issues, estimates that just 25% of Wal-Mart's top-100 vendors will meet the January 1, 2005, implementation date. The report also puts the cost of implementing RFID—startup and one year of maintenance annually—at approximately $9 million for a typical supplier attempting to comply with Wal-Mart.
Meanwhile, back at the DoD, Darsch says he expects to see RFID used at three levels: on individual shippers, on pallets, and on the intermodal containers that carry supplies through the system. Right now, DoD's primary focus is on RFID as a logistical tool, but, says Darsch, security is the next step.
In addressing security, DoD is looking at sensors that can relay information to the RFID tags. Right now, the agency is evaluating sensors on the pallet level. A sensor in a pallet could determine if an intermodal container door has been opened. That might include a sensor to detect if a magnetic tag affixed to the door is broken. It could also rely on sensors that detect whether or not light has entered the intermodal container.
Demonstration project
DoD recently completed a demonstration project that included a temperature sensor within pallets. The temperature sensor was linked to a pallet-level RFID tag. During transit, the sensor wrote temperature data to the battery-powered RFID tag.
A portable reader interrogates the battery-powered pallet tag. The reader downloaded a temperature profile recorded on the tag in transit. Software used with the reader analyzed the data and displayed an assessment on product quality based on the temperature history.
Adding a security function would involve additional sensors that would detect an event such as the breaking of a magnetic tag used to seal the intermodal container. Those data could be recorded by a tag.
Darsch explains that the degree of security afforded by sensors depends on the type of sensors used with the shipment. For example, some sensors could detect whether specific substances were introduced into the container.
Those might include biosensors aimed at identifying biological threats. The objective would be not only to record that a substance was introduced into the container. The tag would record a date and time to show when the substance was introduced. That would provide hard data for investigation of
tampering.
"The potential for the introduction of foreign substances is as real in the world of military logistics as it is in the commercial market," says Darsch. "We hope that the solutions will be good in a combat feeding perspective and that they are interchangeable with homeland security strategies."
The security implications of all the work on RFID simply come down to this: If a manufacturer or an agency such as DoD knows where a package originated, where it has been, and what has happened to it along the way, they've made a great improvement from a security standpoint. Those who would tamper with products need to do it in the shadows, and RFID is a technology that can throw light into every nook and cranny of the distribution system.
In the main story:
See sidebar to this article: Pack Expo Adds Package Security Center
Companies in this article