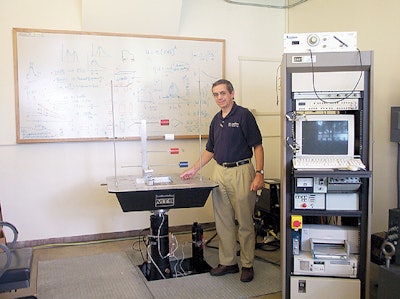 This is the first of a new series of occasional articles about packaging education.
Touring San Jose State University's packaging lab and classrooms with packaging program director Herb Schueneman returned me to my college days in the chemistry lab. Only in place of gas chromatography equipment was a water-vapor transmission rate analyzer, and instead of the periodic table of the elements, Packaging World's controls' poster hung on a wall. All reminded me that the course work wasn't about chemical solutions, but about packaging solutions.
It's an exciting time for SJSU's packaging program, and no one knows that better than Schueneman (see www.packworld.com/go/c106), who shared news about several developments during PW's mid-September visit. First, the packaging program will graduate packaging engineers as a result of the program having been made part of the university's Industrial & Systems Engineering (ISE) department in 2001.
"This is the first time that a packaging engineering degree has been available from a university in the United States," reports the energetic Schueneman, "and that's exciting!
"Companies that have hired our graduates and other schools' packaging graduates tell us that, while they have a good overview of packaging equipment and materials, they are not engineers," he explains. "Also, machinery builders tell us they don't hire such graduates because they are not engineers. Instead, they hire chemical or mechanical engineers and teach them about packaging. This changes all that."
He says the first packaging engineers will graduate in Fall '03 or Spring '04. Schuenemen points out that no other program—not even Michigan State University's prestigious School of Packaging, from which he graduated in 1969—has that distinction.
Although appointed as packaging program director in August, Schueneman has been involved in packaging at SJSU since 1985. He took over from the popular Jorge Marcondes, who Schueneman says really solidified the program during his tenure starting in 1994. In 2001, Marcondes joined the faculty at Clemson. "I really consider the whole program as the 'house that Jorge built'," says Schueneman. He also credits the department chair, Dr. Louis Freund, as being crucial to the program's success.
The other news is that SJSU's ISE department has reached the annual list of top Industrial/ Manufacturing colleges as ranked by U.S. News & World Report. It was ranked No. 5 among the non-Ph.D.-granting universities in the country for content and curriculum, and was ranked No. 2 among all public schools not offering a Ph.D.
"We like to believe that the inclusion of the packaging program in this department played a role in that ranking," says Schueneman. "This type of recognition and positive feedback is always extremely rewarding."
Into the lab
The spacious main packaging laboratory at SJSU is packed with hands-on analytical and test equipment used by the students. The ceiling sported banners of donors as if they were for conference sports championships.
Recently, the program accepted a new bench-top compression tester from the Lansmont Corp., which has many advanced features, says Schueneman.
Another recent donation is a cap torque tester from LifeScan that Schueneman values at $20ꯠ.
Housed in the prepress lab is a large X-Y sample cutting table from Vision Pack the company donated in 2001. Schueneman calls it a "state-of-the-art device designed to fabricate a number of different package styles accurately and repeatedly." Boxes cut on the unit are used and tested for packaging products such as microprocessors.
Nearby, Schueneman pointed to two prototype, yet fully functional Hewlett-Packard PCs that will be used as electronic guinea pigs: They will be test-shipped in cushioned containers designed by students. HP is unquestionably their biggest donor, Schueneman adds.
Other donated instruments include a Red Lake high-speed camera used to measure cushion deflection, and a Ranpak PadPak system that converts rolls of kraft paper into cushioning material.
Project development
The instruments are used in several areas of ongoing research including the University's Processed Food Institute, a collaboration with the U.S. Department of Agriculture designed to stimulate exports of food products. This research includes packaging technology, especially modified atmosphere packaging (MAP) and shelf-stable packaging of processed food. One "real-world" project with Thatcher Popcorn Co., South San Francisco, CA, involves research in shipping bagged popcorn to Japan.
Another area of ongoing research looks at the effects of temperature on the performance characteristics—impact, vibration, and top-load compression—of package cushioning materials. Several masters research programs have been completed in this area, Schueneman says.
We also visited a class in which Dr. Albert Elboudwarej was lecturing to a Food Packaging class of 45 students. Schueneman identifies Elboudwarej as a key instructor for the program. Another is Bill Horkins, who possesses experience in the areas of electronic packaging and consumer/medical products package design and testing. Schueneman himself has been involved in package design and testing for approximately 30 years.
Schueneman points to the Introductory Packaging class as the most popular class in the packaging program. This class is an elective for students in a wide variety of disciplines as well as a requirement for the packaging major and minor degrees.
The newest class is one that combines packaging distribution logistics with the operation and site selection of a warehouse facility.
"This class is designed to integrate packaging technology into supply chain management," says Schueneman. Keeping up with the times—and the mix of companies in the surrounding area—is a hallmark of all successful programs.
From electronics to electronics
SJSU's packaging program was launched in 1982 in response to inquiries from Silicon Valley manufacturers that were primarily interested in protective packaging required for their unique products.
Recently, the curriculum has shifted its focus to better prepare students for the needs of potential employers in this area. The curriculum now offers more about packaging of medical products, pharmaceuticals, consumer products, and fresh fruits and vegetables.
However, with the ongoing packaging machinery revolution in electronics, SJSU has replanted its electronic roots. For example, as part of a Packaging Systems class, students learn electronics and control aspects of equipment and particularly how they coordinate on a filling line. Also included in this class is a module on sensors typically used on filling lines to help control various aspects of the filling operation.
Our tour complete, it was apparent that Schueneman motivates SJSU's packaging program, but what motivates him?
"It surely isn't the salary," he says half-jokingly. "It's recognition that you're doing a good job or doing something worthwhile. It's important for me to know that I'm making a difference for these students, and they tell me that. That kind of feedback doesn't come with most jobs, but it does come here."
With that kind of determination, it's certain that SJSU's packaging program will continue to make the grade.
For further information and more images from SJSU's packaging program, see: packworld.com/go/w103
Companies in this article