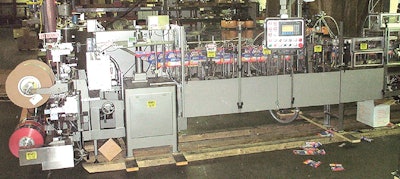 Easier programming, less wiring, and less hardware are benefits of a new plug-in Programmable Limit Switch (PLS) from Electro Cam (Roscoe, IL) for the Pouchmaster hf/f/s machine from HMC Products (Rockford, IL). The PLS plugs into the system's Allen-Bradley SLC-500 Programmable Logic Controller (PLC) from Rockwell Automation (Milwaukee, WI).
The PLS turns output signals on and off according to the relative position of a rotating shaft. PLSs are typically used to increase the accuracy of material or product positioning or registration.
Previously, the machinery manufacturer was using a stand-alone PLS. The new PLS simply plugs into the system's PLC.
"Between Electro Cam's plug-in module and competing solutions, the cost difference is negligible," says Dave Kreissler of HMC Products.
Another benefit is the ease with which operators can view machine functions on the operator interface. Kreissler says that statistical information, such as machine efficiency data, is readily available, thanks to the PLS. This, coupled with the reduced wiring and hardware, greatly enhances the control's ease-of-use.
"We have had good experience with Electro Cam's service and PLS products in the past," Kreissler says. "However, Electro Cam did not have a plug-in module at the time we originally required one. Once their product hit the marketplace, we made the switch and are pleased."
Companies in this article