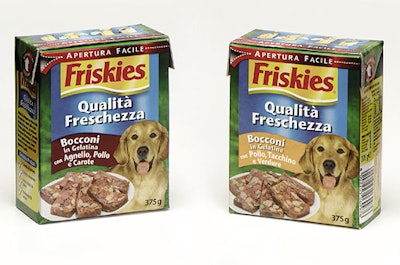 With eight of the 14 winning packages constructed of film, it's safe to say that the Fifteenth Annual DuPont Awards competition has a flexible focus.
Two flexible packages were awarded this year's Diamond Award, the competition's most prestigious honor. The first, a retortable carton packaging system for Nestlé Friskies Italia, is the first in the world to use the Tetra Recart from Tetra Pak (Vernon Hills, IL). The 375-g (13.23-oz) carton for Friskies "Qualità Freschezza" pet food features a laser-scored easy-opening tear strip along the entire top panel of the Tetra Pak-supplied blanks. With a shelf life of 12 months, the carton is constructed of Tetra Pak's typical multilayer structure of paper, plastic, and foil for aseptic packaging. The exception is a heat-resistant polymer added specially for the retorted carton. To read Packaging World's previous coverage, please go to www.packworld .com/go/w031.
The other Diamond Award winner is the 0S1000 oxygen-scavenging system used in packaging Nestlé Buitoni fresh pasta. From Cryovac (Duncan, SC), a div. of Sealed Air Corp., the 0S1000 system consists of a polymer-based oxygen-scavenging film that is activated by ultraviolet lights near the form/fill/seal system on which the pasta is packed. The Cryovac film is a 3.5-mil multilayer lamination that includes an outer skin of polyester married to a coextrusion that includes the active scavenger. Nestlé says the technology lengthened its pasta shelf life by 50%. To read PW's stories on this subject, please go to www.packworld.com/go/w031.
Absorbent barrier tray
Winning gold in the Food Category was the Linfresh Plus™ foam tray from Linpac Group (Knottingly, West Yorkshire, England). An absorbent, multilayer, barrier tray for modified atmosphere packaging of fresh meat, poultry, fish, and other food products, it's an alternative to conventional foam trays that require the insertion of absorbent pads to soak up blood and other juices that can cause meat packs to be unsightly.
Linpac thermoforms the tray from a five-layer material consisting of polyethylene/ethylene vinyl alcohol/expanded polystyrene foam/EVOH/PE. The EPS foam core has an open-celled structure that makes it a perfect "sponge" for any liquids exuded by the meat products. These liquids reach the foam core through dozens of holes punched into the flat bottom of the tray.
A key element in the design of the tray is a barrier retention channel that runs around the periphery of the flat bottom. Without this channel, ambient air would be free to enter the open-celled foam material at the edge of the tray flange and travel unchecked until it reached the product through the holes punched in the tray bottom. Thus the tray could not be used as a MAP package, because there would be no way to maintain a barrier. Thanks to the retention channel, the barrier is secure.
Among the first to use the absorbent tray was Hilton Meats Retail of Huntington, Cambridgeshire, England, a major supplier to England's Tesco chain of supermarkets. According to James Aron, supply chain manager at Hilton, most cuts of beef sold by the firm are now packed in a Linfresh Plus tray in place of a barrier expanded polystyrene foam tray plus soaker pad. Lamb cuts are next to make the switch, he adds.
"The tray quickly absorbs the blood and it stays out of sight in that base," says Aron, who worked closely with Linpac in the development of the concept. "It works extremely well." Cost, he adds, is comparable to what he pays for an EPS tray plus an absorbent pad.
Linpac's Darin Gregg emphasizes that the award-winning tray is currently available in Europe but not in the United States. Gregg says "This product demonstrates the kind of cutting edge tray design and production technology that Linpac is employing worldwide."
A slice of PB&J
"What will they think of next?" is the question that comes to mind when it comes to Schreiber Foods' PJ Squares, a Food Category silver award winner. Marketed to kids, PJ Squares contains 10 individually wrapped "slices" containing peanut butter and either grape or strawberry jelly, overwrapped in printed film in virtually the same manner as are cheese slices.
PJ Squares was first test-marketed in April 2001, primarily in the midwestern cities of Indianapolis, St. Louis, Chicago, and Grand Rapids, MI. "The initial test market ended earlier this year," notes Dan Shannon, a principal engineer and team advisor for Green Bay, WI-based Schreiber, a privately held firm that specializes in cheese. "We received a lot of data and favorable results, and it exceeded our sales expectations."
So what will Schreiber think of next? "The product was sold refrigerated and had a one-year shelf life," Shannon relates. "We made some improvements to the product, and we're introducing it now as a shelf-stable product." The new version is rolling out nationally. Like its refrigerated predecessor, the new version carries a one-year shelf life. The primary difference in the two varieties, says Shannon, is that the shelf-stable version can be displayed next to the peanut butter and jelly. Presumably there it can generate even stronger sales. The product retails for $2.49.
Shannon says the same film structure will be employed for the shelf-stable version. The individual wrap for each 1.2-oz "slice" is a 1.5-mil cast polypropylene film. It also includes EVOH, and a sealant layer. "We made modifications to the release agents to allow it to release from the sticky peanut butter and jelly," he notes.
Supplied by Printpack (Atlanta, GA), the film provides oxygen and moisture barrier to help prevent rancidity in the fats in the peanut butter. "The wrap is similar to what we use for our sliced cheeses," Shannon says, "and it's designed to run on our custom-made machines."
What's interesting is that Schreiber designs and builds its own equipment. For PJ Squares, "we use equipment that we consider highly proprietary that runs at very high speeds," says Shannon.
Ten wrapped slices are then overwrapped in film. The 1.38-mil two-side-sealable biaxially oriented PP Vifan unprinted film is supplied as rollstock from The Vibac Group (Montreal, Quebec, Canada). Film converting is done by Capri, a division of Schreiber Foods. Capri reverse-prints the film flexographically in six colors. "It provides a glossy appearance and holds the wrapped slices together," says Shannon.
Campbell Soup gets a hand
Campbell Soup Co. won a silver award in the Food Category for its new line of sippable soups in a multilayer, microwavable, 10.75-oz sipping container.
"Our 'Soup at Hand' package was an excellent opportunity to leverage the investment we had previously made when we introduced our 'Soup to Go' varieties in microwavable bowls," says John Faulkner, Camden, NJ-based Campbell's director of corporate and brand communications. "We use similar materials, but the 'Soup at Hand' package is designed for on-the-go handling and sipping."
According to Faulkner, the shape and size of the container gives consumers the familiar look and feel of a coffee mug, but without a handle. The gripable and ergonomically shaped container, made of high-density polyethylene, conveniently fits into a car cupholder. A red plastic overcap that has a slot for sipping is removable so that an aluminum ring-pull lid can be removed before heating.
The graphics are flexo-printed in four colors on a coextruded oriented PS wraparound label supplied by American Fuji Seal (Bardstown, KY). The foam label provides insulation to keep the product hot while the outside of the package is comfortable to touch.
"The eye-catching design leverages our Campbell red and white equity on the shelf," says Faulkner. "There are no other similar packages on the market."
Launched nationally last September, Soup at Hand retails for $1.49 in four varieties.
Bacon bits stand up
Winning a silver for Kraft Foods/Oscar Mayer Division and Curwood in the Food Category is Oscar Mayer Bacon Bits in a 3-oz stand-up pouch. Introduced in October 2001 and available nationally, the pouch is used for two items: 3 oz Bacon Bits and 2.8-oz Bacon Recipe Pieces. The suggested retail price for each item is $1.69.
The pouch, which measures 6''x43/8'' and has a 1¾''-wide bottom gusset, replaces a small steel 208x400 can.
The pack has a lot of features:
• Zip-Pak® resealable zipper from Minigrip/ Zip-Pak (Manteno, IL). This is one of the smallest pouches to date to employ a resealable zipper.
• A Freshness Saver® Packet. Back panel copy states "To help maintain freshness, we put a small packet of minerals inside to absorb extra oxygen. DO NOT EAT IT."
While lighter in weight compared to cans, the pouches contain the same amount of product as cans did. Kraft states that the products' shelf life remains the same. The can version did not have an absorber.
Kraft reports that the primary challenge was to ensure that the opening and closing feature would work well for consumers. According to Sarah Delea, senior communications manager, Oscar Mayer Division, Kraft Foods North America, the pouch is based on existing technology to provide an easier-to-open package, which helped Kraft achieve its main objective.
Delea says that the pouch "gives us more shelf presence due to its size and the window allows consumers to see the product" through an unprinted section on the front panel. Kraft also believes that the pouch makes it easy for consumers to spoon or pour the product.
"The pouch packaging materials and processes are more cost efficient than cans," Delea adds.
Side-gusseted pet bag
Nestlé-Purina Pet Care Co., based in St. Louis, is marketing a side-gusseted stand-up bag for its Friskies pet food in Japan. Available in Germany, the bag earned a DuPont Food Category silver award for Bischof + Klein (Charlotte, NC). The flexible packaging producer supplies Nestlé-Purina with its U-Pack™ pre-made bag designed to open easily, reclose with a zipper, transport well thanks to a carry handle, and allow easy pouring.
The U-Pack is used for 1.5-kg (3.3-lb) size of dog food sold in Japan. The three-ply adhesive-lamination for the pet food bag includes 12-micron (.47-mil) polyester/.47-mil metallized polyester/90-micron (3.54-mil) linear low-density polyethylene. The outer polyester layer is reverse-printed flexographically in eight colors. It's believed that the product is packed at a Nestlè-Purina plant in Australia for the Japanese market. Further information from Nestlè-Purina Pet Care in Japan was not available as this issue went to press.
Sophisticated cold-temp transport
Winning a gold in the Nonfood Category is Kodiak Technologies' (Houston, TX) reusable KT1000 Cold Chain Shipping Container, which is designed to maintain an internal temperature of 2° to 8°C (36° to 46°F) for five days. It is claimed as the only active temperature-controlled system that does not require power to operate.
Measuring 22''x24''x19'', the container has an outer shell molded of HDPE with a thermoformed inner shell of high-impact PS. Polyurethane-based vacuum insulation panels in between those shells use DuPont Mylar® polyester film. The container is composed of a body and a lid that latches to the body.
The lid has an onboard microprocessor and houses a sealed compartment containing the coolant, a water-based salt solution. The coolant is regulated by an active heat-exchange system controlled by a paraffin-based actuator, which includes a diaphragm. Temperature changes cause the actuator to open or close, regulating the coolant's heat exchange with the contents via an aluminum plate in the bottom of the lid.
The computer logs the internal and external temperatures every five minutes. It also confirms whether the lid has been opened during shipment. The data can be downloaded upon receipt.
The KT1000 was introduced in June 2001. Kodiak's first customer was Dow Corning, which began using the containers in January to ship "nonpharmaceutical" products one-way from Michigan to Costa Rica. "They told us they expect to be shipping 2ꯠ containers per month," adds Rick Hunter, Kodiak director of engineering and product development. "And we're in the process of setting up shipments for them to the Philippines and Malaysia."
Kodiak also arranges container retrieval for Dow as part of the per-container rental fee of about $250. Dow managers could not be contacted for comment. Other customers include NASA's Johnson Space Center, which has used the containers to ship rare geological specimens, and Baxter Healthcare, which started using them in May for domestic clinical trials, according to Hunter.
Each container has a life expectancy of about 100 trips; to-date, some have made 10 trips. Following each use, the refrigerant is recharged by refreezing the lid.
The company is developing other variations, including smaller units and those that maintain a lower temperature. Company president and CEO Jay Zinser says the initial target is pharmaceutical and biological products, though foods, chemicals, mining, and archaeology represent other likely markets.
See sidebar to this article: Additional winners
For a complete list of suppliers, see: packworld.com/go/w034
Companies in this article
Videos from Klöckner Pentaplast Food Packaging