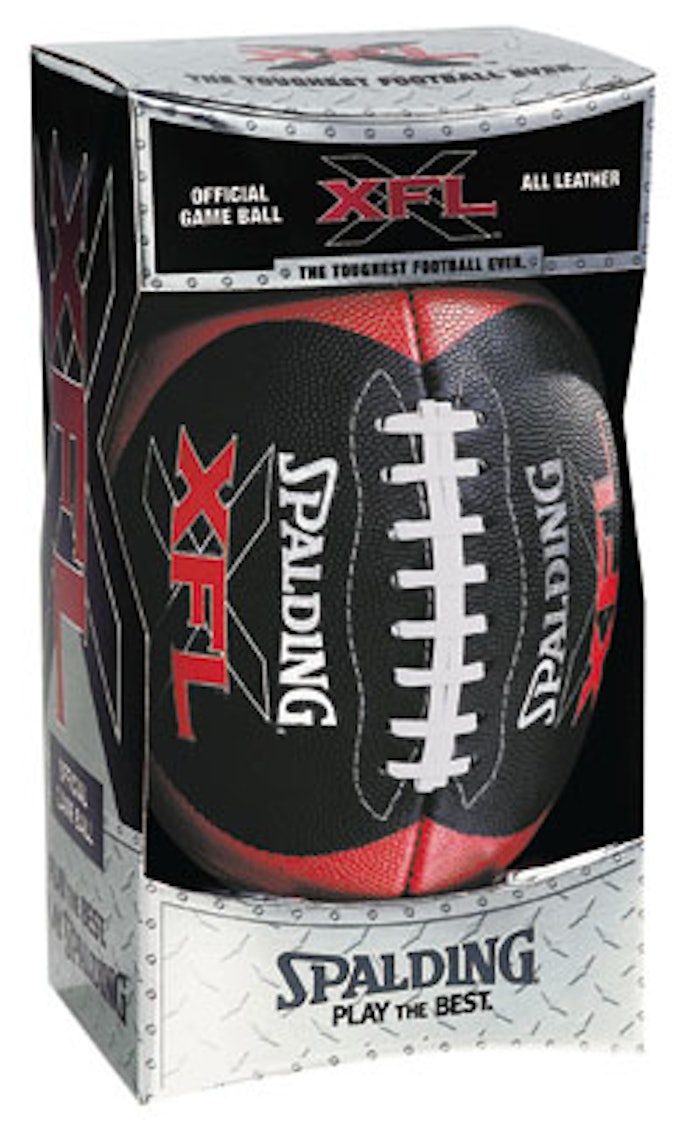 The 12½''x6½''x5''-box (for the $69.99 retail all leather game ball, shown) features a metal-like appearance, concave top and bottom panels, and fancy die cuts on the side panels.
Marketing's directive to senior packaging specialist Alan Byrne was straightforward, he relates: "Do something outrageous that centers on the tagline 'the toughest football ever.' We wanted the package to look as much like metal as possible."
Spalding initially considered using an actual metal box, Byrne says, but economics and other practicalities led the company instead to a lamination of 35-ga metallized biaxially oriented polypropylene/10-pt SBS/single-face E-flute corrugated. The BOPP/SBS substrate is litho-printed in four colors plus UV coating and then embossed in an industrial-like diamond plate pattern similar to that found on truck bumpers. The pattern was suggested by Spalding's packaging department. Converted by Inland Paperboard and Packaging (Indianapolis, IN), the box is designed by Colangelo Synergy Marketing (Darien, CT).
Like XFL games, the box displays showy curves, too, via concave top and bottom flaps, designed for "aesthetic reasons," Packaging World is told. Also notable are die cuts along the "X" logotype on the side panels. The XFL footballs are Spalding's second major introduction of recent months, along with the Infusion basketball (see PW, April '01, p. 5 or packworld.com/go/spalding).
-Rick Lingle
Companies in this article