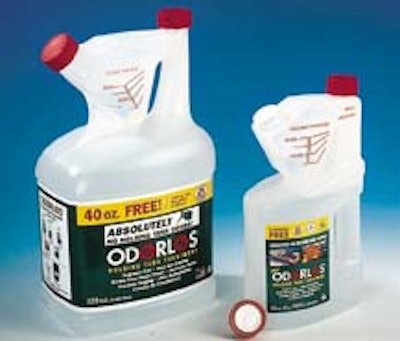 Despite 15 years in the wastewater treatment industry, Tampa, FL-based Hydro Agri North America was having problems getting its new line of products to catch on with consumers. Feedback from consumers indicated that the packaging for ODØRLØS®, a line of treatment solutions for boats, recreational vehicles and portable toilets, did not complement the product. A new bottle with a built-in tip"N"measure™ from Container Mfg. (Middlesex, NJ) solved the problem by providing ease of measurement and safety while pouring.
Previously available in a white, handled high-density polyethylene bottle with a standard pouring opening, the new ODØRLØS tip"N"measure dispensing system features a printed measuring unit built right into the extrusion blow-molded natural HDPE. The two-chamber design allows the user to easily measure up to 4 oz of ODØRLØS—a standard amount that treats 40 gal of tank water. "Users simply tip the bottle forward, filling up the front chamber," says Terje Gronlie, sales and marketing manager at Hydro's Industrial Department. "The surplus fluid falls back into the rest of the bottle, and they are able to open the front cap and pour out up to four ounces without spilling excess product."
Container Mfg. produces the patented tip"N"measure containers at its Middlesex, NJ, blow-molding facility. It also prints the measuring chamber and applies an injection-molded polypropylene cap to the measuring chamber side of each bottle.
Finding a solution
Hydro Agri had several important criteria in mind for its new ODØRLØS package, according to Gronlie. First and foremost, the company wanted the bottle to include an integral measuring device, so consumers wouldn't need to measure into a secondary container. Additionally, consumers needed to be able to clearly see how much liquid was being measured while it was still in the chamber. That meant the measuring chamber had to be translucent with large, clear printing. Also, multiple sizes of bottles were a must. Fortunately, the tip"N"measure containers addressed all of these needs.
At Container Mfg., after bottles are blown, sleeves are applied to the two larger sizes. Coastal Sleeve Label (Brunswick, GA) supplies the 2-mil low-density PE sleeves, which are surface-printed in up to five colors. Next, Container Mfg. pad-prints the measuring chamber of each bottle in one color. The pour spout of the bottle's measuring chamber is capped with a Final Generation® child-resistant closure from Rexam (Evansville, IN). Inside each cap is a Tri-Gard™ SPE liner from Tri-Seal (Blauvelt, NY) that includes a layer of foil. The liner is induction-sealed to the pour spout finish when the bottle is sent through a Lepak 2000 induction-sealing unit from Lepel (Waukesha, WI). Finally, leak detection is performed through the bottle's second opening, which will later be used for filling the tip"N"measure container with ODØRLØS.
Container Mfg. ships pallets of bottles to contract packager Stratford Corp. (Clearwater, FL) for filling and completion. At Stratford, bottles are loaded manually onto the packaging line, then filled and capped through the vertical fill openings on a 12-head ELF (LaPorte, IN) gravity/pressure filler and an ELF autocapper. Stratford then induction-seals the fill opening of the package with the same liner and cap combination used on the pour opening. The smallest bottle size also receives front and back pressure-sensitive, UV-coated labels. Flexo-printed in six colors by Consolidated Label (Longwood, FL), the labels combine a 40# liner with a 60# facestock.
Seal of approval
Because the product's formula is designed to attack paper and waste, it needed a cap liner that wouldn't be subject to this attack. At the recommendation of Container Mfg., it selected the Tri-Gard SPE liner material that's glued by Rexam into each closure. The five-layer material includes a primary liner of foamed polypropylene and polyester that remains inside the cap after the inner seal has been discarded. This liner is bonded to the paper/aluminum foil/heat-seal coating by pressure-sensitive adhesive. When the liner is sealed to the bottle, the glued primary liner prevents cap back-off and the need for retorquing.
When the ultimate consumer unscrews the cap, the p-s adhesive bond is broken and the primary liner remains in the cap to aid in reclosing the bottle securely.
Hydro Agri markets its bottles of ODØRLØS at overfilled levels; the 40-, 68- and 136-oz bottles retail for $11.99 to $12.99, $16.99 to $17.99 and $25.99, respectively.
Gronlie admits that cost per treatment is slightly higher with the new ODØRLØS package, but he says his company has found that customers seem "willing to pay several dollars more for a bottle that's easier to measure. Sales have gone up considerably," he says, noting that after the redesign in February '99, sales increased by 300%. "We attribute that a great deal to the packaging," he concludes.
Companies in this article