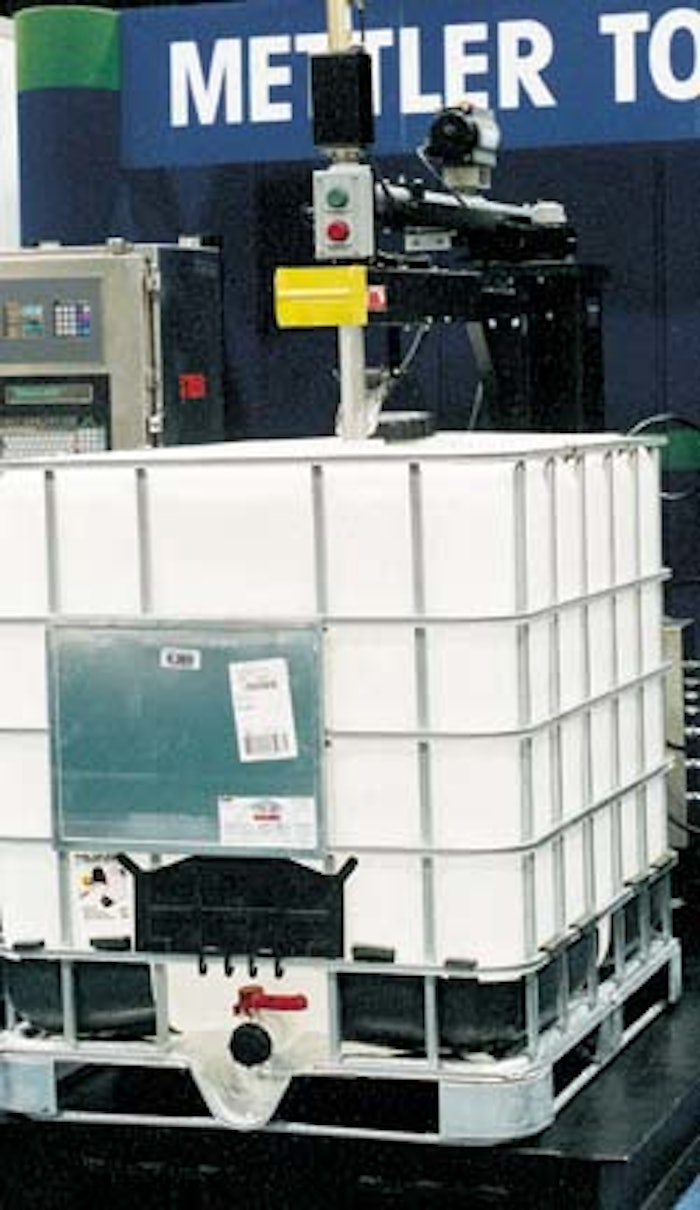 Finding a safe container to transport chemicals across the country is hard enough, and finding a supplier that will completely take care of container recycling is nearly impossible. But that's just what Bercen, a manufacturer of chemicals for the paper industry, found in Hoover Materials Handling Group (Alpharetta, GA).
Based in Cranston, RI, Bercen manufactures chemicals used to treat and coat paper products. Bercen transports these chemicals via truck to paper mills and paper processing plants, 90% of which are east of the Mississippi River. Bercen had been using a high-density polyethylene intermediate bulk container to hold its chemicals but was looking for a more durable, reliable IBC. Hoover's Repaltainer met that need. Bercen also benefits from a recycling program Hoover calls Closed Loop Packaging®.
"After carefully researching more than a dozen other IBCs from different companies, we found the Repaltainer was by far the best," says Guy Wells, production control and purchasing manager for Bercen. "And by using Hoover's Closed Loop Packaging program, we're saving money on transportation, which helps keep our costs down. That's because Hoover now assumes what used to be a responsibility and cost of ours—routing our customers' empty containers to the 'Supercenter.' Hoover's in-house logistics staff manages the whole process."
Tracking from start to finish
Blow-molded of HDPE, the Repaltainer holds 275 gal of chemicals. A cage of double-wire steel rods protects the IBC and provides stacking strength. Bercen's previous IBC's cage was said to have been made from a less durable, lighter-gauge material. An injection-molded HDPE cover and base allow for easy stacking.
When one of Bercen's customers is finished with the Repaltainer, the customer calls Hoover, who picks up the empty containers and returns them to a Hoover Supercenter™ in either Chicago or Charlotte, NC. Hoover is also responsible for all IBC tracking, which includes managing location, transportation and material safety data sheets. Hoover provides information on return rates, which helps Bercen establish if the package recovery and return distribution process is flawed in any way.
At the Supercenter, the IBC is emptied of residual content, rinsed with hot water (sometimes a caustic wash, depending on the chemical), then fresh-water rinsed and dried. Each IBC has a serial number and bar code that identifies how many times the IBC has gone through the Supercenter. If the IBC has made it to the Supercenter five times, it has exceeded its life cycle and is sent to the shredder/grinder and recycled into a pallet or drum. From the Supercenter, new or reused containers are sent to Hoover's regional distribution center in Cranbury, NJ, where they await an order from Bercen.
At Bercen, a forklift moves the IBC from storage onto a scale at the filling station. A pipe linking the chemical reactor to the container indexes down into the IBC's fill cap. Free-flow chemicals are dispensed, and a scale measures the fill level by weight. Filling takes approximately 5 to 7 min. Each IBC is manually labeled at the filling station with content information. The container is then manually capped after it is filled to the proper weight. After capping, a forklift takes the IBC to storage or to shipping.
"Changing IBC packaging specifications to the Repaltainer, in combination with the Closed Loop Packaging program, has made a positive impact on packaging," Wells says. "The design of the Repaltainer contributes to better handling and reduction in the number of damaged units. The integrated logistics and recycling services associated with Closed Loop Packaging makes it easier for our customers—the end users—to dispose of used packages."

In a hurry? Request more info via Web-based reader service by clicking on the reader service number.
Or you can jump right to their Web site.
Companies in this article