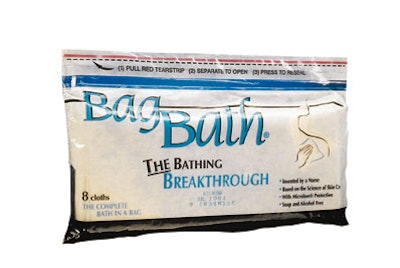 The Golden Mummy Awards recognize excellence in creativity, appearance and performance of flexible packaging that makes use of at least one film from awards presenter Mobil Chemical's Films Div. (Macedon, NY). Among the three winners this year is the Bag Bath pouch from Incline Technologies. It holds eight disposable washcloths with ready-to-use cleansing solution for bathing bed-ridden patients.
The Pfafftown, NC-based packager asked North State Flexibles (Greensboro, NC) to design a package that would allow increased production speed, be more cost-effective, continue to provide the required barrier properties and offer consumers an easy open/reseal feature.
The new structure consists of Mobil's Bicor® AOH, a 0.84-mil layer of coated oriented polypropylene film laminated to New England Extrusion's (Turner Falls, MA) 2-mil layer of linear low-density polyethylene. The LLDPE is surface-printed flexographically in five colors by North State prior to lamination. The Mobil film provides the oxygen and moisture barriers the product requires while the NEX film offers a lower heat-seal initiation temperature that allows Incline to increase the speed of its packaging equipment.
The final challenge was to add the tear strip and resealable zipper to the package. Sealstrip's (Boyertown, PA) zipper is added in-line by Incline on a horizontal wrapper from Doboy (New Richmond, WI).
John Martin, vice president of manufacturing at Incline, says the zipper was essential in the redesign. "The product is used by busy nurses who can't afford delays due to cumbersome opening and resealing of our product," Martin says.
The redesigned package was released in December '98 and is sold to hospitals and other health care facilities.
Pouch for Kellogg
The package for the Pop-Tarts® Snak Stix™ from Kellogg Co., Battle Creek, MI, also won a Golden Mummy. The structure is 36-ga polyester adhesive-laminated to Mobil's Metallyte®, a 70-ga metallized OPP converted by Cello-Foil Products (Battle Creek, MI). Cello-Foil reverse-flexo-prints the polyester layer in one color. Different from Kellogg's Pop Tarts®, the products are designed to break apart into three individual pieces. Because they can be eaten individually, Kellogg wanted a resealable function added to the bag. For this, the company worked with Sealstrip. The adhesive is applied in-line as the film is formed on a horizontal form/fill/seal machine.
Mike Bishoff, packaging project engineer at Kellogg, says the reaction to the package and product, released in May '99, has been promising. "We're exceeding our sales expectations," he says. Kellogg's next step is to develop a two-color graphic on the pouch that better communicates the reseal instructions and its benefits. "We feel this will make the pouches easier to use, especially for small children," says Bishoff. The product is available nationally, retailing for $1.69 per carton. The pouches, which have two perforated tarts in them, are packaged in standard solid unbleached sulfate folding cartons.
Fruit snack pack
The third Golden Mummy went to a fruit snack package that's contract-packaged by Ganong Brothers. Located in St. Stephen, New Brunswick, Canada, Ganong Brothers wanted a package that would attract the attention of its primary consumers: children. "Children like the brightness of the foil, and we liked the kind of 'bounce' graphics get with this material," says David Ganong, company president.
The package uses Mobil's Bicor® LBW and Metallyte® Met-HB, an OPP laminated to 0.70-mil metallized OPP with a proprietary sealant layer, converted by Progressive Packaging (Aurora, Ontario, Canada).
Pyramid awards
In addition to the three Golden Mummy awards, Mobil also honors packages that use its Label-Lyte® materials. Laguna Beverage Co. and converter Hammer Lithograph (Rochester, NY) won a Pyramid Award for the labels on glass bottles of Laguna Beach Style beverages.
When the Laguna Beach, CA-based company decided it was going to make a few changes to its product in early 1999, the company decided a label update was also in order. "We wanted to incorporate a classical, clean look without the traditional, stale beverage label of bright colors and generic pieces of fruit," says Steve Vangelos, president of Laguna. "We also wanted the labels to hold up under wet conditions [on the filling line]." Hammer Lithograph worked with Laguna to develop a synthetic label that not only resists moisture, but also provides resistance to abrasion while preserving the graphics and paper-like look of the labels.
The glue-applied 3-mil biaxially-oriented PP labels are offset-printed by Hammer in four colors. The eight 20-oz Laguna Beach beverages are available at retail in select West Coast markets for $1.19 to $3. Vangelos says reaction to the new label has been positive. "Our sales compared to our old packaging have increased dramatically, by about 40 percent," he says. "We are very excited."
Label 'twists'
The next Pyramid Award went to the label for Rexall Sundown's Sundown Herbals™. The redesigned label, introduced in early 1999, uses CCL Label's (Rosemont, IL) Spinformation™ label (see Packaging World, May '99, p. 2 or packworld.com/go/spinformation). The outer label is a clear 2-mil BOPP label, the inner label is 2.6-mil white BOPP. The outer label's graphics present product information, while the inner ply, visible through a die-cut window, provides additional information that can be viewed by turning the outer ply. The label is flexo-printed in up to seven colors.
Staci Glovsky, director of marketing at Rexall, says the label was changed to deliver more information to consumers. The product line includes 55 items, ranging from $4 to $12, and is available nationally in food, drug and health food outlets.
Labeling aerosol cans
The final label recognized by Mobil was for the Raid Max product from S.C. Johnson & Son. In January '99, the Racine, WI-based company went from a litho-printed aluminum can to roll-fed labels for the aerosol cans. The new labels reduce lead times and storage space, provide better inventory control and allow greater graphics flexibility.
Tom Mueller, quality engineer at S.C. Johnson, says, "Using the film helps us keep low inventories of product and react quickly to a changing market."
The 1.25-mil clear OPP film is reverse-printed flexographically in five colors and laminated to a metallized white OPP film by converter CL&D Graphics (Oconomowoc, WI). Available nationally, the product sells for $6.29.
The Golden Mummy and Pyramid awards were first held in 1986 and 1994, respectively, to recognize users of Mobil films. This year there were about 40 entries for both award categories. The awards ceremony was held Sept. 29, in conjunction with WestPack '99 in Anaheim, CA.
In a hurry? Request more info via Web-based reader service by clicking on company name.
Or you can jump right to their Web site if it's listed.
Companies in this article