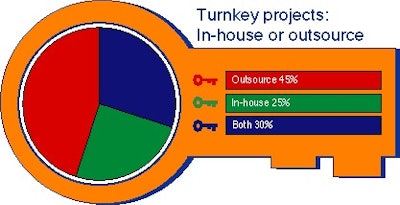 No matter the definition, there is far more agreement than disagreement on the services and resources these manufacturers seek. Still, this survey, conducted last year with in-depth telephone interviews, does draw some contrasts among the industries studied. Originally performed for a single client by Frambach & Co. (Elm Grove, WI), it was made available to Packaging World this year.
Two brewery engineers offered turnkey definitions that definitely represent the macro concept. "The definition is wide open. It could begin with concept engineering and follow all the way through purchasing equipment, building construction, installation and check-out and start-up," says the engineering manager for a Florida brewery. "It could be anything from a single machine to a specialized custom machine to a full line."
Across the country in California, the engineering manager at a different brewery has a similar idea. "I interpret turnkey as 'cradle to grave.' Our partner would develop the concept, the justification and scope of the project, and carry out the implementation, installation and start-up. It would include equipment selection to some degree, perhaps the more generic equipment, while we would select the major pieces."
In addition to brewery companies, the survey included other types of beverage packers, pharmaceutical and medical manufacturers, food companies and makers of health and beauty aids. The goal was to discover the types of services and resources these companies expected from turnkey providers, rather than provide a statistical look at turnkey projects.
Outsourcing most common
Although there was no direct question about whether the companies outsourced turnkey projects or did the projects with in-house personnel, the verbatim answers to a question about the advantages and disadvantages of outsourcing did yield that profile of how the respondents' companies handled these projects (Chart 1).
While relatively few comments provided absolute answers, PW's analysis shows that 45% of the respondents indicate their companies do outsource turnkey projects, and another 30% use outsiders at least some of the time. Still, a full quarter of the respondents say their companies exclusively use in-house personnel to handle these programs.
By market, brewers most often outsourced turnkey assignments. Other beverage packers like wineries and soft drink bottlers were not far behind. At the other end of the spectrum, makers of health and beauty aids and distillers most often favored performing these tasks in-house.
"Suppliers have more resources available, so that frees up the in-house staff," says an engineer at a Midwest brewery. "We do the research type of projects or we do the first phase of a project in-house, and then we give the balance to a vendor."
Several respondents favored outsourcing because the company only had to deal with a single supplier, rather than all the individual companies that could be involved. "The main advantage in my experience is you have one accountable party, so you reduce the finger-pointing," says a plant engineer for a Mid-South soft drink bottler. "One party is responsible, and problems are solved without our having to channel energies to a lot of different manufacturers."
Downsizing=outsourcing
Not surprisingly, several respondents from all types of companies said their firms use vendors because they no longer have the engineering talent in-house. "We don't have the resources to do some aspects of these projects any more. For example, we're not staffed to do much design work," reports an engineering planner with a major Midwest pharmaceutical maker.
At a Southeastern brewery, a packaging engineer there agrees, but rather half-heartedly. "Nowadays, conditions dictate whether we farm it out. There are fewer engineers in-house to do the work." However, he adds, "When the projects are over, the providers are long gone."
Even disregarding smaller staffs, some say that outsourcing offers a better range of experience. "Outsourcing can be an advantage because we may not have specific knowledge for a certain task," says a plant engineer for an East Coast food manufacturer. "It makes sense to find people who have done it before."
The big advantage is that "outsiders have more resources and a broader range of packaging experience to draw upon," according to an engineer at a major drug company in the Midwest. "The advantage is the support force in-house doesn't have to be as great."
The plant engineering manager for a West Coast pharmaceutical company agrees. "Our staff is more limited. We're responsible for maintaining the ongoing operation," he says. "When you do a whole project, it's like a chain link fence. Outsiders have the best understanding of all the links, and they can put them together with a much wider vision for the program."
Although outsourcing was favored for turnkey assignments, those who preferred to keep this work in-house were a very vocal group (see sidebar, p. 59).
OEMs chosen over consultants
For that majority of companies that use outsourcing, the PW survey asked respondents about their choices for these assignments (Chart 2). Original equipment manufacturers (OEMs) were clearly favored for the projects over consulting engineers, 50% to 32%, with 18% showing no preference.
While the pharmaceutical companies were almost evenly divided between consultants and OEMs, the beverage companies, led by soft drink bottlers, favored the OEMs by almost two-to-one. The health and beauty aids companies showed a slight preference to OEMs, but the food companies strongly preferred consulting engineers.
A project engineer for a major food company in California voted for consulting engineers, saying, "They have more experience with these kinds of projects. Unlike 'Mom and Pop' operations, we work with companies like Bechtel and Brown & Root."
On the other hand, the plant engineer for a regional beverage packer strongly favors the use of OEMs. "We won't use consultants. One, they're cost-prohibitive, and two, if you have a problem later, they have no incentive to come back. If you want a project to work, you go to an OEM and have them do controls and system integration."
An engineer at a Midwest plant of a major drug company has reasons to use both types of companies: "It depends on the project. If it's a straightforward project for packaging equipment, we can use an OEM. But if more design is involved, like structural modifications to a building, we'd go with consulting engineers."
What services are expected
That engineer's comment suggests that some packagers see differences in the capabilities of the two types of companies. The survey asked respondents which of four general types of services they would expect a turnkey vendor to provide (Chart 3). It's important to point out that respondents simply answered "yes" or "no" to each; there was no attempt to rank them.
Respondents from every type of company expected to design and build resources. In fact, it was almost unanimous among all participants. The other three services, though, were more mixed. Electrical engineering services were least demanded by most of the beverage companies and the pharmaceutical and medical manufacturers. But it rated second on the list of services expected by companies in the health and beauty products business.
Next, the researcher asked the survey subjects to rank the importance to their company of six specified turnkey capabilities (Charts 4 through 9). For purposes of comparisons, we've simplified the responses into four categories, from critically important to low or no importance.
Documentation (Chart 4) rated the highest among virtually every type of company. It also generated the greatest number and variety of comments when the researcher asked respondents what information packagers needed to be documented.
Design, support sought
The other two general services considered of greatest importance were engineering design (Chart 5) and customer support (Chart 6). There were differences in the answers, depending on the product category. For example, participants from wineries rated documentation fourth in importance, following engineering design, equipment selection and customer support.
Even within the beverage category, there was a striking diversity of answers. Participants from breweries and wineries both ranked project cost (Chart 8) last among the six. But engineers at distilleries were rather divided on the importance of cost. More than 60% of these companies ranked it critically important, while about a third of participants from distilleries rated cost low in importance.
Customer support was clearly most important to engineers at food plants, with all respondents calling it critically or highly important. Among the drug and medical companies, engineering design rated most important, just edging out documentation.
The common thread among virtually all the participants was that equipment installation was the function deemed least necessary. And in most cases, equipment selection was not ranked highly, compared to the other five.
Resources by providers
The research then sought to identify what kinds of capabilities a vendor needs to bring to a project. Of a list of seven, our report will show the response to five, ranging from computer-aided design (Chart 10) to budgeting (Chart 13) and scheduling (Chart 14).
Both mechanical (Chart 11) and electrical engineering (Chart 12) ranked most important. More than 90% of participants rated each critically or highly important.
The other engineering-related capability, CAD design, was also highly desired. Meanwhile, budgeting and scheduling were considered less critical. Of course, these less technical resources might have been down-graded because the survey participants were almost exclusively from the engineering/operations side of their organizations.
Finally, the survey asked participants what sources they might use to gather information about outside turnkey providers (Chart 15). Unlike most of the other questions in the survey, this question was totally unaided, without a list being mentioned or read.
As might be expected, personal recommendations from inside or outside the company were most often mentioned. The real surprise, however, is that company experience was mentioned less often than trade magazines. This suggests that turnkey project experiences have sometimes been less than successful, and the sidebar on those engineers who favor in-house projects (p. 59) offers some critical evaluations.
Next month, as PW continues its coverage of this reader survey on turnkey projects, these engineers will focus on specifying the documentation that their companies require from turnkey providers, from X-rays of equipment welds to components lists. In addition, this group will also reveal how some companies are engaging in teams to participate in the selection of the providers of a turnkey project.
All of this data-and all of the personal comments-point to the difficulty of arriving at any uniform conclusions. Many companies admit that reduced in-house engineering capabilities make it almost in-evitable that they outsource turnkey projects. While they grudgingly agree that it makes economic sense, not all are convinced that it reduces in-house oversight.
A project engineer at a West Coast food company reflects this skepticism. "The advantage [to outsourcing] is that it frees up the in-house staff-at least theoretically. But, typically, so much needs to be coordinated internally that it's often much easier to keep the whole project in-house."
Companies in this article