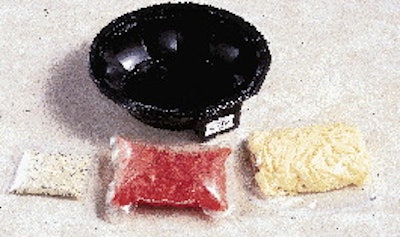 Held May 3-6 in Chicago, the Food Marketing Institute's annual show once again featured a Produce Pavilion to highlight innovations in fresh-cut, value-added fruits and vegetables. Among this year's Produce Pavilion standouts were three packages that all rely on modified atmosphere packaging in some form or another. Two come from Tanimura & Antle, Salinas, CA, and the other is from Ready Pac(TM) Produce of Irwindale, CA.
T&A's Hot Bowls are fresh vegetable and pasta meals in thermoformed, microwaveable, polypropylene-based bowls. Each of four varieties includes fresh, cooked pasta packaged for T&A by an outside supplier. Other prepackaged components supplied by outside vendors include spices, sauces or chow mein noodles, depending on which of four varieties is involved.
To prepare a Hot Bowls item, consumers simply peel off the flexible lidding material covering the bowl, open the pouched items, mix the ingredients together, and microwave everything in the bowl for about 21/2 minutes. Convenience is the key, says vice president of value-added products Leonard Batti. "There's no need for pots and pans and no cooking over the stove," says Batti.
According to T&A's vice president of sales and marketing Dave Eldredge, the Hot Bowls line replaces a line of products called Broccoli Time(TM) (see Packaging World, October '95, p. 40). These, too, were a pasta/produce home meal replacement combination, and they were in the same style of "footed" bowl that let them stand up nicely for display purposes. But the Broccoli Time bowl was polyethylene terephthalate and was not meant for microwave cooking. Ingredients had to be cooked in a sauce pan and the broccoli had to be boiled. "This new concept is more of a grab-and-go idea," says Eldredge.
Eldredge adds that Hot Bowls are priced between $2.49 and $2.79 and are now rolling out in major markets nationwide. Depending on the item, fresh vegetables included in the Hot Bowls can be broccoli florets or broccoli florets combined with carrots and red cabbage or fresh tomatoes. T&A uses in-house equipment and flexible packaging materials tailored to deliver just the right permeability so that the vegetables inside can continue to respire.
More intriguing than packaged broccoli, carrots and cabbage are the fresh diced Roma tomatoes that come in two of the Hot Bowls varieties. These packages may be a first in the fresh-cut produce category. Tomatoes, after all, are extremely delicate when sliced or diced, so produce marketers have been reluctant, or unable, to introduce fresh tomatoes in a packaged format. That explains why the machines and materials used to package these fresh tomatoes are considered proprietary. About all Batti will say is that the materials are of the semi-permeable variety because the fresh tomatoes do need to respire, though only "moderately," says Batti. He adds that the packaging of the tomatoes is currently done by an outside firm but that it should be taken in-house before too long.
As for the footed bowl from MAP Systems Intl. (Des Plaines, IL), precise specifications are also considered proprietary. The four-layer lamination from which the bowl is thermoformed includes PP and what a MAP Systems spokesman describes as a "special peelable sealant layer." This layer ensures seal integrity and yet gives consumers the easy-peel opening they like. Lidding material applied to the bowl comes from Rossmith (Los Angeles, CA), but again material specs are considered proprietary.
Dipping apples
Equally innovative are the sliced apples T&A unveiled at the FMI show. These are an extension of T&A's Cool Cuts(TM) line (see PW, January '96, p.2), which are ready-to-eat sticks of either carrots or celery along with a dipping cup of ranch dressing. According to Batti, the Cool Cuts name is being phased out as these items have now become a part of T&A's recent Looney Tunes licensing venture with Warner Bros. All T&A products under the Warner Bros. umbrella have graphics featuring Looney Tunes characters. Batti explains how the packaged apples came to be added to the kid-oriented product line.
"We felt very confident in the healthy snack concept, but with vegetables you can only go so far. We needed a line extension, and apples seemed a good fit, so we scoured the country for the best process for sliced, packaged apples. We felt Nature's Pleasures had the best technology and was furthest ahead in being able to produce a high-quality sliced apple that had some shelf life to it. If we had our druthers we'd rather not go to upstate New York to team up with somebody. But the fact that we did is a sign of how confident we are in their abilities and their process."
Located in Wolcott, NY, Nature's Pleasures made a name for itself recently with fresh, sliced apples in 8-oz pouches (see PW, October '97, p. 26). Sold in grocery stores for $1.49, the brightly decorated pouches are packaged on a vertical f/f/s machine and have a 16-day shelf life. (For another Nature's Pleasures' innovation, see p. 40)
T&A liked Nature's Pleasures' slicing/coring/processing technology, but the folks in T&A Marketing wanted their apples not in a pouch but in a semi-rigid container like the Looney Tunes celery and carrot snacks. "So we shipped one of our thermoforming and sealing machines to Wolcott, New York," says Batti. Mounted above this Tiromat machine from Convenience Food Systems (Avon, MA) is an Ishida 16-bucket combination scale from Heat & Control (Hayward, CA). The conveyor system set up by Nature's Pleasures delivers freshly sliced apples to the Ishida or to either of the two vertical f/f/s machines Nature's Pleasures uses for its various pouch packages.
Keys to the package
Two key components of Nature's Pleasures' sliced apple packaging technology are also employed in producing T&A's Looney Tunes apples. The first comes during processing, when the sliced apples are dipped in a solution containing ascorbic acid that helps retard browning. According to Jeff Cahoon, who heads up the packaged apple operation at Nature's Pleasures, ascorbic acid is nothing more than vitamin C. That means no chemical preservatives are involved, and that contributes to the fresh, natural taste, says Cahoon.
The second key is the mix of gases backflushed into the thermoformed apple packs. It includes CO2 (to retard ripening and microbial growth), O2 (to keep product from going anaerobic, which might cause off odors), and N2 (an inert gas, it prevents the package from collapsing on itself as other gases are absorbed into the tissue of the apple).
T&A's packaging materials are of course different than those Nature's Pleasures uses for its flexible pouches. The forming web, from several suppliers, is a two-layer lamination that always includes an unidentified 2.5-mil easy-opening sealant layer. The other layer can be PET, polyvinyl chloride, or RPET, depending on pricing and availability. Lidding is considered proprietary, says Batti; it comes from Rossmith.
Batti appreciates the automated approach that Nature's Pleasures takes to packaging the apples. "Once the apples are cut, they're never touched by human hands," he points out. That minimizes the chance for contamination, he says.
Still performed manually is the placement of cups of caramel or peanut butter dip into the formed cavities. But even that, says Batti, is being looked at with automation in mind.
Packages are discharged as two-packs with a perforated section down the middle. The perf makes it easy for consumers to separate one pack from the other. Twelve two-packs are placed in a corrugated shipper.
Like the carrots and celery sticks in the Looney Tunes packs, the sliced apples have a 14-day shelf life. Currently the 8.5-oz two-packs are available in the northeast for $1.50 to $1.99.
"I'm really high on this product," says Batti. "I think sliced apples can be every bit as big as the minicarrots."
Spinach in the microwave
The packaging breakthrough from Ready Pac Produce that was featured prominently at FMI is a fresh Microwave Spinach that cooks in just three minutes in the microwave. The chief benefit of the package is broadcast loud and clear on the front of the flexible film package: "NEW! Ready To Microwave In This Bag." Consumers simply punch a few holes in the clear bag before heating so that steam can escape.
Like T&A, Ready Pac doesn't want to share nuts and bolts details about machines or materials it uses. What PW has been able to learn from technical director Brian Zomorodi is this:
The packaging material was developed with assistance from the film converter, Franco Suisse (Illfurth, France). The base material isn't a completely new film; rather, at the reactor level, certain additives are introduced to give the resin the desired properties. According to Zomorodi, Ready Pac has exclusive rights to the material.
"The material had to be developed from the product's standpoint," says Zomorodi. "That meant tailoring it to a permeability that permits continued respiration of the fresh spinach. But it also is designed so that no chemical is released during heating. Finally, we had to be certain no off flavors would result."
The 40-micron (1.6-mil) film, says Zomorodi, is gravure-printed in six colors. "The material is expensive looking, but it's competitively priced," he adds.
Shelf life of the 10-oz packaged spinach is 12 days. It's packaged in Ready Pac facilities in California, New Jersey and Cincinnati and retails for $2.99.
"The reaction from the trade has been very strong," says Ready Pac director of marketing Marji Morrow. "It's a product that 'eats well,' as produce people put it. In other words, not only does it taste great, it also has a nice mouth feel."
Companies in this article