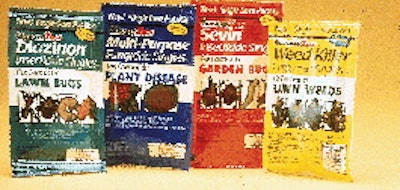 Source reduction and cost savings were in full bloom in this year's Agricultural/ Chemical category of the Flexible Packaging Assn. competition. (See related FPA stories on p. 34 and p. 42).
Winners hail from as far away as Barranquilla, Columbia, the DuPont manufacturing site of Manzate® fungicide. Used to prevent fungus growth on produce, Manzate is sold to growers throughout the U.S., Mexico, Central and South America, and China through dealers and distributors. Roughly 10 tons of the industrial fungicide is produced by Wilmington, DE-based DuPont yearly, says DuPont senior packaging specialist Paul Knoll.
Although the single-use, two-ply paper/foil pre-made bag DuPont had used to package its 1-kg (2.2 lb) bags of Manzate presented no performance problems during shipping or use, there were some issues regarding sealing. Knoll explains: "In order to get a good, consistent seal we had to keep the seal head temperatures high. Sometimes the outer paper ply would be scorched and leave burn marks." To compensate, and to create a finished appearance, paper bags were folded at the top, via a trimmer/folder/gluer station.
DuPont packaging engineers sought an improved package that would run on existing equipment, while providing comparable barriers, seal integrity, and possibly some cost savings.
The engineers looked at several alternatives. Finally, strategic partner American Packaging (Rochester, NY) presented the company with its Kard-O-Pak® bag. Early in '97, DuPont began implementing the Kard-O-Pak package into its Manzate packaging line.
The Kard-O-Pak package is a preformed, square-bottom bag made of an adhesive lamination of 60-ga nylon/foil/sealant film. Its total thickness is about 3.5 mils. The nylon is reverse-printed flexographically in six colors. Empty, the new package weighs 0.5 oz, considerably less than its 1.75-oz predecessor. Kard-O-Pak not only runs on existing equipment, but it heat seals at a lower temperature, eliminating scorch marks. This creates a neat appearance without the need for a trimming/folding/gluing station.
Elimination of the folding operation resulted in a 25% increase in productivity, says Knoll. Another benefit is that the new bag is easier to open than its predecessor.
The new package offers moisture barriers comparable to the old package, says Knoll. According to American Packaging, the new lamination is two to three times stronger than conventional paper/paper/foil bags, and meets the United Nations shipping/packaging regulations for strength. Overall savings is 22%, says Knoll.
A 25-kg bag is also available in the original, two-ply paper bag.
Single-dose for the garden
Another agricultural product whose package won an FPA award is GardenTech(TM) Singles(TM) from Gulfstream Home and Garden of Lexington, KY. These single-dose pouches of garden products were honored (see Packaging World, Nov. '97, p. 59) as winners in the 1997 AmeriStar Package Awards, sponsored by the Institute of Packaging Professionals.
The 3" x 5" pouches are used for four varieties of concentrated lawn and garden chemicals, including Diazinon(TM) and Sevin® Insecticide Singles for control of yard bugs, Herbicide Singles for weeds, and Fungicide Singles for plant disease. Each pouch holds roughly 1.5 oz of concentrate that's to be mixed with water at time of use to yield 1 gal of product. Designed as an alternative to standard rigid packaging, it's believed that this represents the first use of single-dose pouches for mainstream chemicals.
Because the products pose a threat if ingested, developing a puncture-resistant, child-resistant package was essential. Another consideration was machineability, as the pouch structure is designed to run on a horizontal form/fill/seal machine.
The pouch structure consists of a six-color reverse-printed 48-ga Mylar® from DuPont (Wilmington, DE), 3-mil Valeron® film from Valéron Strength Films (Houston, TX), laminated to a 3-mil high-density polyethylene layer, with 1.5-mil of DuPont Surlyn® as an inner heat sealant.
Converter Star Packaging (College Park, GA) says the empty pouch weighs 0.2 oz. That compares favorably to 6.1 oz for a standard HDPE 1-gal container, a 97% source reduction, says Star. Materials cost savings over conventional rigid containers is said to be 87%.
Machinery can fill at speeds of 60/min. A rigid container, by comparison, is typically filled 11 units/min. BPS, Inc. (Helena, AR) handles contract packaging. To accommodate a booklet label, BPS employed a custom-built labeler from CCL Labeling Equipment (Monrovia, CA) that applies the labels at the time of the hf/f/s operation. The labels are supplied by CCL Label (Itasca, IL).
Pouches are sent in bulk to Samples Partnership (Berlin, NJ) for placement into a 20-pt SBS folding carton. Cartons are packed into 200#-test, E-flute corrugated shippers, supplied by Rock-Tenn (Norcross, GA). The printed shippers double as a point-of-purchase display.
GardenTech Singles are available in Kmart, Lowe's, True Value Hardware, and in Home Depot stores in the Southeast. Suggested retail price ranges from $2.49 to $2.99 per pack.
Companies in this article
Videos from Universal Labeling Systems, Inc.