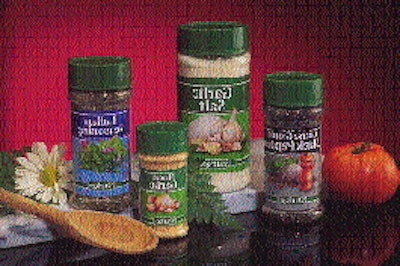 With almost 150 years and close to 200 SKUs under its belt, Durkee® Spices, a division of San Francisco-based Specialty Brands, has seen quite a few changes in packaging. The latest, introduced to stores in early 1995, was largely the result of consumer demand for a more environmentally-friendly and user-friendly package.
Over a year of research and development resulted in a switch from extrusion blow-molded polypropylene to injection stretch/blow-molded polyethylene terephthalate bottles. Updated graphics and a reduction in label size have increased both product and brand visibility, while freshness coding lets consumers know when to replace a spice whose time has come.
"We wanted to bring the line into 1995," says a Specialty Brands consultant who worked on the redesign. "Today consumers are concerned about recyclability and freshness."
Given its clarity and environmental benefits, switching to PET from PP was logical. Also logical was a streamlining of bottle sizes-from eight down to four in 1-, 3.6-, 8.4- and 16 fl-oz sizes. This provides a better fit on grocery store shelves and reduces the number of SKUs a retailer must worry about. Grafco (Hanover, MD) supplies the larger three bottles. The 1-oz mini bottle, from Owens-Brockway Plastic Containers (Toledo, OH), was in place before the conversion, and is still made of PP.
Finish sizes of the bottles were widened-to 38, 43, 53 and 63 mm-to ensure measuring spoons would fit inside. And the custom bottles were given molded, protruding rings near the tops and bottoms that act as bumpers to protect new, updated labels.
"We took the opportunity to redesign the label and add some extras," says the consultant. New graphics, created with help from Hallberg Schireson (San Francisco, CA), offer enlarged illustrations and more vivid colors, while keeping the Durkee logo. The labels are offset-printed in six or seven colors, depending on variety, by Hammer Litho (Rochester, NY). From a full wrap, the glue-applied labels were reduced to a three-quarter wrap so consumers can view content level, and they were narrowed so that more of the product would be visible. To accommodate the three-quarter wrap, Specialty Brands invested in five new Krones (Franklin, WI) labelers.
A greener approach
The screw-on cap changed, too. For starters, all caps are a custom green color, which connotes product freshness. Supplied by Owens-Illinois (Toledo, OH), the injection-molded polypropylene cap features breakaway tabs near the bottom that act as a tamper-evident seal. When someone attempts to unscrew the cap, the tabs break, thus making it evident that the cap has been removed.
"Other companies have a tamper-evident band," says Kelly Kaplan, senior purchasing agent at Specialty Brands. "The problem with that is that you have to first apply the cap, then the band."
Specialty Brands has also begun to apply date codes to the products. Claiming to be the only spice company to do so, date codes are applied with a Videojet (Wood Dale, IL) coder after capping and before packing for distribution. The five-year shelf life Specialty Brands gives the spices may not benefit spices with a quick turnover rate, such as pepper or parsley, but could be useful in slower moving varieties.
Though a full conversion began in January of 1995, Specialty Brands still offers Durkee's black pepper in traditional rectangular tins as well as the bottles.
Companies in this article