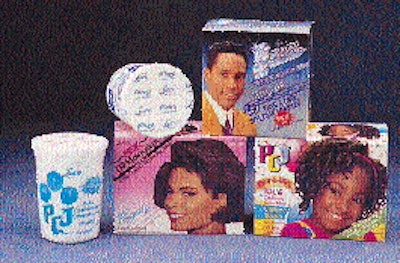 For Chicago, IL-based ethnic haircare producer Luster Products, Creme Relaxer is a core product. It's an integral part of the company's six hair relaxer kits, two sizes of each for men, women and children. The kits also contain a variety of solutions and mixing tools in a paperboard carton.
After purchase, consumers were often finding that the creme relaxer was too dry to work with. Though the product was believed to have unlimited shelf life, the 8-oz screw-on, injection-molded polypropylene cap and jar weren't providing an adequate seal to hold in moisture.
Another problem was that in the larger kits, the jar was about an inch short of reaching the top of the box. This gap meant that the cartons weren't adequately supported and could be damaged during shipping. "Our retail cartons were made really large to fill the shelf and create a billboard effect," says Andrew Avant, Luster purchasing agent. "But retailers were complaining that the boxes were arriving crushed."
To eliminate the damage, Luster Products began inserting a 1 1/4" paperboard ring on top of the jar for added box support. "We inserted the ring manually," says Avant. "We had a person standing there, dropping rings all day."
Merry Christmas
Avant and a team of others worked a full year to improve their packaging. A change was implemented immediately following the company's move to a larger facility on Christmas Day, 1994. It included two cup-style containers from Northwestern Bottle (St. Louis, MO). Typically used for dairy products, these injection-molded containers allow the heat-seal application of a "freshness seal" much like the tamper-evident seals found on yogurt and sour cream containers. While providing tamper-evidence, the seal's primary role is to keep out oxygen that will dry out the product.
Clear Lam (Elk Grove Village, IL) supplies the lidding film, made of a 2-mil proprietary material called CL200. Luster Products took advantage of this new surface: a "freshness guaranteed" starburst and Luster logo are printed on the film to alert users that the package is new. Designed by K.C. Graphics (Chicago, IL), the graphics are flexo-printed in one color, which varies depending on SKU.
Built-in crush resistance
"We took advantage of the opportunity to create a new container to fit our carton," says Avant. From a single 8-oz PP jar, Luster Products moved to two containers-a 16-oz cup made of high-density polyethylene and a custom-designed 18-oz PP cup-to better fit the different shaped cartons. Both taller and slightly wider than the previous jar, the new cups eliminate the problem of the kits getting crushed during shipping-and eliminate the need for paperboard rings.
Secondly, the new cups function as a mixing recep-tacle: though capable of holding twice as much, only 7.5 or 8 oz of product is necessary per kit. The oversized cup allows the product to be easily mixed. A horizontal line printed on the back of the cup indicates the half-point mark for applications where half the quantity is desired. The company also took the opportunity to switch printing methods-from an expensive screen process printed in one color to offset printing in a single color that coordinates with the lidding film. Because the lidding film now provides the seal, Luster Products switched from a PP screw-on cap to a linear low-density polyethylene snap-top lid, also from Northwestern Bottle. "The new lid is about 75% less expensive than the original cap," says Avant.
The new containers have been significantly lightweighted-from a 38-g jar and 16-g lid to 21.4-g and 21.8-g cups and a 5.8-g lid. According to Northwestern Bottle, these figures meet current source reduction requirements mandated in California. In addition, the cup's tapered shape permits nesting. Thus, the new cups occupy two-thirds less warehouse space than before.
Avant estimates that lightweighting and nestability, combined with a shorter shipping distance, reduces freight costs of incoming cups by two-thirds.
At the filling line
Shipping costs and warehouse space aren't the only benefits that Luster Products has seen: the company's switch from two paste fillers and a capping machine to two BWI Fords Holmatic (Norcross, GA) PR2 machines has tripled output.
Normally used to fill food products like yogurt, these machines denest, fill, seal and cap the cups. After denesting, cups are filled to designated weights. Lidding film, which comes in roll form, is die-cut and heat-sealed to the cup. Caps are then applied automatically and the cups are loaded manually into in-process containers to await later packing into the kits.
"We're capable of producing 100 cups/min-that's 30ꯠ cups a shift," says Avant. "It used to take us two to three shifts to do that kind of volume. Now we can do it in one."
The new cup was introduced in January and packed in existing paperboard cartons, provided by several suppliers. New cartons, which incorporate graphic changes to reflect the new container, were in the works at press time. "It's doing well," says Avant, "and the new package has created tremendous cost savings."