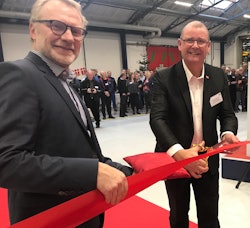 This multi-million dollar investment is a considerable step forward continuous delivery of products and components of high quality and solid weather-tightness.
"The new Painting Line is an important step forward for us – with its improvement in efficiency and capacity compared to the old one – and also quality. Seeing as our pneumatic conveying solutions are sold worldwide in various climate zones, weather-tightness of our components is key", explains Production Manager Anja Juhler Nielsen. "We were in a situation where keeping up with demand was an issue, but now, with excess capacity, our Paining Line is future-proof, and we have eliminated a bottleneck situation", Anja Juhler Nielsen concludes.
Kongskilde Industries CEO Mogens Rüdiger looks forward to a new era with the new Painting Line, "I couldn't imagine a better way of celebrating our 70-year anniversary than standing here in one our large manufacturing halls with a state-of-the-art paining line. We see an increase in order intake in our factory and expect this positive tendency to continue", said CEO Mogens Rüdiger.
The 300-meter Painting Line consists of a loading station, pre-treatment where the components are degreased and phosphated, a drying oven, the painting box itself where the powder is added, and then onto melting and hardening before they are ready for removal. The Painting Line handles components up to 2 meters in height, 1.2 meters wide, and 4 meters in length.