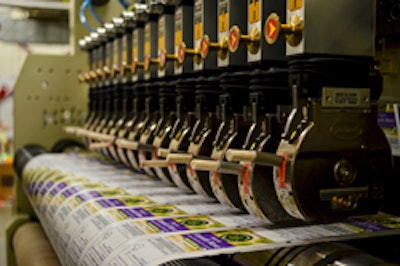 Amgraph has been a leading provider of flexible packaging for more than 30 years, and the new facility in Watertown, CT, duplicates the capabilities of their Sprague (Connecticut) plant, including adhesive laminating, offset lithography, laser scoring, cold seal, slitting, and finishing.
According to Mike Drab, Vice President of Sales and Marketing at Amgraph, many flexible packaging customers now require printers to have backup equipment and technology to guard against downtime production delays. With the opening of the Watertown plant, Amgraph can now satisfy that requirement, greatly expanding the array of packaging customers they are able to serve.
In addition, they have installed a Windmoeller & Hoelscher 10-color flexopress in their new plant. "This new press gives us increased manufacturing capabilities and more packaging options to provide our customers," Drab said.
Featuring wide-web capability, the 10-color Miraflex press reaches some of the fastest speeds available in the market. A 100 percent defect detection capability checks color as the printer runs, making quality control easier than with a web-fed system.
Drab noted that the new press offers expanded gamut printing, with 95 percent of the color spectrum available. "Not only does that reduce changeover costs, it also generates less waste," he said. This is an important feature, as sustainability is AMGRAPH's cornerstone mission.
The Miraflex press uses both solvent- and water-based inks to create the high-end graphics packaged goods companies are seeking today. Drab said that, while AMGRAPH has been a pioneer in the use of eco-friendly water-based inks in flexible packaging, the challenges of printing with them on film makes solvent-based inks preferable. "Printing on film with water-based just isn't cost-effective yet," he noted. "The raw materials, plus the need for more ink and more film all add up." He said AMGRAPH's new press is a response to the industry's need for flexo-solvent inks, even as water-based inks grow in popularity.