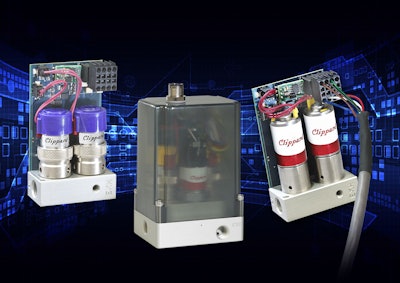 The inlet valve is connected to the moderately regulated supply pressure and the exhaust valve is connected to a port that vents excess pressure to atmosphere. Once a command is increased, the inlet valve opens up to allow supply pressure to pass over the sensor element which provides an active feedback for the micro-controller to satisfy the set point in the process. If at any point the sensor detects a value higher than the set point, the exhaust valve will modulate open to vent off the excess pressure to maintain a stable and accurate control pressure in the process.
Clippard's Cordis HP500 pressure controls are adaptable to a variety of sensors that can close the loop around pressure.
Features include:
• Smooth linear control
• Integrated internal or external sensor feedback
• Customizable pressure ranges and mounting options
• Proudly made in the USA. ISO 9001
Click here for further information.
Companies in this article