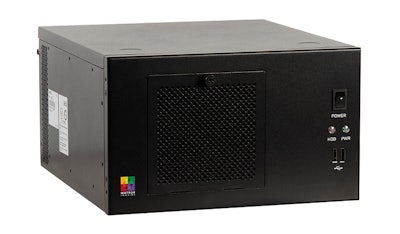 The latest addition to the Matrox 4Sight series of vision controllers, the Matrox XV6 provides a reliable platform with significant expansion capabilities for video acquisition. Powered by an eighth-generation Intel® Core™ processor, the Matrox 4Sight XV6 is capable of supporting intensive machine vision applications. Application include warehouses, plants, and manufacturing or fabrication facilities.
Expansive capabilities at entry-level pricing
Matrox 4Sight XV6 vision controllers offer desktop-level processing performance, with support for up to three displays, whether VGA, DVI-D, HDMI, and/or DisplayPort. Made to address the multitude of camera interface standards, Matrox 4Sight XV6 features four full-height, half-length expansion slots for accepting frame grabber PCIe® cards operating at full performance. The Matrox 4Sight XV6 pairs easily with Matrox Imaging frame grabbers to deliver customized video capture solutions for Camera Link®, CoaXPress®, GigE Vision® with Power-over-Ethernet (PoE) support, Display Port, HDMI, and SDI interfaces. Real-time general-purpose discrete I/O capabilities are also available with the Matrox Indio add-in card.
Ideal fit for factory and enterprise settings
Matrox 4Sight XV6 makes communicating with enterprise systems simple. The PC can capture directly from GigE Vision and USB3 Vision® cameras, and its RS-232/RS-485 ports support connections to legacy automation devices. A rugged steel chassis protects the system from hostile conditions, while powerful internal cooling ensures steady functioning for consistent maximum performance.
Dependable Software
Matrox 4Sight XV6 comes pre-installed with Microsoft® Windows® 10 IoT Enterprise 2019 (64-bit), which provides the familiarity, performance, and reliability of Windows 10. Matrox Imaging Library (MIL) software, which provides a comprehensive range of vision development tools backed by a 25-year history of reliable performance, is available separately to expedite application development.
"Matrox 4Sight XV6 builds off the enduring success of the Matrox 4Sight GP, expanding both power and performance through the embedded Intel Core processor and four expansion slots," says Fabio Perelli, product manager. "This iteration marks the seventh product in the Matrox 4Sight series, and promises desktop-level performance, substantial expansion capabilities, all packaged in a small, rugged casing.
Availability
The Matrox 4Sight XV6 will be available in Q1 2020.

Companies in this article