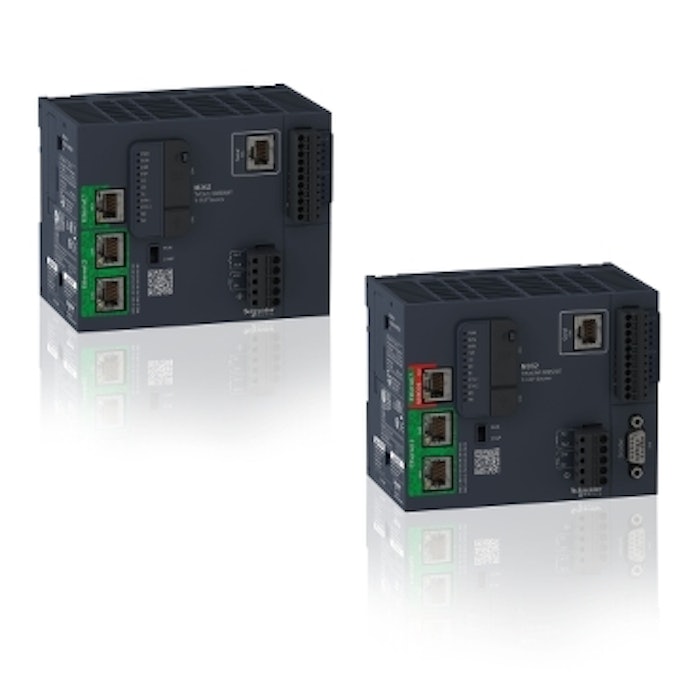 The Modicon M262 Controller embeds cybersecurity features and encryption protocols to provide direct cloud connectivity and digital services thanks to its two ready-to-work and independent embedded Ethernet ports.
Key benefits of the Modicon M262 include:
• Connectivity: Up to five one-to-one independent Ethernet networks and cybersecured cloud connectivity for easy integration into the plant with open protocols, including OPC UA, PackML, SQL or integrate to the cloud with MQTT, JSON or HTTPs requests (API).
• Efficiency: With four to 16 synchronized axes with scalable cycle time down to one millisecond and a three nanosecond to instant processing speed independent from communication tasks, Modicon M262 Controller answers performance demanding motion applications. Modicon M262 Controller helps simplify machine architecture and field bus wiring. And with Machine Assistant (webserver technology), no software is required for device discovery, commissioning and diagnostics.
• Flexibility: Modicon M262 Controller answers to logic application needs, where it can be also an "All-in-One" motion controller, embedding all requested features as Motion bus, encoder and touch probes. Safety can be modular or embedded. With choice between Optimized and Performance I/O systems, Modicon M262 Controller provides versatile architectures around EtherNet/IP and/or Sercos – all under one software EcoStruxure Machine Expert.
• Protection: With Embedded Safety solution, Modicon M262 Controller complies with the latest safety regulations up to SIL3. It offers embedded encrypted communication, network separation, Achilles certification and other cybersecurity features.
Companies in this article