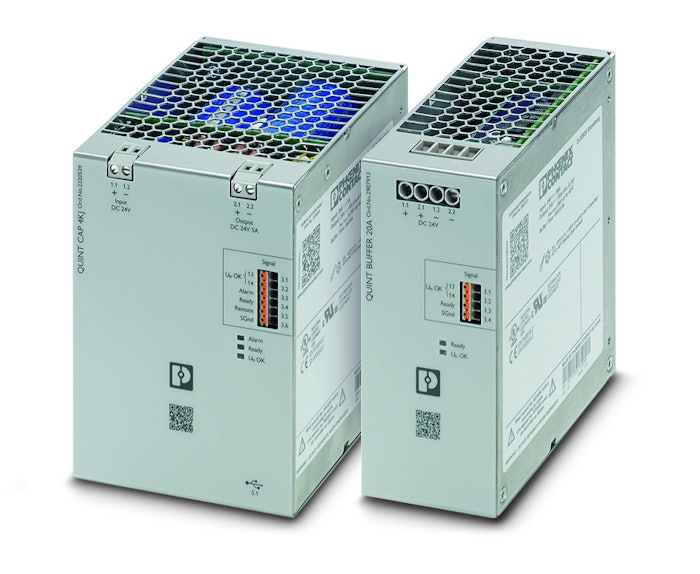 These battery alternatives use capacitors, which give them a long service life and mean time between failure (MTBF). This creates worry-free power, without the need for an uninterruptible power supply (UPS), for sensitive devices that could reboot with a short interruption of power.
The maintenance-free QUINT CAP modules bridge cyclical failures lasting up to 30 seconds. The modules combine an electronic switch-over unit and maintenance-free supercapacitor storage in the same housing. The lockable USB interface for connection to higher-level controllers makes it convenient to safely shut down the PC. The QUINT CAP uses high-density supercapacitors, which provide a buffer time of up to 30 sec. These modules have a long service life of up to 20 years with an MTBF of more than 1.3 million hr and 500,000 charge/discharge cycles.
The compact QUINT BUFFER modules bridge main failures lasting several seconds for all applications, even those in the most extreme temperature ranges. The QUINT BUFFER module combines an electronic switch-over unit and maintenance-free electrolytic capacitor storage in the same housing. The QUINT BUFFER has a compact design with a wide temperature range of -25 to +70 degrees C, with a start-up temperature of -40 degrees C. These modules also have adjustable "ready" activation thresholds that create the ability for a soft start using a low-wattage power supply.
Companies in this article