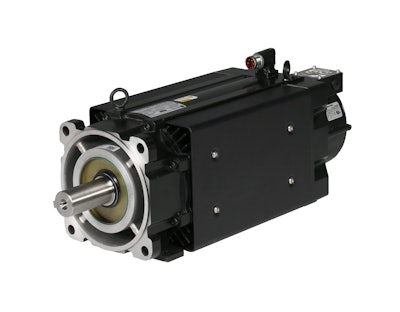 A cooling fan and cooling fins on the motor provide increased torque and power output. In addition, encoder options with improved resolution and accuracy provide more precise and responsive control, which is especially valuable for the printing industry.

The Kinetix VPC servo motor also helps reduce machine downtime in multiple ways. It uses larger, more robust bearings to improve L10 bearing life by up to 60%. An optional single cable for power and feedback helps reduce installation, setup and maintenance time compared to dual-cable motors. In addition, a quick-change fan is field-replaceable, which helps maintain maximum machine uptime.

The new motor line meets or exceeds IE4 efficiency ratings, which can save energy costs compared to using an IE3 or lower-rated motor. When used with the Kinetix 5700 servo drive, the Kinetix VPC servo motor can also help manufacturers use less current than with larger, more energy-intensive motor and drive solutions.

Rockwell Automation designed an integrated foot-mount option for the motor, which provides an alternative to the traditional, flange-mount method. This is beneficial in many applications where foot mounting is preferred.

The Kinetix VPC servo motor is currently designed only for use with the Kinetix 5700 servo drive. Rockwell Automation plans to evaluate functionality with other drives in the future.
Companies in this article