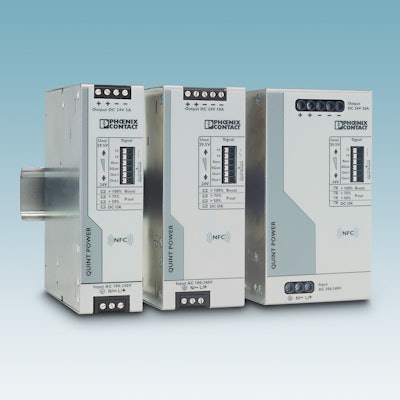 Phoenix Contact has added near-field communications (NFC), real-time monitoring, coordinated surge protection, and a configurable DC output characteristic to the proven QUINT Power line.
With secured NFC, the power supplies can be configured while still in the box. User-definable settings allow monitoring of real-time DC current, power, or voltage using a 4-20 mA analog output. The QUINT power supplies can also be made tamper-proof by locking out the push buttons on the front panel and creating a user-defined password. In addition, operating hours, DC input voltage, overvoltage, and temperature derating can also be monitored with dry contact outputs.
While QUINT power supplies have always relied on metal-oxide varistors (MOVs) for transient protection, the new models add a gas-discharge tube (GDT) for coordinated protection.
Companies in this article