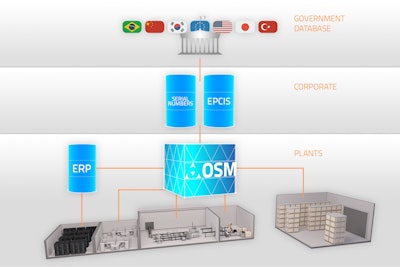 Optel Vision, a member of the Optel Group and provider of inspection and serialization systems for the global pharmaceutical industry, released version 2.0 of its Open SiteMaster™ site server software.
Designing and manufacturing inspection systems since 1989 and pioneering the development of serialization solutions since the beginning of the traceability initiative, Optel Vision is now bringing its savoir-faire to the plant level (also known as L3).
Open SiteMaster (OSM) is an L3 server software with a web-based user and machine interface, covering all aspects of track and trace and aggregation, while streamlining communications between serialization-related systems. The OSM architecture is specially designed to adapt to customer-specific business logic and IT environments, and evolve as needed.
OSM 2.0 was fine-tuned in close collaboration with several pharmaceutical and contract packers of various sizes. The company says OSM 2.0 is already being integrated into dozens of multi-line serialization and aggregation projects in the U.S. and Europe.
Acting as a hub that coordinates actions between lines, plant and corporate, OSM gathers data from the packaging lines (L2) and communicates information through the existing ERP or MES (L3) and up to the corporate level (L4), getting serial numbers and sending back EPCIS reports—all through a central configuration and monitoring point.
Open SiteMaster easily manages all aspects of serialization/aggregation, obtaining process orders and serial numbers from official sources and taking charge of production—including rework—at the plant level. OSM can allocate instructions and data to packaging lines as planned and specified by production managers and packaging line engineers to provide ultimate efficiency. Among other valuable functionalities, OSM offers configurable batch flows, advanced serial number management and 
GS1-compliant serialization data handling.
Beyond its core industry-specific expertise and overall functionalities, OSM includes open, customizable scripts providing maximum flexibility and customization. This feature gives OSM the extended capability of running a group of scripts that can be adapted or created to fit customers' particular business logic and connect with most any IT environment.
OSM also allows customers to go beyond plant packaging lines and easily evolve in the future should they wish to add to their serialization process. As their needs grow, optional modules can be integrated to support serialization/aggregation in areas such as the palletizing room and the warehouse.
Companies in this article