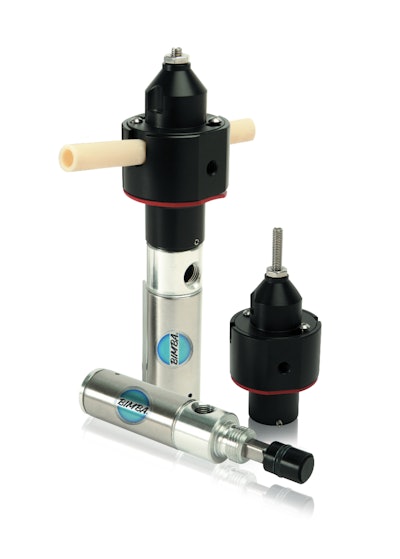 These newly-designed units offer customers more choices, enhanced performance and greater affordability across a broad range of market segments and applications, especially those such as industrial, food and beverage, chemical, bioprocessing and medical where wash downs for sterility are essential.
"Our customers have been looking for models that are drop-in ready for fluid, air, or gas systems that use flexible, disposable tubing," says Peter Jensen, Product Marketing Manager for Bimba | Acro. "With the 600 series models, all of which employ pneumatic pinch valves, they will have complete assurance of media non-contamination, fast tubing change out, and easy valve replacement, all of which will maximize productivity."
Jensen says, "Pinch valves offer considerable advantages over wetted valve technologies they may have been using. For example, adhesive dispensing of viscous, sticky and corrosive material eats away at the internals of a wetted valve requiring frequent replacements. By substituting a pinch valve and disposable pieces of tubing, these concerns are eliminated, and at a greatly reduced cost."
The 600 series is comprised of three models (603, 604 and 606) that will support tubing outer diameters up to 0.375 inch, 60 psi media pressures and hardness ratings up to Shore 70 material. Units are panel-mount ready, with easy tube loading and change-out head-designed slot features. They will be available in single-acting, normally-open, closed, or double-acting formats. All units weigh less than a pound.
For more information, please visit www.bimba.com/pinchvalve
Companies in this article