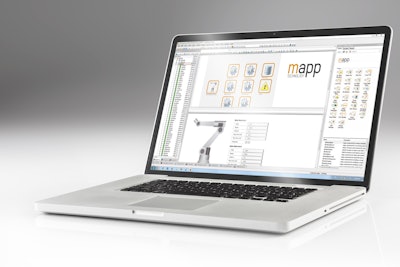 B&R Industrial Automation has developed automation software and systems designed to simplify programming and improve performance and scalability.
Modular application (mapp) technology simplifies new program development and reduces development time for new machines. It also provides a fast, easy way to implement OMAC PackML, the ISA TR88.00.02 standard for defining machine states, modes, and tag naming conventions. With mapp technology, machine control can be accessed and diagnosed down to the function block level without requiring dedicated software, special training, or access to the source code. Mapp technology can cut programming time by two-thirds, while simplifying recipe changes, diagnostics, integration, and field modifications.

The new Acopos P3 is a three-axis servo drive that affords significant space savings in the control cabinet and includes integrated safety functions. It is suitable for both single and multi-use applications and can be scaled to meet a variety of performance and functional requirements. Despite its compact design, it features a sampling time of 50 µs for the entire controller cascade, making it the fastest servo drive with safety functions on the market, according to the vendor.

The Automation PC 2100 is a fully equipped industrial PC with an ultra-compact form factor, IP69K-rated stainless-steel motors, secure remote diagnostics, as well as B&R's C-Series Power Panels, which are terminals with a built-in PLC that use an Intel Atom processor to achieve cycle times down to 1 ms.
Companies in this article